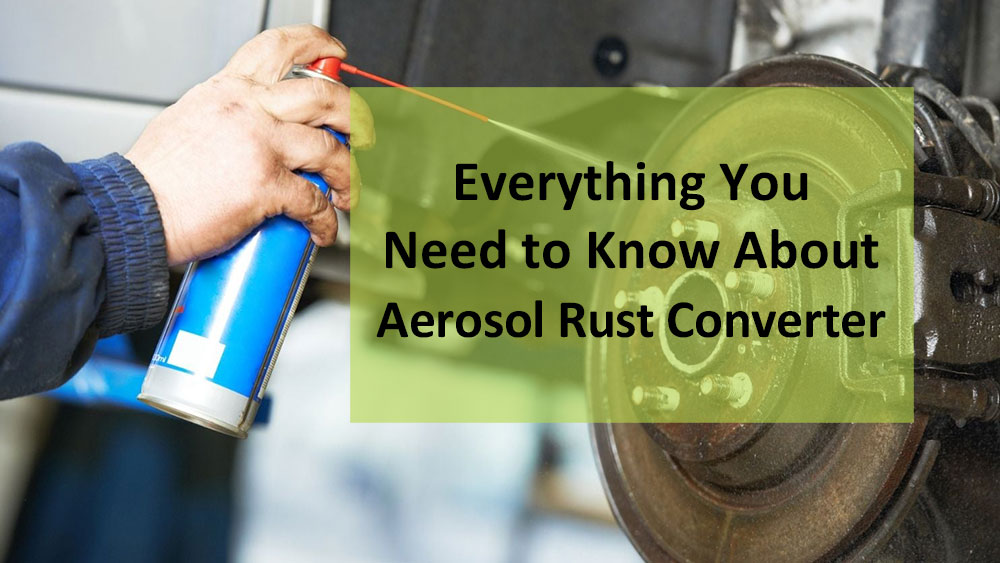 Rust on iron surfaces has been an issue in almost every household, becoming a significant concern in the rainy season. So, to resolve this issue permanently, you can use a water-based primer known as an aerosol rust converter. Sound's amazing, right? Read on until the end to discover some of the best aerosol converters available.
What is an aerosol rust converter?
An aerosol rust converter is an excellent product that is easy to use and effective against rust or corrosion. It prevents rust on the iron surfaces by converting it into a black coating. This coating seals the moisture and keeps the surface rust-free. Aerosol rust converters act quickly on the rusted surface and convert it into a stable compound within 15 minutes.
What are the ingredients in an aerosol rust converter?
The two main active ingredients in aerosol converters are tannic acids and an organic polymer. Let's have a detailed look at it:
Tannic acid is a by-product of Tannins, a group of alcohol and water-soluble natural products extracted from trees, fruits, and grasses. An iron oxide known as rust combines with tannic acid, which chemically transforms the acid into iron tannate.
The other active ingredient, the proprietary organic polymer, provides a protective primer layer over the rusted material.
Following the chemical reaction, the rust is transformed into a stable, black protective polymeric coating, an ideal primer for epoxy and oil-based paints. This prevents further corrosion or rust on the surface.
What are the top three best rust converter aerosol brands?
Are you looking for the best aerosol rust converter spray on the market? So, before you buy, you should spend some time researching the best spray brands available. And if you are confused and unable to decide on the best aerosol rust converter brand, you don't need to worry. We have got you covered.
Loctite aerosol rust converter.
A Loctite aerosol rust converter is a fast-drying converter that is milky white in texture. Some of the benefits of using this brand are:
It seals the rust and creates a neutral surface ready for painting.
It is ideal for doing quick work.
It sets up in just 20 minutes after every coat.
Rust-Oleum aerosol rust converter
When applied over the surface, the Rust-Oleum aerosol rust converter instantly bonds up with the rust and converts it into a non-rusting black surface. Some of the benefits of using this brand are:
We can use it on any rusty surface.
It is based on angle spray technology, which means you can spray it in any direction.
Jenolite aerosol rust converter
The Jenolite aerosol rust converter gives long-term protection to the surface against all kinds of corrosion and weather issues. Some of the benefits of using this brand are:
It is a fast-acting converter, which saves a lot of time.
It does not require scraping the surface before applying.
It is non-hazardous, with a water-based formula.
We can use it with both oil or water-based paint.
Aerosol Rust Converter Manufacturer
Usually, before we buy anything, we prefer to take suggestions and go with the best and most reliable product in the market. So, you can go ahead with any of the best aerosol rust converters mentioned above. We are sure you will be satisfied with the results of using these aerosol rust converters.
You will realize that the aerosol rust converter brand are many, but when it comes to the empty aerosol cans they are supplied in, SHINING Aluminum Packaging is the best aerosol can manufacturer.