SHINING Aluminium Packaging Co., ltd, is a global leader in aluminum aerosol cans, aluminum aerosol sprayer cans, aluminium aerosol canisters solutions that had fulfilled the needs and expectations of many of the world's most well-known brands.
Whether you're in the beauty, personal care, home care or industrial market, We has an aerosol can solution that can elevate your brand through enhanced sustainability and distinctive graphics. Our empty aerosol cans are 100% infinitely recyclable, meaning they can be recycled over and over without loss of quality.
Our Aluminum empty aerosol cans are available in diameters from Φ22mm to Φ66mm and heights from 58mm to 260mm.
As we really appreciate your service and your very good quality of Printing and Aluminum products, we think of you as our reference supplier in any new project containing Aluminum packaging.
Thank you sincerely for your effort and dedication in working with me on the 'aluminium bottled spring water' project, and the 'health professionals protection' project. Looking forward to your continued support in the new year.
You've been a great partner of ours and we hope you understand our need for additional flexibility during this most unusual time.
Looking for Custom
Aluminum Aerosol Cans?​
The Ultimate guide to the aerosol cans
Everyone loves the convenience of aerosol spray cans. They make it easy to paint, polish, and lubricate—and many other household chemicals, from deodorants and hair sprays to air fresheners and cleaners.
Let's take a quick look find the answer below
What Is An Aerosol Spray Can?
Benefits Of Aerosol Cans​
Components of aerosol cans
Type of aerosol cans
How aerosol can work?
How to fill an aerosol can?
Aerosol Spray Can Markets
Where to buy and fill aerosol can?
What is an aerosol spray can?
Aerosol is a commonly used term for a pressurized container that releases a spray when actuated.
Aerosol cans are widely used to dispense various products, including paints, solvents, pesticides, food, and personal care products. The Home and Business Products Association estimates that 3.75 billion aerosol cans were filled in the U.S. in 2016 for commercial and industrial facilities and household use.
Benefits Of Aerosol canse
Aerosol sprays provide a broad assortment of products like cosmetics and household products, as well as specific aerosol types that are specifically designed for medical or industrial use.
There are many advantages of aerosols:
Security: Aerosol cans are hermetically sealed, which means that their contents will not be leaking.
Resources Efficiency: Aerosol cans have been designed so that they supply the appropriate quantity of product exactly where it is needed. Utilizing an aerosol container reduces consumption and waste. Post-consumer aerosol containers can be recycled.
Cost-EffectivenessAerosol sprays manage the size of the particles, the pattern of the spray, the quantity that is dispensed, and the strength of the spray to maximize efficiency. The hermetically sealed container ensures the safety of the product and prolongs its useful life of the product.
Clean and sanitary use: Aerosol items can be used without contact while shielding the user from germs and in the event of burns or lacerations, they can be treated with the least amount of discomfort. Additionally, the sealed packaging prevents contamination of the product.
Special products: Aerosol sprays offer consumers the opportunity to use products ranging from shaving creams to asthma inhalers as well as other medical products that are inaccessible otherwise.
Components Of Aerosol cans
1. Can (Aluminum Aerosol Can & Aerosol Tin Can)
The aerosol cans are mostly cylindrical and hold the product and propellant. However, aerosol cans vary in shape and volume and color, design, and finish depending on the company's brand image.
Aerosol cans are leak-proof and made of aluminum or steel. They protect the ingredients from contamination and evaporation and enable the substances inside to be pressurized.
Aerosol cans are most commonly painted tinplate (steel with a layer of tin) and can be made from two (2-Piece Tinplate Aerosol can) or three (3-Piece Tinplate Aerosol Can) sheets of metal that are curled together.
Aluminum aerosol cans (1-Piece Aerosol Can) are also standard and are often used for more expensive products or designed to have a more premium look, such as personal care products.
Aerosol Can shapes
Necked in, Straight-wall, and Aluminum monobloc cans shapes.
You will see the difference in Straight-wall and Necked-in Cans by looking at the top of the can, which is sealed (the rim). The Necked-in can indent before going into the rim, and the Straight-wall will continue directly into the rim without any deviation. Both are durable. However, necked-in cans are considered extremely durable.
Aluminum monobloc cans are 1-piece cans that have more shapes. They are produced with or without a cam rim. Suitable for use with all types of propellants and formulations. Including round, flat, rim, Bullet, and other shapes.
Aluminum Aerosol Can vs. Aerosol Tin Can
| | Aluminum Aerosol can | Aerosol Tinplate Can |
| --- | --- | --- |
| Material | aluminum | tinplate |
| Piece | One-piece can | two-piece can; three-piece can |
| Shape | round, flat, rim, Bullet, and other shapes. | straight cans,necked cans |
| Size | Φ22, 25, 28, 35, 38, 40, 45, 50, 53, 55, 59, 66mm, height ranging from 58-240mm | Φ45, 52, 57, 65, 70 diameters, with heights ranging from 100mm-300mm |
| Open size | 25.4 1inch 20mm | 25.4mm |
| Height | total height, from the mouth to the bottom of the can | height of the can body, excluding the top cover |
| Price | 0.20 USD/ PCS to 0.50 USD/ PCS | 0.08 USD/ PCS to 0.25 USD/ PCS |
| Usage | Inhaler, Sunscreen, room spray, cleaning, hairspray, deodorant, oil, foam, cream, shampoo, fire extinguisher | Paint, disinfectant, insecticide. Lubricant, remove |
| Printing | Offset printing, Matt & Gloss effect | Offset printing, Matt & Gloss effect |
How are Aerosol Tinplate Can made?
Wire Cutting-> Coating and Printing-> Welding the seam->Cone and Dome Pressing-> Can-Making
How are aluminum Aerosol Can made?
Aluminum aerosol cans are made by pressing a small aluminum slug, forming the cylinder from a single piece of metal. Product labels and instructions are placed on metal cans by offset printing. The production process of aluminum aerosol cans and aluminum bottles is similar.
2. Valve And Dip Tube
As a consumer, you probably won't notice subtleties like the aerosol valve assembly. While it may not be visible outside, the valve plays a vital role in operating the aerosol can. One function of the aerosol valve is to atomize the canister's contents, ensuring that they are expelled in a fine spray.
Other functions of the valve include:
Keep container tightly closed
Maintain the integrity of canned contents
Regulate the flow of the product during use
The aerosol valve is a six-component assembly that promotes proper diffusion while also serving as an airtight shut-off.
Various aerosol valve assemblies include:
Actuator – Refers to the spray button that allows the user to trigger the aerosol delivery system. The actuator regulates the sprayed product's angle, shape, quantity, and consistency.​​​ They are designed to regulate the application of the product and are generally easy to use.
Valve Cup – Also known as a mounting cup, the metal cup sits on top of the tank. It comes with sealing material that helps hold all aerosol valve components in place.
Stem and stem gasket – This part consists of the stem and stem gasket. The valve stem represents the connection between the actuator and the spring. The stem gasket plays a vital role in sealing the valve system's opening, ensuring the tank remains sealed.
Spring – The spring (Stainless Steel 302 316) maintains pressure on the valve stem gasket covering the can. When you press the actuator, the pressure is released, opening the seal.
Housing – Represents the cylindrical structure that holds the spring and connects the dip tube to the aerosol valve assembly.
Dip Tube – This is the hollow tube that extends from the valve assembly to the bottom of the tank, allowing the pressurized contents to be pushed out through the valve.
Types of Valves
The most commonly used valves are continuous vales and male valves. Below we list other special valves.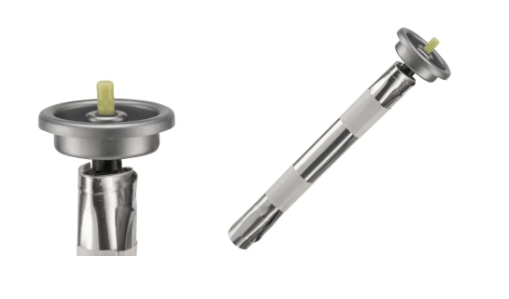 Bag on Valve
Bag-On-Valve systems hold the product separate from the propellant, ensuring product purity. This fast-filling design uses compressed air or nitrogen outside the bag for eco-friendly dispensing. Continuous spray valves are suitable for a wide variety of applications.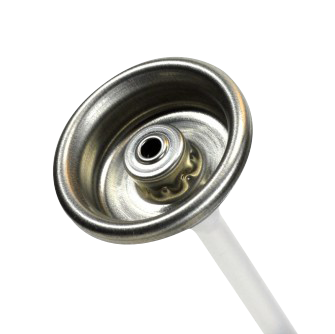 Female Valve
Maximum versatility in a female valve for paint, automotive and other home care products. The stem orifice is contained in the actuator. By changing the actuator, a variety of spray characteristics can be achieved. Products susceptible to clogging, such as paints and adhesives, will benefit from the Female valve's easy-to-remove and clean actuator.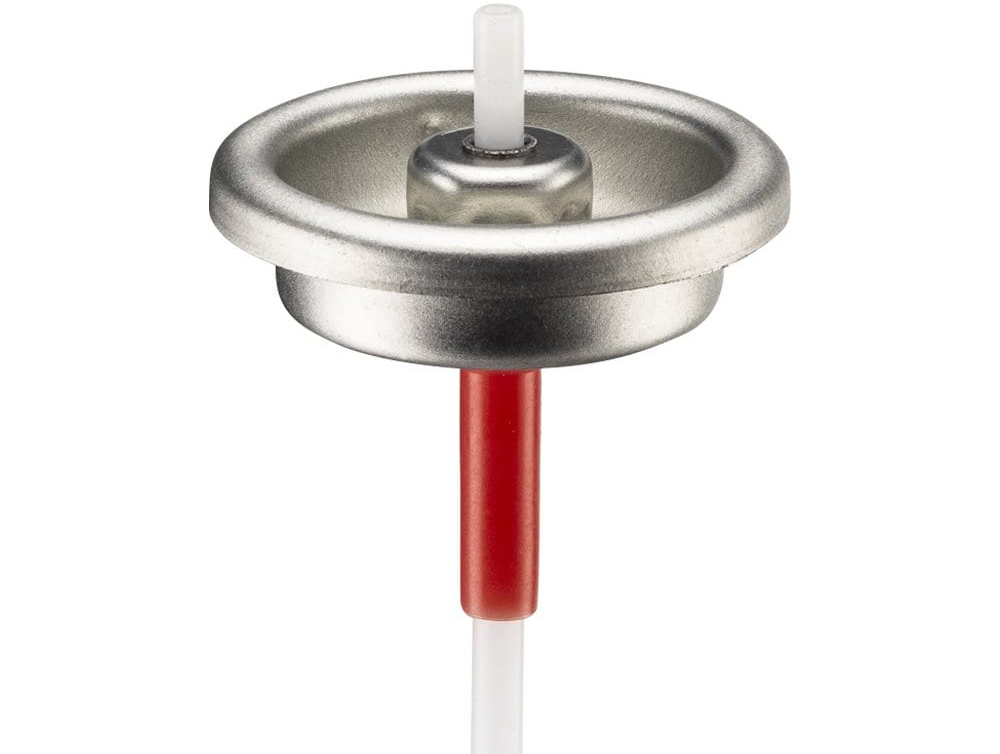 Metered Dose
This Metered Valve is designed to deliver a specific volume dosage of product on every actuation – Dosage sizes vary – Uses special actuators.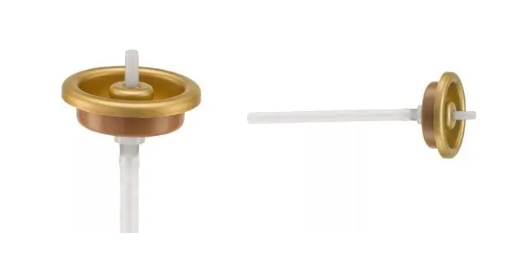 360° (Up/Down Valve)
Sprays reliably regardless of whether the can is used upright or upside down.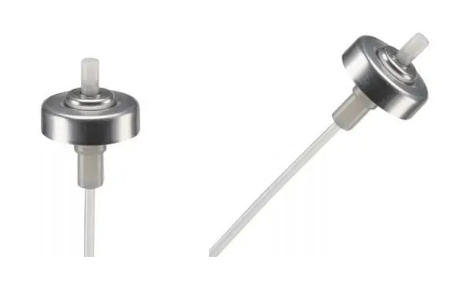 20mm valve
Standard valves are 1-inch (25.4mm) valves. The 20mm valve has been designed specifically for containers with 20mm openings with pressure gassing in mind but also works equally well with under-the-cup gassing methods.

Lighter Refill Valve
This valve has been designed specifically for gas lighter refills, having a unique stem.
3. Actuator or Button
Most aerosol cans are activated by pressing a button on the top of the can, which opens a valve.
4. Cap
The function of the cap is to seal the can and preserve its contents until the product is used. In addition, it acts as a decoration. Some caps can be used as actuators for different products.
5. Active ingredient
This is the substance that consumers want to use. Hazardous chemicals such as paints, pesticides, auto sprays, adhesives, and solvents are often in the workplace. But many aerosol cans also contain benign substances, such as cooking oil, whipped cream, and pancake batter.
6. propellant
A propellant is the substance that pushes the active ingredient out of the can. It usually remains gaseous, although it may liquefy under pressure. Aerosol foods typically use nitrous oxide or carbon dioxide as propellants, while other substances (drugs, paints, and cosmetics) use flammable hydrocarbons.
How do aerosol cans work?
Pressure on the actuator moves the stem down.
This breaks the seal between the gasket and the stem.
The stem is exposed to the product/propellant in the container. (i.e., the valve is open)
The pressure inside the container pushes the product through the valve to the outside of the container.
By releasing the actuator, the spring returns the stem orifice to the sealed position (i.e., the valve is closed)
Product Flow Through The Valve
Dip Tube-> Housing->Stem->Actuator
Non-propellant aerosol can
1. non-aerosol can (spray pump can)
Not all aerosol cans are pressurized. We call it a no-aerosol can. They work in a completely different way. They have a special spray pump.
The can contains only liquid ingredients: no propellant at all. When you pump the trigger mechanism, you lower the air pressure in the tube that flows down the bottle. Because there is air in the bottle, the liquid is squeezed against the tube at the top. The pump mechanism forces some of this liquid through the tube into a much smaller nozzle, making it a high-velocity aerosol of tiny droplets.
The most significant advantage of nebulizers is that they do not require propellant, so they are safer to use and easy to fill. But they generally don't make as acceptable or even spray as aerosol cans, so they're less suitable for products like paints and polishes.
2. Bag on Valve (BoV)
Another type of dispensing system is the bag-in-can (or BOV, bag-on-valve technology) system.
BAG-ON-VALVE is an innovative aerosol technology. It has many advantages compared to solutions of conventional valves. It is used mainly in pharmaceutical products, high-end cosmetics, and those formulations that may not come into contact with propellant.
BOV is used in aluminum cans with 1-inch openings for crimp valves welded to foil-based packaging bags with multilayer film laminates. Once the valve is crimped, compressed air or nitrogen is filled into the area between the bag and the can. This process is called cup inflation and keeps the product and propellant separate.
Bag on Valve Aerosol Cans vs Traditional Aerosol Cans
Traditional Aerosol Cans
Bag on Valve Aerosol Cans
Tightness
Poor sealing, no bag to protect the body packaging
High tightness, multiple protective material bodies formed by valves, four-layer vacuum bags, and aluminum cans
Product pure
The propellants and ingredients are mixed, the ingredient is not pure enough
The propellants and ingredients are separated, no compatibility problems
Atomization
Poor atomization
Continuous nano-atomization
Convenience
Have sediment, shake it before use, and press several times during use
No sediment, spray anytime, no need to press many times
Use angle
Can't upside down
360°
Utilization
Have residue, waste
>98%
Jet sound
hissing sound
Mute
Environmental and safety
The propellant is discharged out of the tank, flammable
The propellant is not discharged out of the can, does not affect the environment, and reduces the flammability of the product
Propellants
Hydrocarbons,
A-17 (BUTANE) CH3-CH2-CH2-CH3, A-31 (ISOBUTANE) (CH3)2-CH-CH3, A-108 (PROPANE) CH3-CH2-CH3
Nitrogen
Recycle
No pressure after use, easy to recycle
Propellant remains in the can, adding complexity to empty can recycle
Price
Cheap
Expensive
Can
Aluminum aerosol can, Aerosol tin can
Aluminum aerosol can
Fill
Ingredient first, then propellants
Propellants first, then ingredient
How to fill the BOV aerosol can?

1. Rolled up bag on valve assembly drops into the empty can.

2. An ideal gas (nitrogen) is injected into the space around the rolled-up bag at about 2 bar pressure.

3. The pressure is checked. If it is too low, the can is thrown out before wasting the product by filling it.

4. The product is forced into the bag through the valve. The holding tapes break, and the bag fills up. This reduces the trapped nitrogen volume, so the pressure increases to about 5 bar.

5. Actuator and cap fitted. Ready to use.
Aerosol Spary Can Markets
Aerosol sprays provide a broad assortment of cosmetics, household products, and specific aerosol types specifically designed for medical or industrial use.
Personal Care aerosol can
The cosmetics sector accounts for over 50% of the present aerosol production in the world. Cosmetic aerosol spray is classified into three segments: Hair Care, Personal Care, and Body Care.
Homecare aerosol can
The household aerosol spray segment accounts for over 20% of currently produced aerosols worldwide. Several types of household aerosol can are devoted to cleaning and maintenance at home.
Industrial & Technical aerosol can
The industrial & technical aerosol segments account for around 12% of total annual world production. They are divided into three categories that are used for professional and mass market usage:
Car products
Maintenance Aerosols cans
Paints Aerosols cans
Paint and Finish aerosols can apply in very short timeand provide a strong resistance to corrosion, abrasion and solvents, as well as a glossy protective coating on the surface on the surface to which they are applied.
Pharmaceuticals Aerosol cans
The segment of pharmaceutical aerosols is approximately 5% of overall production world production. Pharmaceutical and medical aerosols have played an essential part in the well-being and health of millions around the globe for a long time.
Food Aerosols cans
A variety of foods packaged in aerosols is available on the market, like whipping cream, cooking oils salad dressing, ketchup and mustard, icing, colouring agents, cheese spreads coffee and chocolate powders.
Aerosol cans are made of aluminum or steel, making them suitable as recyclable materials. The fact that they contain the compressed air and sometimes harmful substances makes preparing aerosol cans for recycling crucial. Here are some common mistakes to avoid.
Most aerosol cans come with plastic lids, while the can itself is metal. Metal and plastic are recycled differently, so removing the plastic cap from the metal can is essential.
Not Making Sure the Can is Empty
If any material remains in the aerosol can, it must be disposed of through your household hazardous waste program anyway. Aerosol cans with inside material are still pressurized, which could explode or burn if punctured or crushed, posing a hazard to waste compactors or recycling sorters.
Trying to Depressurize the Can Yourself
Do not attempt to puncture, crush, or flatten the can yourself, even if the can is empty. This can be very dangerous if there is still pressure in the tank.
Attempting to Remove the Nozzle
If you try to remove the nozzle yourself, you're unnecessarily putting yourself at risk of exploding the can. Removing the nozzle could depressurize the can and cause it to burst.
Evaporation is why you feel cold when spraying an aerosol on or near your body. The contents are not gases but volatile liquids for a typical aerosol (such as a deodorant or perfume spray). They evaporate instantly as they leave the nozzle.
This energy is drawn into the liquid/gas from the surrounding environment, causing them to cool. Evaporative cooling also makes the aerosol or mist spray feel cold when you blow it against your skin: your body provides the energy to change the spray from a liquid to a gas.
Whenever some of the contents are ejected, the pressure inside the can decreases slightly, which means some evaporation and cooling occurs both inside and out, causing the can to cool down.
Aerosol cans are dangerous because the substances stored under pressure inside metal cans mix abnormally. Even if the active ingredient is not a hazardous chemical (such as food), cans can still explode or become dangerous projectiles.
Here are four ways aerosol cans pose a hazard in the workplace:
Active ingredient is a hazardous substance
Adhesives, pesticides, auto sprays, solvents, cleaners, paints, and varnishes are all hazardous substances that can cause injury if workers breathe or absorb these chemicals.
It can explode when placed in the sun, in a car, or next to a hot machine.
Can is ruptured or pierced
Even empty cans cannot be punctured, as chemical residues can still be an explosion hazard.
Can be shaken, dropped, or impacted
Dropping or impacting the aerosol can make the contents volatile (active ingredient, propellant, and solvent).
Aerosol Spray Can Manufacturers
SHINING ALUMINUM PACKAGING is a professional aerosol spray can manufacturer. We are aluminum bottle and aerosol can manufacturers in China for more than 20 years. We manufacture different sizes and shapes aerosol cans. We can provide one-stop solutions, including design, production of aerosol cans, content formulation, filling aerosol cans, packaging design, export and import transportation of hazardous chemicals, etc.
We provide aerosol cans bulk and wholesale in China, there are also many dealers, distributors, and branders who buy the aerosol cans from us. We would like to offer our best prices and service bulk and wholesale to our final customers.