What Is An Aerosol Disinfectant Spray?
An aerosol disinfectant spray is a convenient and effective way to ensure your environment is free of germs and bacteria. This product comes in an aluminium aerosol can with an actuator that allows the liquid to be expelled as a fine mist or spray. It usually even has a pleasant scent added for extra freshness!
Aerosol disinfectant sprays are great for cleaning surfaces quickly and easily, such as kitchen counters, bathroom sinks, doorknobs, light switches, and other hard surfaces. They also work well on soft surfaces like upholstery or carpets when used according to the instructions. Plus, they often require less scrubbing than traditional cleaners, making them even more efficient at fighting germs and bacteria.
History Of Disinfectant Spray
A disinfectant spray is a handy tool used for centuries to help keep our homes, workplaces, and public spaces clean and germ-free. Its history dates back several hundred years when the first rudimentary aerosol propellants were developed.
In 1889, an Austrian chemist, Edward Wegner, invented the valve system that allowed for pressurized gas within containers. This discovery paved the way for modern aerosols, including those containing disinfectants. In 1926, the first commercially available aerosol cans were released in Europe and the United States. They contained insecticides such as DDT or petroleum-based liquids like paint thinner or fuel oil.
In the 1940s, with World War II in full swing, scientists began looking at more efficient ways to dispense chemicals such as pesticides or antibiotics on battlefields.
Types Of Disinfectant Spray
The novel coronavirus pandemic has made us all more aware of the importance of keeping our homes and workplaces clean. Disinfectant sprays are one of the most effective methods for sanitizing surfaces, as they can quickly and easily kill bacteria, fungi, and viruses on contact.
From aerosol sprays to ready-to-use solutions, there are a variety of disinfectant sprays available in the market. Aerosol spray is particularly popular because it's easy to use and doesn't require much time or effort to apply. Depending on your needs, you can also find multi-surface sprays for different surfaces, such as glass, wood, metal, or plastic.
Many disinfectant sprays come with added ingredients that help remove dirt and grime from surfaces.
How Does Aerosol Disinfectant Spray Work?
The aerosol disinfectant spray is an efficient and easy-to-use option for eliminating germs and bacteria from surfaces. This spray type utilizes a pressurized container filled with active ingredients released as a fine mist when activated. The tiny particles of the aerosol can penetrate hard-to-reach areas, making it an ideal choice for cleaning and disinfecting.
The active ingredients in aerosol disinfectant sprays vary depending on the product chosen. Still, they typically contain germicides such as alcohols, phenols, halogens or quaternary ammonium compounds, which destroy microorganisms by breaking down their cell walls. Additionally, certain active ingredients also act as surfactants which help spread the sanitizing agents around surfaces more evenly and effectively.
What Are The Ingredients In An Aerosol Disinfectant Spray?
Aerosol disinfectant sprays have become increasingly popular in households, schools, and businesses due to their ease of use and effectiveness in killing germs. But what ingredients are found in the aerosol disinfectant spray? This article will discuss the common components that make up an aerosol disinfectant spray and why they're important for providing superior germ-killing power.
Many aerosol disinfectants' active ingredient is usually an ethanol or isopropyl alcohol solution. These solutions work by denaturing proteins found on the surface of bacteria, spores, viruses and fungi, killing them instantly. Many companies also add fragrant compounds such as essential oils to their products for a pleasant scent.
Benefits Of Disinfectant Spray Aerosol
When it comes to keeping your home and office clean, disinfectant spray aerosol is an effective solution. This popular product is easy to use and provides several beneficial features. Disinfectant spray aerosol kills germs and bacteria on contact, helping to keep surfaces free of harmful microorganisms. It also helps reduce the risk of spreading illnesses, as it quickly eliminates the germs that can cause them. In addition, this powerful disinfectant spray helps keep surfaces clean without harsh scrubbing or wiping; this means less time spent on tedious cleaning tasks.
This versatile product can be used on various items such as countertops, door handles, and other high-touch surfaces in residential and commercial settings. Not only does it kill bacteria, but it also gets rid of unpleasant odours for a truly fresh feel in any room.
Is Aerosol Disinfectant Spray Safe?
The aerosol disinfectant spray is popular for keeping surf aces and areas clean and free from germs. However, there are some safety concerns when using these products. Is aerosol disinfectant spray safe, or could its use put your health at risk?
When used correctly, aerosol disinfectant sprays can eliminate bacteria and other microorganisms that cause illness. They can also help reduce the spread of infection by killing germs on contact. However, if not used correctly, they can threaten your health. Inhaling the fumes from an aerosol product can be toxic and cause respiratory problems such as coughing, wheezing, chest tightness, asthma attacks and irritation of the eyes or throat. In extreme cases, it can even lead to death if inhaled in large amounts over an extended period.
Does Aerosol Disinfectant Spray Expire?
The aerosol disinfectant spray is an effective way to help reduce the spread of germs and bacteria in your home or business. However, do aerosol disinfectants expire like other cleaning products? The answer is yes and no.
The shelf life for aerosol disinfectants varies depending on the manufacturer, type of product, and environmental conditions. Generally speaking, unopened aerosol cans have a longer shelf life than opened ones because contaminants can enter through their open tops more easily. Additionally, temperature plays an important role in determining how long an aerosol will last; stores should store them at room temperature instead of hot warehouses or cold freezers to extend their lifespan.
It's always best to adhere to the expiration date noted on each can, as it will ensure you're getting the most out of your product.
Best Disinfectant Spray Brand
When it comes to keeping your home and office environments safe and sanitary, the best disinfectant spray brand can make all the difference. Disinfectant sprays are an effective way to kill germs, bacteria, and other disease-causing microorganisms on surfaces. However, with so many disinfectant sprays on the market today, it's important to know which brands offer the most reliable protection from microbial threats.
We've researched for you and rounded up a list of top-rated disinfectant spray brands.
Lysol, Dettol, Savlon, Lifebuoy, Febreze, Glade, Pledge, Scrubbing Bubbles, Tilex, Domex, Lux, Mr Clean, Mr Muscle, Pine Sol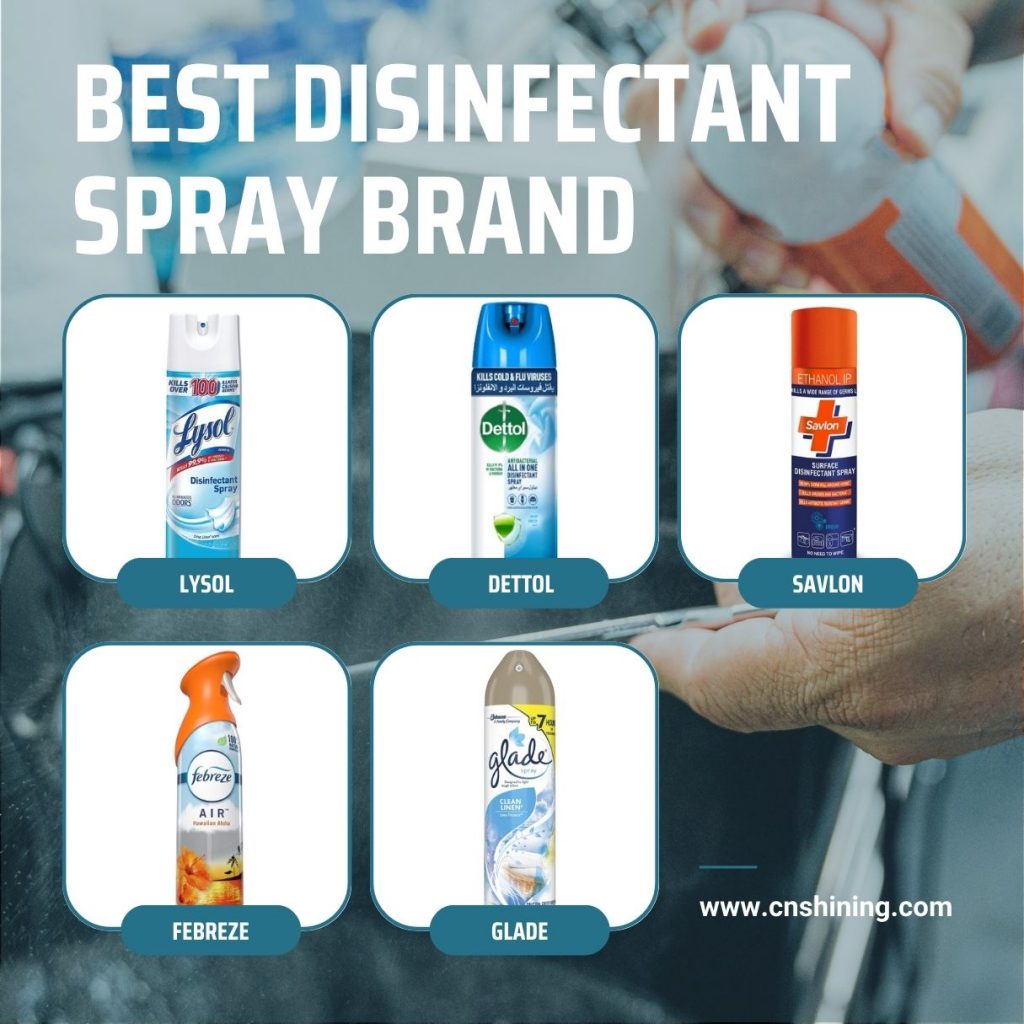 Conclusion
This article concludes that disinfectant spray is important in any home, office or business to keep surfaces and areas clean and germ-free. Whether you choose bleach-based products or natural alternatives, finding a product that works for your needs and environment is important. With the right product, you can be sure that your household, workplace or commercial space will stay safe from germs and bacteria.
Using disinfectant spray regularly can also provide peace of mind for those concerned about their health and hygiene. Disinfecting an area regularly can help reduce the spread of illness-causing bacteria from person-to-person contact and throughout the environment. Access to reliable sanitation is essential for maintaining healthy living conditions for everyone involved.
Looking for a reliable manufacturer and supplier of Disinfectant Spray CAN in China? We provide superior quality products with excellent service. Contact us now to get the best deals!