What Is An Aerosol Oxygen Spray?
Aerosol oxygen sprays are a convenient and portable way to supplement the air with extra oxygen. They come in an aluminium aerosol can, which contains compressed oxygen gas released when a valve is pressed at the top of the can. When the valve is opened, the pressure of the gas forces it out of small holes in a nozzle. The resulting mist provides supplemental oxygen when inhaled.
The amount of oxygen delivered by an aerosol spray can vary depending on how long and hard you press down on the valve. As such, it's important not to exceed recommended use and take breaks between inhalations to avoid excessive intake. Some side effects include coughing, throat irritation or dizziness; however, these symptoms usually subside quickly after use stops.
History Of Oxygen Spray
Oxygen spray, or aerosol, is a product that has been used in various industries for many years. It consists of a pressurized container that contains an oxygen-rich liquid, with a chemical actuator and propellants to push the liquid out into a fine mist.
The history of oxygen spray dates back to the mid-20th century when it was first developed for medical use. Since then, it has been utilized for industrial purposes, such as welding and pest control. The chemistry of the actuator and propellants have improved over time, which has enabled longer shelf life and other benefits. Thanks to technological advancements, oxygen spray is available in several forms, including creams, sprays and foams for different applications.
Types Of Oxygen Spray
Oxygen spray is a popular product today, offering quick and easy relief from breathing difficulties. The convenient form of oxygen can be used in any environment and comes in various forms to suit different needs. Several types of oxygen sprays are available, each providing different levels of efficacy, convenience, and safety.
The most common type of oxygen spray is a nebulizer system which delivers an aerosolized mist into the user's mouth or nose for immediate relief. This type is typically powered by batteries and offers adjustable aerosol concentration levels to give users more control over their dose intake. Another option is oxygen canisters that provide a steady flow of pure oxygen directly from the device. These are often more expensive than nebulizers but offer higher concentrations with fewer contaminants for a greater therapeutic effect.
How Do Aerosol Oxygen Spray Work?
Aerosol oxygen sprays are becoming increasingly popular as an alternative to self-administer supplemental oxygen. These handy inhalers provide a convenient and efficient way to supplement your oxygen levels on the go. But how do aerosol oxygen sprays work?
Aerosol oxygen spray provides concentrated doses of pressurized, liquidized medical-grade oxygen for direct delivery into the lungs. The device contains a propellant which helps release the liquidized form of oxygen when inhaled by breaking down droplets of the solution into microscopic particles. As these particles enter the lungs, they dissolve into gaseous molecules, quickly spreading throughout the bloodstream and tissues, delivering an extra boost of much-needed oxygen to needy areas.
What Are The Ingredients In An Aerosol Oxygen Spray?
An aerosol oxygen spray is a product that can help you breathe easier when needed. The spray contains a mixture of pure oxygen and other ingredients to ensure maximum effectiveness in improving oxygen saturation levels in the lungs. It benefits anyone with difficulty breathing, including those with asthma, COPD, or emphysema.
The primary ingredient in an aerosol oxygen spray is purified medical-grade oxygen delivered in a short burst to maximize its therapeutic effects. This form of medication delivery helps target specific areas of the lungs while providing quick relief from shortness of breath. Other ingredients include compressed air and propellants such as dichlorodifluoromethane, hydrochlorofluorocarbon (HCFC) 142b and nitrous oxide, which the FDA approves for their use in inhalation therapies.
Benefits Of Oxygen Spray Aerosol
Oxygen Spray Aerosol is a revolutionary new product designed to help maintain and improve the health of our lungs. This innovative spray, which utilizes pure oxygen molecules, can help keep our airways clean while providing numerous other benefits. Oxygen Spray Aerosol has been proven to aid in the relief of respiratory problems such as asthma, bronchitis, and COPD. It also helps reduce inflammation in the lungs and improve overall breathing quality.
With regular use of Oxygen Spray Aerosol, users have reported improved sleep quality due to enhanced oxygenation in their lungs. This increased oxygenation leads to improved energy levels during the day and overall wellness throughout the body.
Is Aerosol Oxygen Spray Safe?
Aerosol oxygen spray made headlines recently when it was reported that this type of aerosol product could treat respiratory issues. But is the aerosol oxygen spray safe?
The answer depends on a few factors, such as the product's ingredients and how it is administered. For instance, most aerosol oxygen sprays contain a mixture of medical-grade oxygen gas, purified water, or other inert ingredients. When used properly, these products are generally considered safe for inhalation by adults and children six years or older. However, it's best to talk to your doctor before using any aerosolized medication at home.
When inhaled properly, aerosol oxygen sprays can help increase blood oxygen levels quickly in those with breathing problems due to anaemia or other illnesses.
Does Aerosol Oxygen Spray Expire?
Does Aerosol Oxygen Spray Expire? The popular aerosol oxygen spray has grown in popularity among those looking to alleviate shortness of breath, headaches, and other ailments. But does this miracle spray have an expiration date?
Aerosol oxygen is a pressurized mixture of pure oxygen, nitrogen and carbon dioxide. It's sold in bottles or cans in various sizes and concentrations, the most common being a 3% concentration. Although no specific expiration dates are listed on the product label, manufacturers recommend using it within two years from the purchase date for best results. This is because the ingredients in aerosol oxygen may degrade over time with exposure to sunlight or heat.
It's also important to note that inhalation of aerosolized medications should be done only under medical supervision, as improper use could cause further irritation and inflammation of your lungs.
Best Oxygen Spray Brand
Oxygen sprays are an essential tool for beauty perfecting and medical treatments alike. Whether you're looking to give your skin a healthy glow, reduce wrinkles or relieve respiratory problems, finding the best oxygen spray brand is of utmost importance.
Boost Oxygen, Oxy 99, Bioptron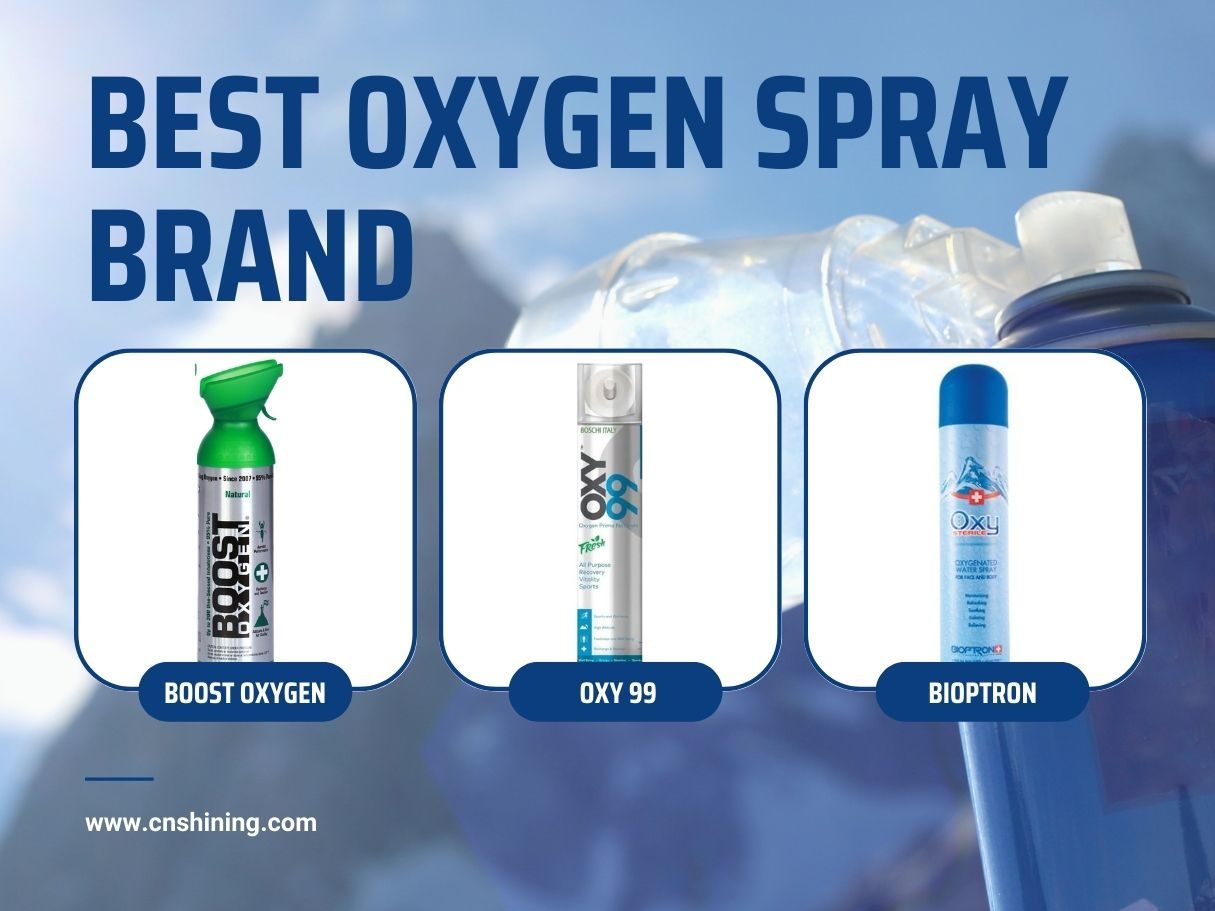 Conclusion
The article's conclusion on oxygen spray is clear: this product can benefit those looking for a quick and easy way to increase their oxygen intake. For athletes, in particular, using an oxygen spray can help improve endurance, performance, and recovery. Not only that, but individuals dealing with COPD or other breathing ailments may find relief from using an oxygen spray as well.
Overall, there are many potential benefits to using an oxygen spray. From increasing energy levels and alertness to reducing inflammation and improving overall health, it's no wonder many people swear by this product. However, it's important to remember that everyone reacts differently to different products – what works for one person may not work for another – so always consult your doctor before trying something new.
Looking for a reliable manufacturer and supplier of oxygen spray CAN? Look no further than China! We have the best quality products with competitive prices and fast delivery.