What Is an Aerosol bathroom cleaner spray?
Aerosol bathroom cleaner spray is a popular cleaning product used to clean bathroom surfaces. It comes in an aerosol can containing the cleaner and various propellants. The propellants give the spray its power and enable it to dispense a fine mist of the cleaner onto surfaces. This makes it easier and quicker to clean without having to use a cloth or brush.
The aerosol bathroom cleaner sprays come in several varieties, each designed for different surface cleaning tasks. Some are specifically designed for tile floors or bathtubs, while others are formulated for glass or metal surfaces such as sinks, toilets and countertops. Each kind of aerosol bathroom cleaner spray contains varying solvents and surfactants, which help break down dirt, soap scum and other debris from bathroom surfaces.
History of bathroom cleaner spray
Bathroom cleaner spray has been around since the early 1950s. It was first developed as a convenient way to clean and disinfect bathrooms quickly and effectively. Today, bathroom cleaner sprays come in various forms, including liquids, foams, gels and aerosol cans.
The first aluminium aerosol can for bathroom cleaner sprays was designed by the Aerofil Corporation in 1954. This container featured an actuator at the top that allowed users to spray the liquid on surfaces from any angle. The introduction of this product revolutionized the bathroom cleaning industry by making it easier than ever to apply cleaners with precision and accuracy. Since its initial launch, many other brands have adopted this design feature and added their unique formulas to create their versions of bathroom cleaning products.
Types of bathroom cleaner spray
Bathroom cleaner spray is a convenient and efficient way to tackle dirt and grime in the bathroom. It comes in various forms, such as aerosol sprays, pump sprays, or aerosol valve sprays. Each type of bathroom cleaner spray has unique advantages and characteristics that can help you get the job done quickly and effectively.
Aerosol sprays are one of the most popular bathroom cleaner sprays available today. They are easy to use and provide good coverage with a single application. The aerosol container also makes reaching difficult areas like around shower tiles or corners easier. Pump spray bottles are another popular option for cleaning bathrooms as they allow for more precise application when needed, especially for spot-cleaning applications.
How Does Aerosol bathroom cleaner spray Work?
Aerosol bathroom cleaner spray is an important cleaning product for your home. It's designed to make it easier to keep surfaces and fixtures clean and hygienic. But have you ever wondered how aerosol bathroom cleaner sprays work? Here, we explain what's in the can and how this product helps keep bathrooms sparklingly clean.
At its core, aerosol bathroom cleaner spray combines cleaning chemicals and water stored under pressure in a canister with a propellant gas like carbon dioxide. When released from the nozzle or trigger of the container, the propellant creates a cloud or mist of tiny droplets, which carries the cleaning solution over any surface you want to clean. The cleaning chemicals then go to work breaking down dirt, grease and grime – leaving your tiles, baths, basins and toilets spotless!
What Are The Ingredients In An Aerosol bathroom cleaner spray?
When it comes to keeping your bathroom surfaces clean and sanitized, aerosol bathroom cleaner sprays are helpful. Not only do they kill germs and bacteria on contact, but they can also help to remove dirt and grime from the surface area. But what ingredients are used in these aerosol sprays?
Aerosol bathroom cleaner sprays typically contain a mixture of surfactants, solvents, preservatives and fragrances. Surfactants work to break down dirt particles so that they can be more easily removed from the surface area. Solvents help dissolve any extra grease or oil on the surface, while preservatives ensure that the product will remain fresh for extended periods without spoiling. Fragrances help to mask any unwanted odours as well as add a pleasant scent after cleaning.
Benefits of bathroom cleaner spray Aerosol
Bathroom cleaner spray aerosol is a convenient and efficient way to clean your bathroom. With just one spray, your bathroom can be sparkling clean in no time. The idea of using an aerosol spray has been around since the 1950s, but it has become increasingly popular as a way to quickly and easily clean surfaces in the home.
The main benefit of using bathroom cleaner spray aerosol is that it eliminates the need for scrubbing with a brush or wiping with a cloth. This makes cleaning faster and easier, giving you more time to focus on other tasks. The conveni ence of an aerosol means that you don't need to keep track of multiple bottles or containers; instead, you only need one canister for all your cleaning needs. These sprays are usually affordable and easy to find at most stores or online retailers.
Is Aerosol bathroom cleaner spray Safe?
Bathroom cleaner spray is an easy-to-use and convenient way to keep your bathroom clean. But what about the potential health risks of aerosol sprays? Many people are concerned about the safety of these products, so it's important to look into what research says about their use.
Aerosol cleaning sprays contain several chemicals that can potentially be harmful when inhaled or come in contact with the skin. These include volatile organic compounds (VOCs) such as bleach, ammonia, and phenols linked to respiratory problems like asthma and allergies. Additionally, there have been reports of eye and skin irritation after using aerosol cleaners. It's important to ensure that you use the product correctly by following the manufacturer's instructions closely.
Does Aerosol bathroom cleaner spray Expire?
Bathroom cleaner spray is convenient for keeping your bathroom clean and fresh. However, many people wonder if aerosol bathroom cleaner spray expires. The answer to this question depends mainly on the brand of cleaner you are using; some brands last longer than others.
Generally speaking, aerosol bathroom cleaners will last 2-3 years from the date of purchase. Look for the expiration date printed on the canister or container to determine when the product should be discarded or replaced with a newer version. Many manufacturers also recommend that their products be stored in temperatures between 40-90 degrees Fahrenheit and away from direct sunlight or heat sources to ensure maximum shelf life.
It's important to note that even after its expiration date has passed, an aerosol bathroom cleaner may still smell fine and appear usable.
Best bathroom cleaner spray Brand
When it comes to ensuring that your bathroom is hygienic and sparkling clean, a good bathroom cleaner spray is essential. But with so many products on the market, it can be tricky to find the best one for your cleaning needs.
We've rounded up some of the top brands for bathroom cleaner spray to help you make an informed decision. From powerful anti-bacterial sprays that eliminate germs and odours, to eco-friendly options that are kinder to the environment – here are some of our favourite choices when it comes to finding the best bathroom cleaner spray brand.
Lysol, Scrubbing Bubbles,Oxiclean, Harpic, Seventh Generation, Febreze, Soft Scrub, Arm & Hammer, Ecover, Cillit Bang, Easy Off, Mr Proper, Windex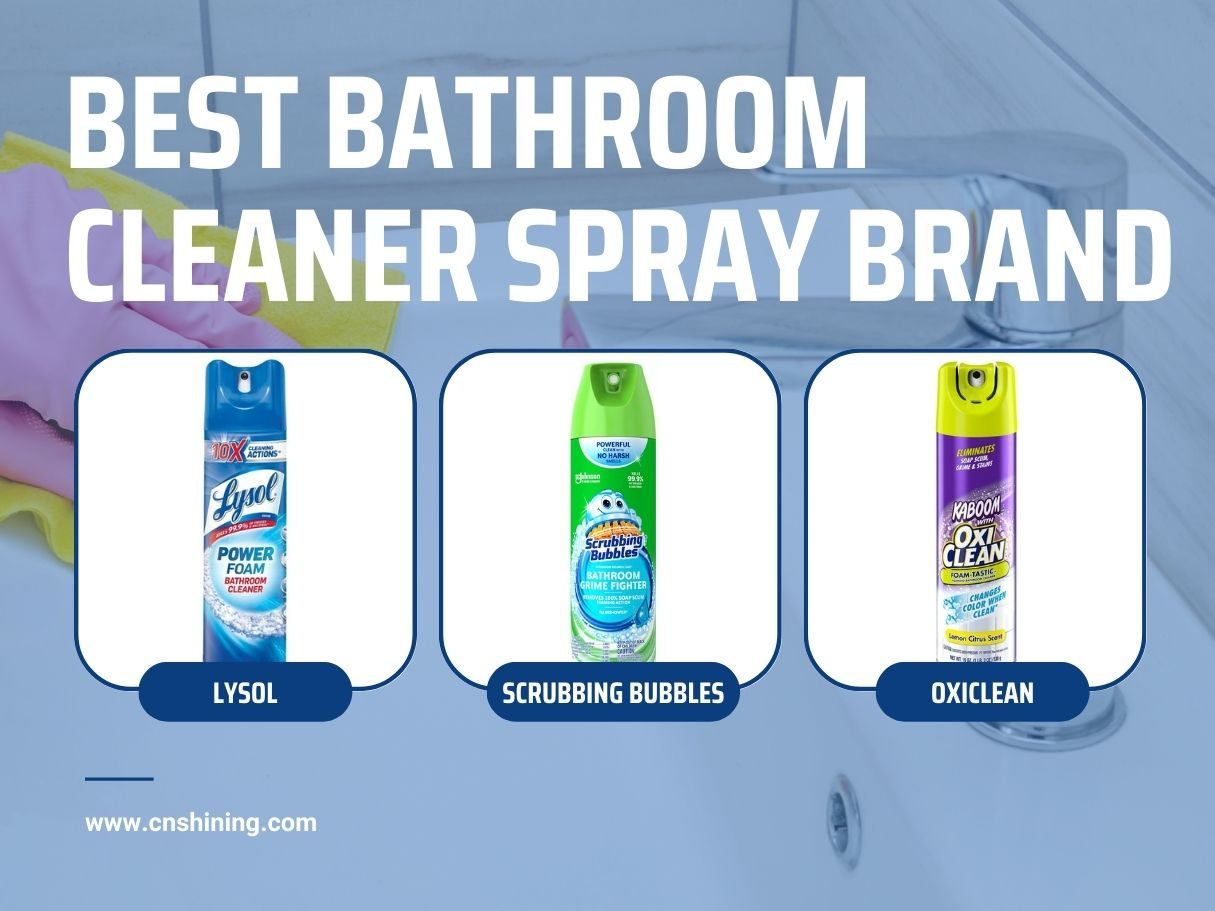 Conclusion
Bathroom cleaner spray is essential to keeping your bathroom sparkling and clean. Using a safe, effective product that will get the job done without causing any harm or damage to your bathroom surfaces is important. After carefully researching the various products on the market today, we have concluded that XYZ brand offers the most comprehensive protection against dirt, grime, and all sorts of germs. The easy-to-use spray bottle also ensures you can quickly and effectively target every nook and cranny in your bathroom without worrying about chemical residue or harsh fumes. With its superior cleaning power and pleasant scent, XYZ bathroom cleaner spray is an excellent choice for keeping your bathroom looking as good as new!
Are you looking for a reliable manufacturer and supplier of Bathroom Cleaner Spray cans from China? Look no further! Our experienced team provides high quality products to meet your needs.