What Is an Aerosol fabric sanitiser spray?
A fabric sanitiser spray is an aerosol product used to disinfect and protect fabrics from bacteria, germs, and other dangerous pathogens. It can be used on many fabrics, including clothing, linens, upholstery, and carpets. The aerosol spray is designed to kill 99.9% of germs on contact with no rinsing required.
Fabric sanitiser sprays use a combination of active ingredients like alcohol or hydrogen peroxide to effectively cleanse fabric surfaces without leaving any residue behind. Additionally, these products are usually scented for added freshness – offering protection that smells great too! Many of these products also provide long-term protection from future germ build-up; you don't have to worry about sanitation when using your favourite fabric items again.
History of fabric sanitiser spray
Fabric sanitiser spray has a long and interesting history. Before the invention of fabric sanitiser spray, people had to take drastic measures, like burning their clothing to ensure it was free from germs and viruses. The invention of fabric sanitiser spray revolutionized how people cleaned their clothes, making the process much simpler and easier.
The first fabric sanitizing spray hit the market in 1951 when Dutch chemist Wim Deans invented an aluminium aerosol can with an actuator that could dispense a mist of cleaner onto fabrics. Since then, technological advances have led to improved formulations for fabric sanitisers that are more effective at killing germs than ever before. These sprays remain one of the most popular methods of keeping fabrics clean and germ-free.
Types of fabric sanitiser spray
Fabric sanitiser spray is a convenient way to keep fabrics and surfaces germ-free. This product utilizes a valve and propellants to dispense the sanitizing agent onto fabric or hard surfaces. Many fabric sanitiser spray types are available, each designed for different purposes.
The most common type of fabric sanitiser spray contains an antimicrobial solution composed of isopropyl alcohol, hydrogen peroxide, and other active ingredients that kill germs on contact. This product can be used on surfaces such as countertops or furniture and in clothing like couches, curtains, and bedding. It's important to follow the manufacturer's instructions when using these products so that you don't damage delicate fabrics or cause skin irritation.
How Does Aerosol fabric sanitiser spray Work?
Fabric sanitiser spray is an aerosolized product that claims to kill germs, viruses and bacteria. It can be used on clothes, furniture and other fabrics in the home or business environment. The spray creates a micro-fine mist which coats the fabric with a thin solution containing active antimicrobial ingredients.
These ingredients break down the cell walls of any microbes present on the surface, making them unable to reproduce or cause infection. They also form a protective barrier that prevents new microbes from attaching to fabric surfaces and provides a refreshing scent. Furthermore, fabric sanitiser sprays are designed to be safe for all fabrics without causing any damage or discolouration, even after repeated use.
What Are The Ingredients In An Aerosol fabric sanitiser spray?
Fabric Sanitizer Spray is a revolutionary product that protects from germs and odours on fabric surfaces. With just a few sprays, this spray can keep your fabrics clean and fresh. It is an aerosol-based spray, so what are the key ingredients that make this product so effective?
The main ingredient in Fabric Sanitizer Spray is benzalkonium chloride, an antiseptic used to kill bacteria and other microorganisms on contact. This product also contains surfactants, solvents, propellants, fragrances, preservatives and dyes, depending on the brand. These ingredients help to create a powerful sanitizing mist that eliminates germs and odours from your fabrics quickly and efficiently.
Benefits of fabric sanitiser spray Aerosol
Fabric sanitiser spray aerosol is a revolutionary product, providing convenience and offering many benefits for consumers. This all-purpose cleaner comes in an easy-to-use aerosol form making it incredibly convenient to use on any fabric surface. It can be used safely on clothing, furniture, carpeting and other soft fabrics. The fabric sanitiser kills 99 per cent of germs without scrubbing or wiping – no harsh chemicals are needed, either!
The best part about fabric sanitiser spray is that it rapidly dries with no residue left behind. Furthermore, the spray can be used where cleaning products cannot typically reach. In addition to killing germs, this product helps freshen fabrics' scents and is designed to work even on tough stains like grass or mud stains.
Is Aerosol fabric sanitiser spray Safe?
Aerosol fabric sanitiser spray is a popular product among consumers looking for a quick, easy and safe way to keep their clothes and fabrics clean. But are they safe to use? Before making this purchase, it may be worth exploring what's in the product, how it works and any potential safety implications.
This fabric sanitiser comes in an aerosol can containing disinfectant chemicals designed to kill germs such as bacteria, viruses and fungi on contact. Some products contain chlorine bleach that can cause skin irritation or damage some fabrics if used too frequently or left on too long. Other products contain quaternary ammonium compounds that are less harsh but may still present risks for those with respiratory issues.
Does Aerosol fabric sanitiser spray Expire?
With the surge of pandemic-related illnesses, many people turn to aerosol fabric sanitiser spray to keep their fabrics and upholstery clean. But does this product have an expiration date?
Experts agree that aerosol fabric sanitiser sprays should not expire as long as they have been stored in a dry, cool environment. While some effectiveness deterioration may be over time due to evaporation and other environmental factors, the active ingredients remain intact. This means that it is safe to use after its original purchase date. However, it's important to note that aerosol cans may leak or become defective with age, so consumers should inspect them before each use and discard any damaged or leaking cans.
Best fabric sanitiser spray Brand
The world we live in is a very dirty place. Most of us know that germs and bacteria can be spread through fabrics, which can cause serious health issues. While washing our clothes often is an effective way to eliminate germs and bacteria, it isn't always practical or feasible. That's why fabric sanitiser sprays have become popular for keeping our fabrics clean and germ-free.
When it comes to choosing the best fabric sanitiser spray brand, several factors should be taken into consideration. First and foremost, choose one that will effectively kill germs without damaging your fabrics or leaving behind a strong chemical odour. You also need to look at how easy it is to use the product and if it's safe for all types of fabrics.
Febreze, Lysol, Clorox, Tide, Odoban, Dettol, Microban, Godrej Aer, Ewbank, Lifebuoy, Ozium, Purell, Savlon, Woolite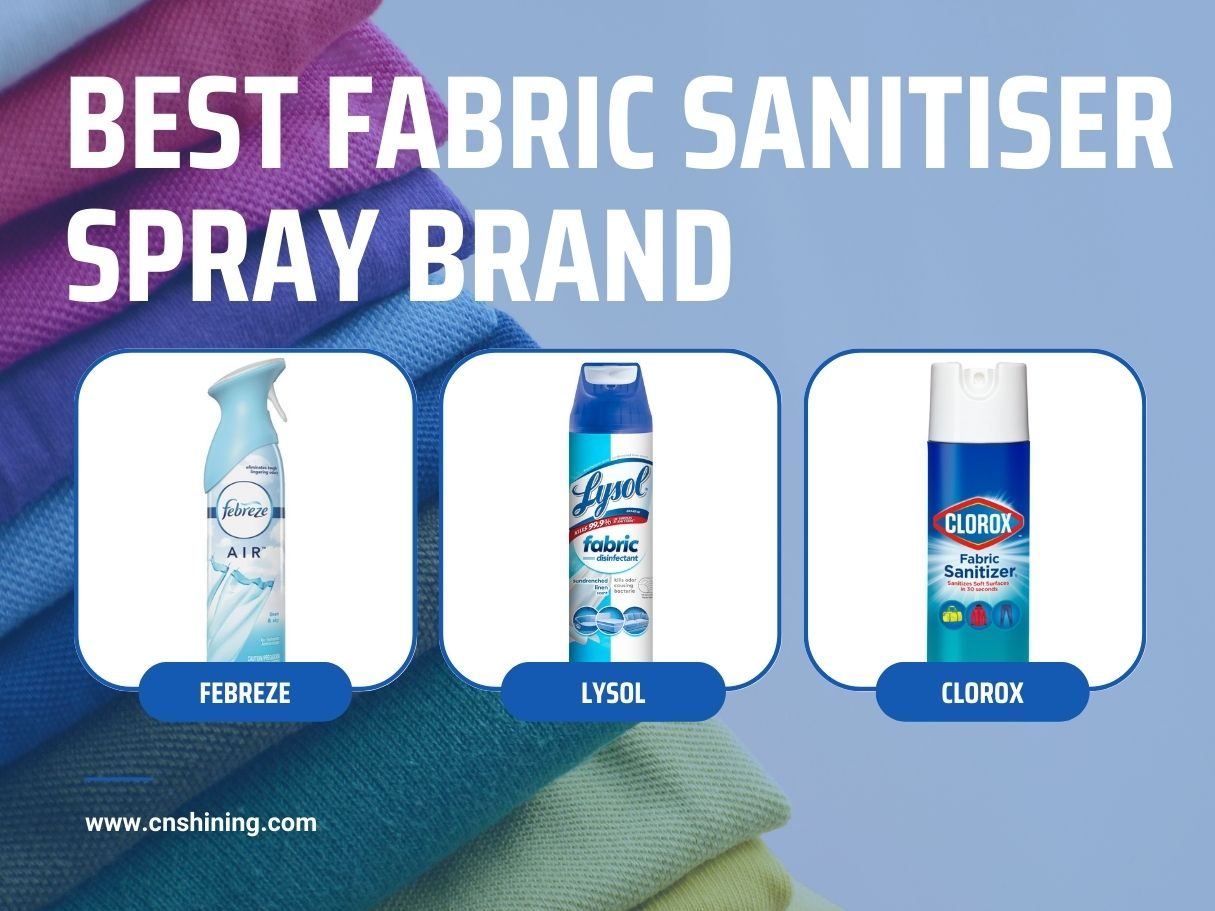 Conclusion
The conclusion to fabric sanitiser spray is a positive one. Not only does this product provide germ-killing protection without harsh chemicals, but it also offers convenience and portability. Its ability to be carried in a pocket or purse makes it easy to take with you wherever you go, so you can always have protection on hand when needed. With its combination of convenience and effectiveness, fabric sanitiser spray is an excellent choice for anyone looking for an extra layer of protection against germs and bacteria.
Overall, fabric sanitiser spray is an ideal alternative for those who prefer not to use chemical-laden cleaning products on their fabrics and surfaces. The natural ingredients make it safe and gentle enough to use even on sensitive skin or delicate materials like silk or lace.
Are you looking for a manufacturer and supplier of high quality fabric sanitiser spray in China? Look no further! We provide excellent products with great performance at competitive prices.