What Is an Aerosol foam cleaner spray?
An aerosol foam cleaner spray is a convenient and efficient way to keep your home clean. This type of cleaner is particularly useful for cleaning hard-to-reach surfaces, such as the interior of toilets and behind kitchen appliances. It typically comes in an aerosol canister that delivers a thick foam that adheres to vertical surfaces, providing superior coverage to regular liquid cleaners.
The foam contains mild detergents and surfactants that provide effective cleaning power without excessive scrubbing or harsh chemicals.
History of foam cleaner spray
Foam cleaner spray has been around for decades, providing a convenient and efficient solution to cleaning tasks. Its popularity is rising in many households due to its efficiency and ease of use. The history of foam cleaner spray dates back to the 1940s when an aluminium aerosol can was first used as an all-purpose cleaner. This product revolutionized the cleaning industry by providing an easy way to dispense products with minimal mess or effort.
Since then, foam cleaners have come a long way with improved formulations that cut through tougher dirt and grime while still being gentle on surfaces. Today they are available in various forms, from conventional aerosol cans to newer trigger sprays that offer more precise applications.
Types of foam cleaner spray
Foam cleaner spray is a fast and efficient way to clean surfaces in the home or office. It comes in several forms, and each foam cleaner spray has unique properties, making cleaning easier. Let's look at some common types of foam cleaner sprays available today.
The first type of foam cleaner spray is the aerosol can, which uses pressurized air to propel out a thick, foamy substance that easily clings to walls and other surfaces. The aerosol cans also contain special valve systems which allow users to modify the intensity of the spray depending on what they need to clean. Another popular type is shower cleaner, which is sprayed directly onto wet surfaces and works quickly to remove dirt and grime without leaving any residue behind.
How Does Aerosol foam cleaner spray Work?
Aerosol foam cleaner spray is a convenient and easy-to-use surface cleaner for all surfaces. This product is an all-purpose cleaner used on many surfaces, from counters and cupboards to toilets and bathtubs. It's great for quickly cleaning up spills or everyday messes with minimal effort.
Using aerosol foam cleaner spray is simple; it combines a surfactant with water as a foam spray. The surfactant helps break down dirt, grease, oil, and other debris so they can be easily wiped away. The foam also helps the solution cling to vertical surfaces better than traditional liquid cleaners, which often run off before they can work their magic. The high pressure of the aerosol creates a thick foamy consistency that helps it cling longer for better results.
What Are The Ingredients In An Aerosol foam cleaner spray?
Foam cleaner spray is a convenient and efficient cleaning product that can be used to tackle a variety of messes. This aerosol-based product contains multiple ingredients that are designed to provide effective cleaning for your home or office.
The primary component of the foam cleaner spray is a mildew remover, which helps break down dirt, grime, and other stains. Additional ingredients include detergents and surfactants, which improve the effectiveness of the mildew remover by helping it penetrate deeper into surfaces. Lastly, propellants such as butane and propane are added to help consistently dispense the foam while allowing it to dry quickly after application.
Overall, these various components make up an aerosol foam cleaner spray that can be used in many locations around your home or office with minimal effort required on your part.
Benefits of foam cleaner spray Aerosol
Foam cleaner spray aerosol is an effective way to clean and deodorize various surfaces around the home. It quickly breaks down dirt, grease, and grime for easy removal and leaves a pleasant scent behind. With the convenience of an actuator to help you apply precisely, foam cleaner spray can make your kitchen cleaning duties easier.
Foam cleaner aerosol sprays are designed to cling to vertical surfaces to penetrate better hard-to-reach spaces such as greasy kitchen countertops or grimy range hoods. This clinging action provides superior coverage compared with traditional liquid cleaners and helps ensure that no area goes uncleaned. Furthermore, many foaming sprays today contain natural ingredients that make them safe for use around food prep areas.
Is Aerosol foam cleaner spray Safe?
As the name implies, foam cleaner spray is a popular choice of bathroom and toilet cleaner that comes as an aerosol. It's a convenient, easy-to-use product that promises to get rid of dirt, grime, and germs quickly and efficiently. But many wonder if this cleaner is safe for their family and home.
Foam Clea ner Spray has been around since the 1950s. It is composed mostly of water, detergent, propellant gas (usually chlorofluorocarbons), surfactants (a chemical used to reduce surface tension), dye, fragrance, and preservatives to keep the foam from going bad over time.
Does Aerosol foam cleaner spray Expire?
Do you have a bottle of aerosol foam cleaner spray in your bathroom cabinet? If so, it may be time to check the expiration date on the product. Many people are unaware that aerosol foam cleaner spray does expire and can become ineffective over time.
It's important to pay attention to expiration dates for several reasons; some cans of aerosol foam cleaner still contain pressurized gas, even if they are empty. When this pressurized gas breaks down, it can cause the can to expand or even burst, which poses a safety hazard. Also, old foam cleaners cans will not perform as well as intended. This means an expired glass or bathroom cleaner will not be as effective at removing dirt or grime from surfaces and may leave behind residue.
Best foam cleaner spray Brand
Foam cleaner spray is an extremely versatile and convenient cleaning solution for many household tasks. Whether you're looking to remove a tough stain from your kitchen countertops or simply freshening up the bathroom, foam cleaner spray offers both convenience and effectiveness.
Clorox, Kaboom, Resolve, Comet, Sprayway, Tuff Stuff, Woolite, Clr, Super Clean, Zep, Magic, Nature's Miracle, Shout, Vanish, Dm, Frost King, Hg, Krud Kutter, Miele, Rocol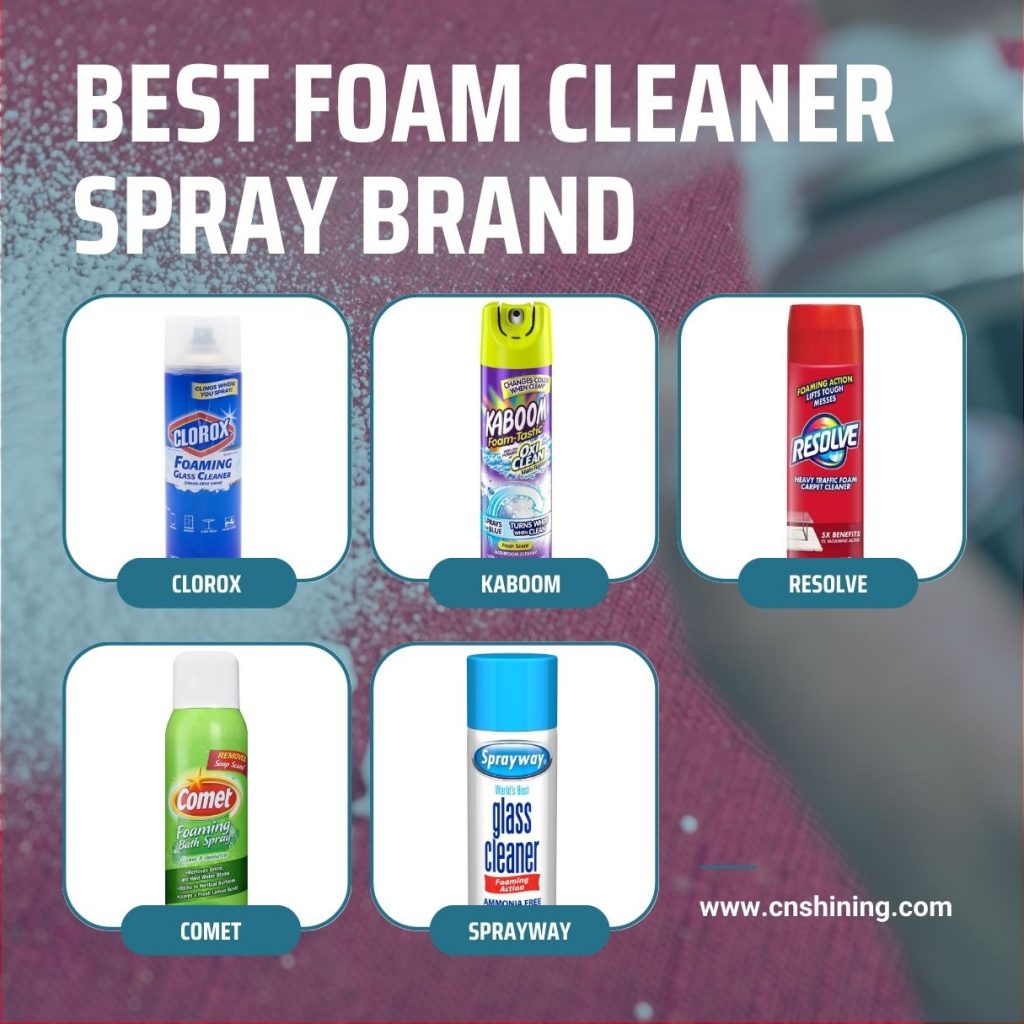 Conclusion
The conclusion of the article on Foam Cleaner Spray is a positive one. This all-purpose cleaner can be used as an effective kitchen cleaner and is simple and convenient. Those looking for a reliable product that can help keep their home clean and organized will be pleased with the results of this foam spray cleaner.
It is important to note that it takes a bit of time and effort to use this cleaner properly, but it's worth it in the end. Using this product regularly will ensure that surfaces are clean and free from bacteria and germs. In addition, the foam application provides targeted cleaning without wasting valuable cleaning solutions or leaving behind any residue or streaks.
Are you looking for a manufacturer and supplier of foam cleaner spray in China? We offer quality, reliable products at competitive prices. Get in touch with us today to find out more!