What Is An Aerosol Whipped Cream?
An aerosol whipped cream is a type of food topping created with the help of a pressurized container. It is made from heavy whipping cream and other ingredients such as sugar, flavourings, and sometimes stabilizers. The propellant in the canister helps spray the contents in fine particles under pressure, creating an airy foam-like consistency similar to ordinary whipped cream.
When it comes to convenience, nothing beats an aerosol whipped cream! All you have to do is shake the canister before use and then press down on the nozzle to deliver a perfect rosette or swirl of fluffy topping onto your dessert or beverage. This product has become very popular over recent years due to its ease of use and long shelf life compared with regular homemade versions. It also offers benefits such as being preservative-free and low fat depending on what variety you choose.
History Of Whipped Cream can
Whipped cream is a popular topping for desserts and beverages. Its origins can be traced back to the 18th century when cream was whipped by hand with a whisk or fork. However, modern convenience has made it easier to top your favourite treats with an airy whipped cream. The invention of whipped cream can revolutionise how we enjoy this delicious dessert topping.
The first aerosol-dispensed, ready-to-use whipping product was introduced in 1948, known as Reddiwhip. This revolutionary product used a valve system allowing users to dispense fluffy clouds of sweetened cream out of an aerosol spray can. Since then, countless brands have created versions of this convenient treat with different flavours and innovative packaging designs.
Types Of Whipped Cream can
Whipped cream is a popular dessert topping in homes, restaurants and cafes worldwide. It adds flavour, texture and sweetness to cakes, pies and other desserts. But what type of whipped cream should you choose? Two main whipped cream cans are aerosol cans filled with propellants and non-aerosol cans filled with nitrous oxide.
Aerosol whipped cream cans contain a sweetened dairy base and one or more propellants such as nitrous oxide or carbon dioxide. When you press the nozzle on the can, these propellants combine to create a thick foam sprayed onto your food item. The advantage of using an aerosol can is that it is easy to use and requires no special preparation. However, some people find the taste of aerosol whipped cream too artificial.
How can Aerosol Whipped Cream Work?
Whipped cream is a popular topping for desserts and other treats. Whether homemade or store-bought, whipped cream's fluffy texture and sweet flavour can make any dessert more enjoyable. Aerosol whipped cream has become increasingly popular due to its convenience and ease of use, but how does it work?
The most common type of aerosol whipped cream is made with a bag-on-valve (BOV) system, which combines compressed air with propellant gas. This mixture passes through an actuator that releases the contents into the aerosol container. The pressure causes the liquid ingredients within to expand and form an aerated foam which is then dispensed as a light, creamy substance when sprayed from the canister. This process takes seconds and allows for the quick preparation of delicious dishes without mess or hassle.
What Are The Ingredients In An Aerosol Whipped Cream?
When we think of whipped cream, many think of a decadent topping to a delicious dessert. But did you know that the creamy delight we all love starts in an aluminium aerosol can? Whipped cream is unique in that it is one of the few products on the market that comes out in an aerosol can and adds some extra sweetness to our lives.
Benefits Of Whipped Cream Aerosol
Whipped cream is one of the most delicious and versatile treats out there. Whether served on top of a slice of pie, used to create a special finishing touch on coffee drinks, or even used as an ingredient in various recipes, whipped cream can make any treat more special. But did you know that the convenience and versatility of whipped cream can be taken to a whole new level with whipped cream aerosol products? By using an aerosol product instead of traditional whipped cream, you can get all the same amazing benefits without worrying about prepping and storing your homemade version!
Aerosol whipped creams are available in many different flavours, making them perfect for creating unique recipes and adding flavour variety. Plus, they come in convenient packaging, making them easy to store until needed.
Is Aerosol Whipped Cream Can Safe?
Whipped cream is often the perfect topping for enjoying a delicious treat. As convenient as aerosol cans of whipped cream may be, there has been increased concern over their safety. Is the convenience worth the potential risks? , some worry that these gases can lead to health issues when inhaled or cause an explosion if exposed to heat sources such as an open flame. In addition, many studies suggest that nitrous oxide can adversely affect our environment when released into the atmosphere.
Despite the potential safety concerns, aerosol cans remain popular for consumers due to their lightweight and convenience for quick use.
Can Aerosol Whipped Cream Expire?
Yes, aerosol whipped cream cans can and do expire. This is because the ingredients that go into making the product can become unstable over time and begin to separate or even spoil. Understanding how long your cans of whipped cream will last is key to ensuring that you use a safe and quality product.
The expiration date of an aerosol whipped cream can vary depending on the specific brand and product type. Generally, most canned whip creams have a shelf life of one to two months after being opened, but this can change based on individual products and their ingredients. To be sure your product is still safe for consumption, always check the date before use and discard any cans that have been open for longer than two months or display signs of spoilage such as discolouration or an off-odour.
Best Whipped Cream Can Brand
When it comes to desserts, nothing is more essential than having a can of whipped cream handy. Not only is it the perfect topping for all types of cakes and pies, but it also adds extra richness and sweetness to any dish. But which brand of whipped cream can you choose? Here are the top picks for the best-whipped cream cans today.
Cool Whip, Reddi Whip,Trader Joe's, garelick farms, Ninja, Altadena, Starbucks, Alpro, Coffee Mate, Tropolite, Vitamix, A2 Milk, Aldi, Coco Whip, Coles, Devondale, Hershey, Kraft, Land O Lakes, Magic Bullet, Milk Pak, Nespresso, Philadelphia, Rich's, Silk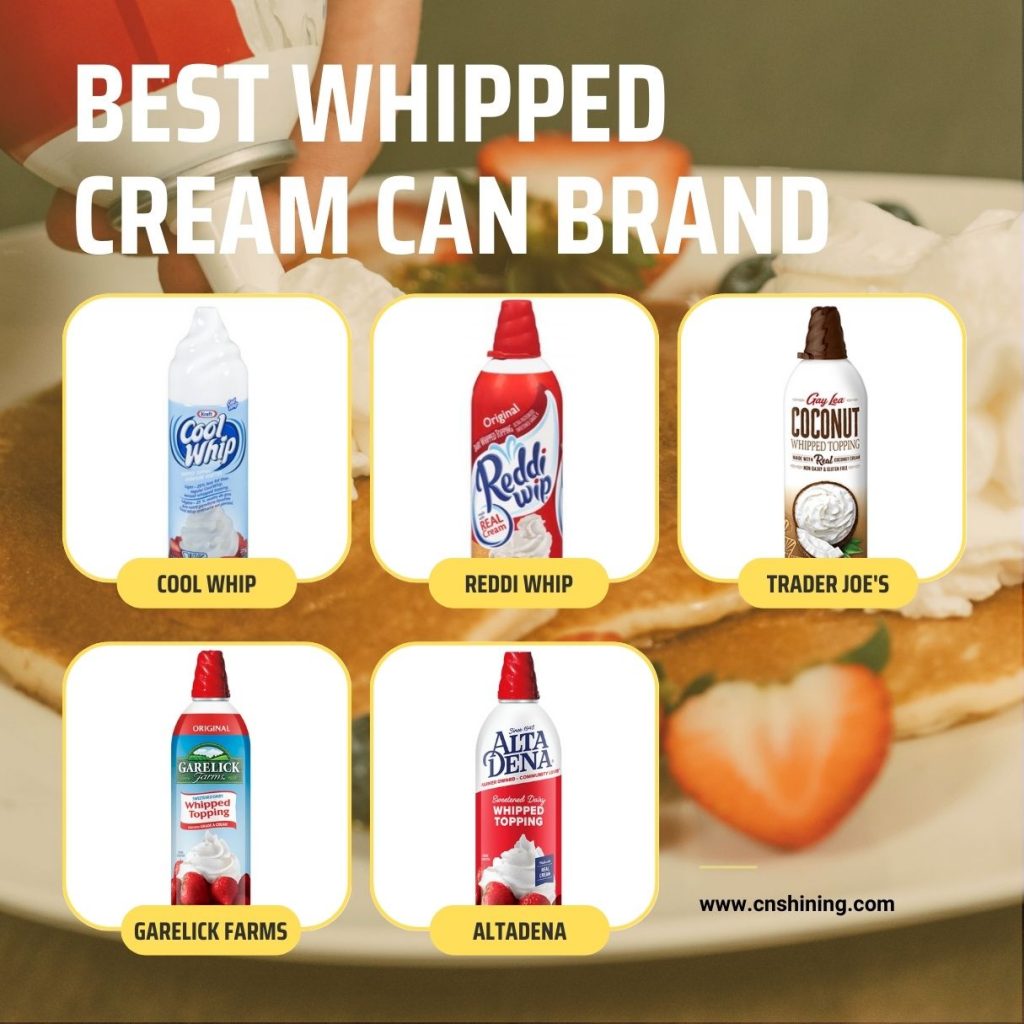 Conclusion
This article concludes that whipped cream is a versatile and delicious topping for any dessert. It can be used in sweet and savoury dishes, making it the perfect choice for anyone looking to add some flavour to their desserts. From traditional recipes like delicious strawberry shortcakes to more creative dishes like savoury crepes, there are endless possibilities when using this creamy topping. Not only does it taste great, but its texture adds a lightness and richness to your meal that will surely make your guests happy! With so many variations available, whipped cream is an excellent way to liven up any occasion.
Aerosol cans of whipped cream contain nitrous oxide and propane gas as propellants which are both highly flammable gases. While most people have no issue using them in their homes
Welcome to Whipped Cream CAN, the best manufacturer and supplier of whipped cream cans in China. We have a wide range of sizes and shapes for all your needs.