What Is An Aerosol Food Color Spray?
Food colour spray is a unique form of food colouring used in baking and cake decorating. It's an aerosol spray that allows users to quickly and easily add stunning colours to food.
An aerosol food colour spray works as any other aerosol can: it contains a liquid contained within can, along with a propellant under pressure. When you press the actuator on top of the can, it releases liquid and gas simultaneously. This creates a mist-like application, allowing precise control over where the colouring ends. The result is beautiful, even coverage without any mess or hassle.
Whether you're creating abstract designs or adding some vibrancy to your classic recipes, food colour sprays are an ideal option for achieving vivid colours without mixing batches of icing or frosting from scratch.
History Of Food Color Spray
The history of food colour spray dates back to the 1950s when it was first introduced. Food colour spray is used in confectionery, cake decorating and other culinary applications. It is an aerosol can filled with artificial food colouring liquids and propellants such as nitrogen or carbon dioxide that allow the product to be sprayed onto foods.
Throughout its history, food colour spray has changed in many ways. Today's cans are made from aluminium instead of steel like they were originally, making them lighter and easier to transport. The propellants have also been improved over time, making them less dangerous for both users and the environment. Furthermore, the variety of colours available has increased significantly since its introduction in the 1950s.
Types Of Food Color Spray
Food Color Spray has become popular for adding visually striking colours to food items. From cakes and cookies to salads and even drinks, Food Color Spray can be used in various ways to make dishes look beautiful. There are two types of Food Color Sprays available: bag-on-valve (BOV) and aluminium aerosol cans.
BOV is the most common type of Food Color Spray on the market today due to its convenience, affordability, and ease of use. It comes in an easy-to-use spray bottle which makes application simple and precise. The colour from this type of spray is also highly concentrated, so it lasts longer than other forms of food colouring sprays.
How Does Aerosol Food Color Spray Work?
Aerosol food colour spray is a great way to quickly and easily add vibrant colours to your favourite dishes. This type of food colouring allows you to make all sorts of creations, from smoothies and shakes to cakes, cupcakes, and cookies. But how does it work?
Food colour sprays are made with aerosol cans filled with water-based dyes that are highly concentrated. When the user pulls the trigger on the can, these dyes get pressurized in an aerosol form, making them suitable for spraying onto food items. This spray contains no calories or fat whatsoever and can be used without worrying about adding any unwanted calories to your meal or snack.
The application process for this product couldn't be easier – point the nozzle towards what you want to colour and pull the trigger!
What Are The Ingredients In An Aerosol Food Color Spray?
Food colour spray is an easy and convenient way to add vibrant colours to any food or drink. It's a popular choice amongst bakers and cake decorators, as it allows them to quickly spruce up their creations with a wide range of vivid colours. But what exactly are the ingredients that make up this aerosol-based product?
An aerosol food colour spray typically contains sugar alcohols, water, glycerin, propylene glycol, artificial colouring agents and preservatives. The most common colouring agents used in these sprays are FD&C Blue No. 1 Lake, FD&C Red No. 40 Lake and FD&C Yellow No. 5 Lake. These artificial colours are non-toxic when ingested but can cause allergic reactions in some individuals if they come into contact with the skin or eyes.
Benefits Of Food Color Spray Aerosol
Food Color Spray Aerosol has become an increasingly popular choice for those looking to add a unique and vibrant touch to their favourite dishes. From home cook to professional chefs, this easy-to-use product offers many benefits. Not only does it provide vivid and long-lasting colour, but it also adds texture and depth that can help take any dish from ordinary to extraordinary.
When using Food Color Spray Aerosol, there are several advantages over traditional food colouring options such as liquid or powdered dyes: for one, it provides even coverage with no brush strokes or other unsightly streaks; by using an aerosol spray dispenser, you can also achieve effects like blending colours or creating intricate shapes with little effort; finally, its fast drying time means that most projects are finished before they even start!
Is Aerosol Food Color Spray Safe?
Is aerosol food colour spray safe? That is a question that many consumers have been asking lately. With the rise of Instagram-wo rthy treats, more and more people are turning to food colour spray to make their creations look vibrant and enticing. But what is the safety of this product?
Food colour spray comprises mostly water, glycerin, and natural or artificial colouring agents. While these ingredients may be considered safe for consumption, they can pose risks if consumed in large amounts. The amount used in typical recipes should not cause any harm when ingested. Still, there are some potential health concerns associated with breathing in the aerosol from the product, as it can irritate the lungs or throat. Additionally, some brands may contain preservatives, potentially harmful if overused.
Does Aerosol Food Color Spray Expire?
Aerosol food colour sprays are popular for decorating cakes, cookies, and other treats. While these sprays come with a "best by" date, there is some debate about how long they remain effective after that point. It's important to understand when an aerosol food colour spray expires so you can ensure your treats look their best and stay safe to eat.
Food colour sprays contain propane or butane gas which acts as the propellant in the cans. Over time, this gas can evaporate and cause the paint not to disperse properly when sprayed onto food items. Additionally, if stored in humid environments or kept too long at room temperature, it could lead to microbial growth inside the cans, rendering them unsafe for use.
Best Food Color Spray Brand
Food colour spray has been gaining popularity in recent years, as it is a great way to easily and quickly add vibrant colours to any dish. With so many brands offering this product on the market, it cannot be easy to know which one is the best.
We've researched and found that several standout products are sure to make your dishes look beautiful.
Wilton, Chefmaster, PME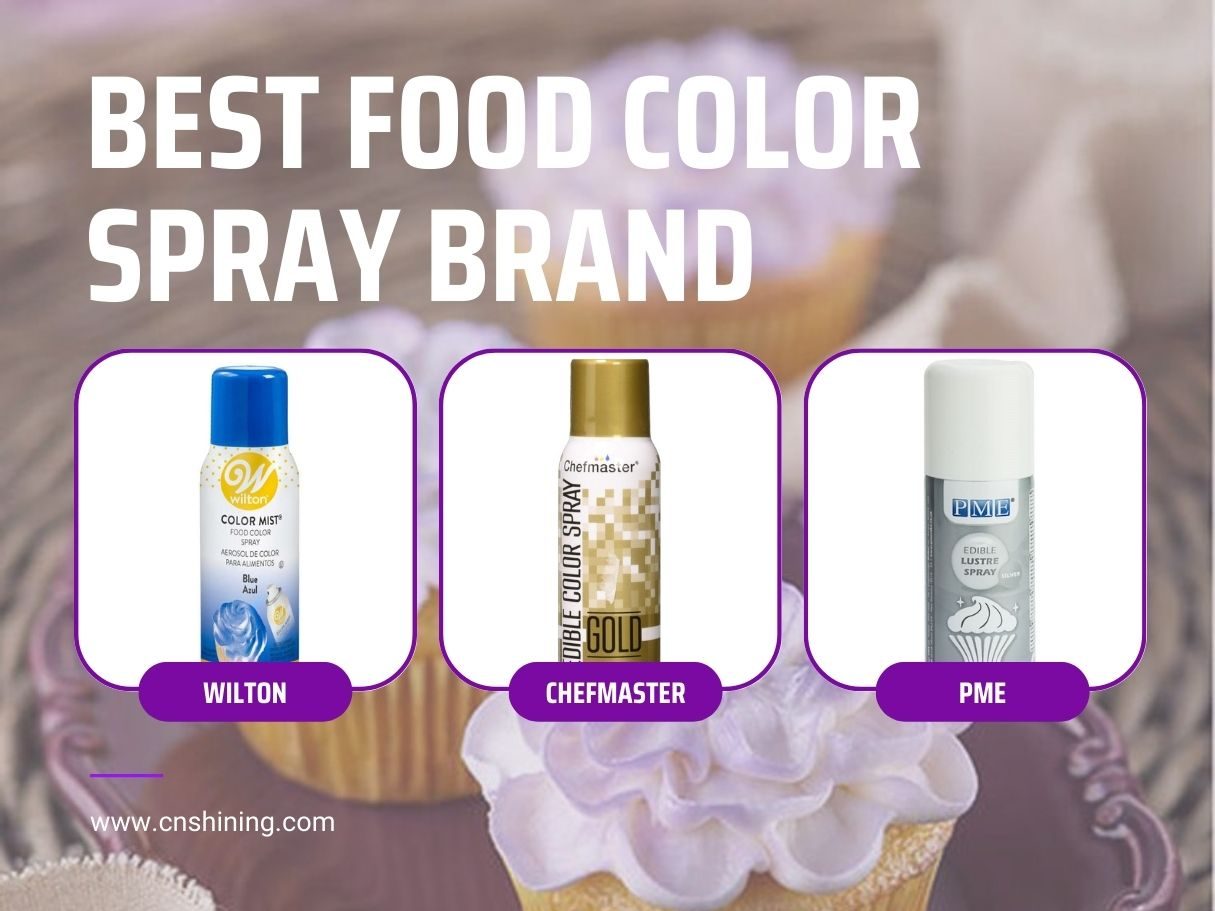 Conclusion
The article about food colour spray concludes that it can be a great tool for creating exciting and vibrant dishes. It's important to note that food colour spray should only be used in moderation and with caution. The FDA warns that when ingested in large quantities, artificial food dyes can have potential health risks, such as causing allergic reactions or behavioural issues. Furthermore, many of these sprays are not labelled as vegan or vegetarian-friendly due to the presence of animal-based ingredients. As with any food additive, it is advised to read the labels carefully and research any product before use.
Ultimately, if used correctly in small amounts, food colour spray can help you create tasty and visually appealing dishes.
Looking for the best manufacturer and supplier of Food Color Spray CAN in China? Here's your one-stop destination. We provide quality products at competitive prices – get your order shipped today!