What Is An Aerosol Cheese Spray?
Aerosol cheese spray is a food product that comes in an aluminium aerosol can, much like other aerosol products. It functions similarly to a traditional valve system, allowing consumers to spray small amounts of cheese onto their foods. This product is popular for convenience and for offering precise portions of cheese with each pump.
The first aerosol cheese sprays were developed in the early 2000s and have since become more widely available in grocery stores and speciality markets worldwide. There are wide varieties, including flavours such as cheddar and nacho cheese, and dairy-free options like vegan or mozzarella. As a time-saving convenience, this product has become increasingly popular among busy cooks looking for an easy way to add flavour without compromising taste or texture.
History Of Cheese Spray
Cheese Spray has been around for decades, and its history is just as interesting as its products. Originally, cheese spray was developed in the 1950s to use propellants like nitrogen or carbon dioxide to dispense food items such as whipped cream, sauces, and of course, cheese! Cheese spray can come in an aerosol can with an actuator that is easy to press. In the past, it was thought that canned cheese products would be a great convenience food that people could enjoy on their favourite snacks like crackers or chips.
Today there are wide varieties of cheese spray available, including cheddar and pepper jack flavours. There are even vegan options made from soy milk and other plant-based sources! Whether you're looking for a quick snack or want to add some cheesy flavour to your dish, you can rely on cheese spray cans to get the job done.
Types Of Cheese Spray
Cheese Spray has become a popular product for home cooks and professional chefs. This convenient aerosol spray can top off dishes easily, adding a delicious cheesy finish. There are two types of cheese spray available on the market: bag-on-valve (bov) and traditional aerosol spray.
Bag-on-valve (BOV) cheese sprays use air pressure to force out the cheese from its packet, as opposed to using chemical propellants like traditional canned products. This makes them an ideal choice for those looking for a healthier option and known to have a longer shelf life than other options. The BOV technology also ensures that all flavours are retained within each packet, allowing you to enjoy the maximum taste with minimal wastage.
How Does Aerosol Cheese Spray Work?
Cheese spray is an aerosol product that allows people to enjoy the cheesy flavour of their favourite snack conveniently. This product has been enjoyed by consumers for years and is now available in various forms, including pre-packaged cheese slices and containers of ready-to-eat spreadable. But how exactly does cheese spray work?
Cheese spray combines cheddar cheese powder, oil, and other flavours to create a cheesy flavour. Pressing the nozzle on the aerosol canister releases a fine mist of these ingredients onto your food. The oil helps disperse the powder over your meal while adding fat to give it a creamy texture. The other flavours added depend on what type of cheese is being sprayed – for example, Parmesan or blue cheese may have additional herbs or spices added for extra flavour.
What Are The Ingredients In An Aerosol Cheese Spray?
Cheese spray may sound like a strange food item, but it is a popular topping for snacks such as popcorn and nachos. An aerosol cheese spray is a cheese product that comes in an aerosol container, making it easy to sprinkle over your favourite snack. So what exactly are the ingredients in an aerosol cheese spray?
An aerosol cheese spray typically consists of various cheese and other dairy products. This includes powdered cheddar or other cheeses, milk proteins, whey protein concentrate, sodium phosphate, lactic acid and artificial flavourings. The type and amount of these ingredients can vary depending on the brand or recipe. For instance, some recipes may also contain vegetable oil or margarine to help give the cheese sauce its creamy texture.
Benefits Of Cheese Spray Aerosol
Cheese spray is an aerosol product made of cheese and other emulsifiers that can enhance any dish's flavour. This innovative cooking solution has become increasingly popular in recent years thanks to its versatility and ease of use. Not only is cheese spray a great way to add flavour to food, but it also offers several health benefits.
For starters, cheese spray instead of pre-shredded or grated cheese cuts down sodium and fat content. This makes cheese spray an ideal choice for those looking to reduce their calorie intake without compromising on taste. Studies have shown that consuming lower amounts of sodium and fat can help minimize the risk for various chronic diseases such as heart disease and stroke. It can also help lower bad cholesterol levels in the body while keeping blood pressure in check.
Is Aerosol Che ese Spray Safe?
The debate on whether aerosol cheese spray is safe has been ongoing for years. A new study from the University of California, Davis suggests that the popular cheese-in-a-can may not be as "safe" as one might think. The research team tested twelve different brands of aerosol cheese sprays and found that nine contained phthalates, a toxic chemical used in plastics that can cause health risks such as hormonal disruption and cancer.
The researchers claim that the phthalates could potentially make their way into people's bloodstreams if consumed in large quantities. Additionally, they found traces of heavy metals, including lead and cadmium, which are known to cause neurological damage. This study raises serious questions about the safety of aerosol cheese spray products and whether or not they should be allowed to stay on grocery store shelves.
Does Aerosol Cheese Spray Expire?
Cheese is a beloved food around the world. It's widely used in recipes, sprinkled on salads and other dishes, and more. But what about Aerosol Cheese Spray? Does it have an expiry date? That's the question that many people are wondering.
It turns out that while aerosol cheese spray does not necessarily have an expiration date marked on it, it is important to pay attention to the ingredients list on each canister. Ingredients such as whey powder and emulsifiers will eventually expire, and using expired aerosol cheese spray may result in adverse health effects if consumed past its best-by date. Additionally, due to its high-fat content, aerosol cheese spray can go rancid over time if stored improperly or left open for too long before use.
Best Cheese Spray Brand
With a wide range of products on the market, it's important to compare different available brands to find one that works best for you. Some factors to consider include taste, convenience, availability and price. Knowing what you're looking for will help narrow down your options and ensure you get the most bang for your buck when shopping for cheese spray.
When choosing the best cheese spray brand, several options are worth exploring.
Kraft, Great Value, Spray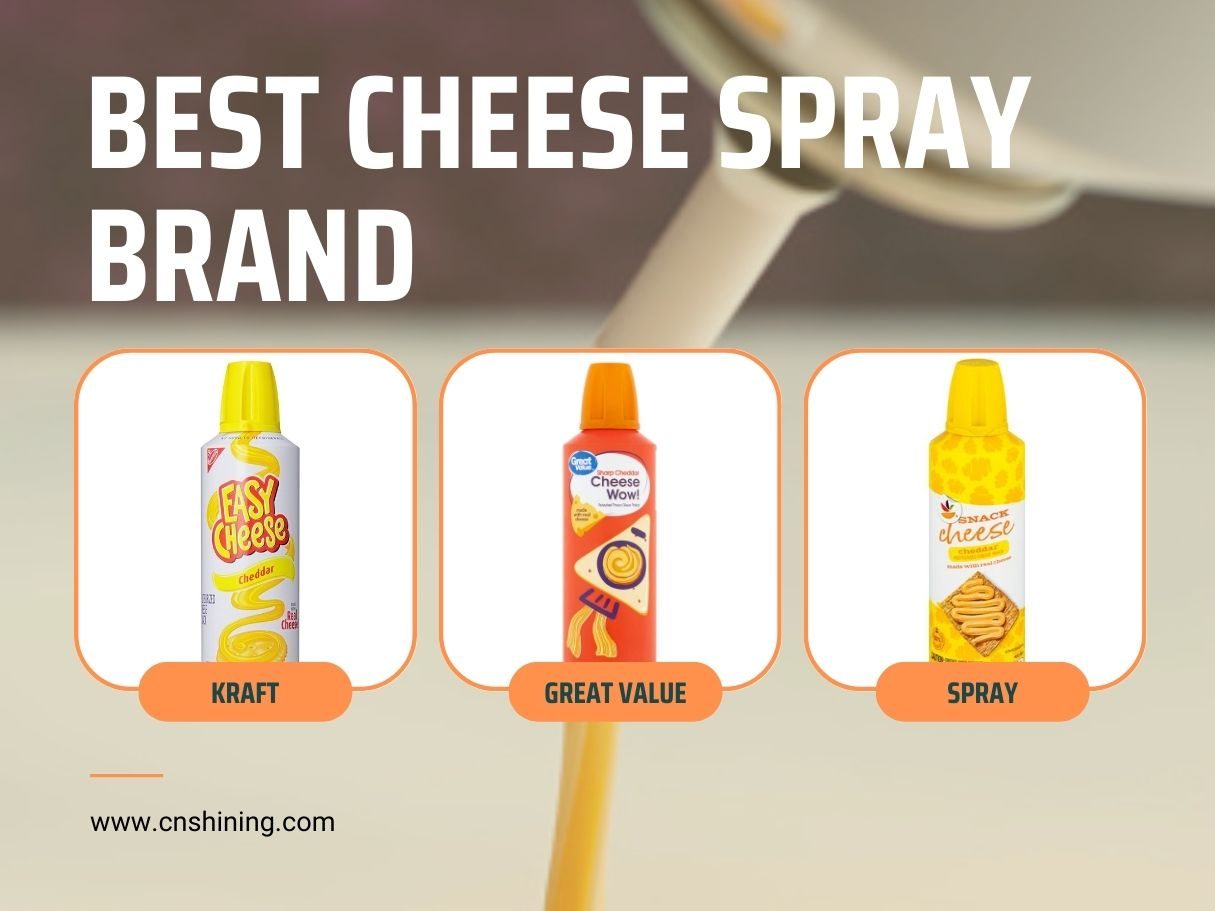 Conclusion
Cheese Spray has become a popular condiment for many snack and meal options. Find the perfect Cheese Spray CAN for your needs! We are a leading manufacturer and supplier of high-quality cheese spray cans based in China.