What Are Aerosol insecticides Spray?
An aerosol insecticides spray is a type of pesticide that comes in a can with a propellant. The can, or container, is pressurized with the propellant, and when released, it propels the insecticide out of the can and into the air as an aerosol spray. In other words, it's a powerful form of a bug-killing mist, which makes it very effective at killing insects on contact.
The active ingredients contained in an aerosol insecticide spray are usually strong chemicals that are designed to kill bugs upon contact. Most sprays contain pyrethrins that paralyse the nervous systems of insects or repellents such as DEET or permethrin, which repel them away from treated areas. It's important to read labels carefully before using any insecticide and follow safety precautions to protect yourself and others in your household or workplace.
History of insecticides spray
Insecticide spray has been used for centuries to control pest infestations and protect crops. As early as the 17th century, people used sulfur-based insect sprays to ward off pests in their gardens. Today, insecticides come packaged in aluminium aerosol cans with a valve allowing easy pesticide application.
The first patent for an aerosol insecticide was granted in 1927 by Dane L. Larsen. He proposed a way to package liquid or powdered chemicals into pressurized containers that could be easily applied to plants and other areas needing protection from insects. In 1945, insecticide aerosols became widely available when Schoenwald & Company released its product "Bug Bomb" into the market. This product allowed consumers access to an efficient and powerful form of pest control without having to handle toxic materials directly on their skin or clothing.
Types of insecticides spray
Insecticides spray a common and effective way to rid a home or business of pests. It uses an actuator, the part of the can that dispenses the insecticide, combined with propellants to disperse the liquid or powder into the air. The type of insecticide spray used depends on what kind of pest infestation you are dealing with and how severe it is.
Two main insecticide spray types are available: contact aerosols and space sprays. Contact aerosols kill only those bugs it comes into direct contact with and usually come in cans with trigger-style actuators for easy application. Space sprays contain residual insecticidal particles that remain in the air after spraying, killing other insects as they enter your home or business long after the application.
How Do Aerosol insecticides spray Work?
Aerosol insecticides spray a popular method to get rid of insects. It works by discharging a fine mist of chemicals into the air that will settle on surfaces and kill any bugs that come in contact with it. The main ingredient in aerosol insecticides is usually pyrethrins derived from chrysanthemums and other flowers. They disrupt an insect's nervous system and eventually cause death.
Aerosol sprays are easy to use, fast-acting, and can be used indoors and outdoors. However, they should only be used as a last resort since overuse may lead to poisoning or allergic reactions in humans and animals. Most aerosol sprays are designed to be non-toxic, but the ingredients should still be read carefully before using the product.
What Are The Ingredients In An Aerosol insecticides spray?
Insecticides spray is a widely used pest control tool, but not many people know what goes into them. An aerosol insecticide spray typically contains several active ingredients and inert ingredients that work together to kill unwanted pests. This article will explain the various components found in aerosol insecticide sprays and how they interact with each other to provide effective pest control.
The primary active ingredient in aerosol insecticide spray is typically an insecticide like pyrethrin or pyrethroid, which acts as a neurotoxin that can quickly paralyze and kill pests. Depending on the type of insects being targeted, additional active ingredients such as carbamate, organophosphate, or neonicotinoids may also be present.
Benefits of insecticide spray Aerosol
Insecticide spray aerosol is one of the most efficient ways to eliminate pesky insects infesting your home. It is a fast-acting and reliable method that can be used in any environment, such as indoors or outdoors. Using an insecticide spray aerosol offers several benefits that will help protect your family and property from harmful pests.
One benefit of using an insecticide spray aerosol is its portability, allowing you to quickly get it where you need it without having to lug around a large canister or bottle. The size also makes it easier to store away when not in use, ensuring that children and pets are kept out of harm's way.
Is Aerosol insecticide spray Safe?
Aerosol insecticide sprays are widely used in many households to eliminate insects and pests. But have you ever wondered if this insecticide is safe for your family or pets? The answer is a bit complicated; aerosol insecticide sprays can be effective against insects and not dangerous when used properly.
Regarding safety, the biggest concern with aerosol insecticide sprays is that they may contain toxic chemicals if inhaled or ingested. Inhalation can lead to serious respiratory symptoms such as coughing and wheezing, while ingestion may cause nausea, vomiting and even death. It's important to read the label on any aerosol spray carefully to ensure it does not contain any potentially hazardous substances.
Does Aerosol insecticides spray Expire?
Insecticides are a great way to kill pests, but many people don't know that aerosol insecticides spray can expire. When aerosol insecticides spray past their expiration date, they can become ineffective and even hazardous to humans and animals. That's why it's important to know when your aerosol insecticide expiration date is so you can make sure you're using the right product for the job. Here, we discuss what happens when your aerosol spray expires and whether or not you should still use it after its expiration date.
Most manufacturers list an expiration date on their products' packaging, usually two years from the manufacturing date.
Best insecticides spray Brand
Insects can be a nuisance, especially during the warmer months. Whether you're dealing with ants, spiders, or fleas, you'll want to take steps to keep them out of your home and yard. An effective way to do so is by using an insecticide spray. Finding the best insecticide spray brand for your needs can help ensure that your pest problem is taken care of without risking your health.
Baygon, Bayer, Ortho, Bunnings, Raid, Yates, Bengal, Doktor Doom, Absorbine, Mosquito Fogger, Orange Guard, Crc, Gordon's, Ecosmart, Bop, Flit, Gardentech, Hot Shot, Pyranha, Bug Clear, Dethlac, Hi Yield, Avid, Basf, Bird Mites, Control Solutions, Dawn, F10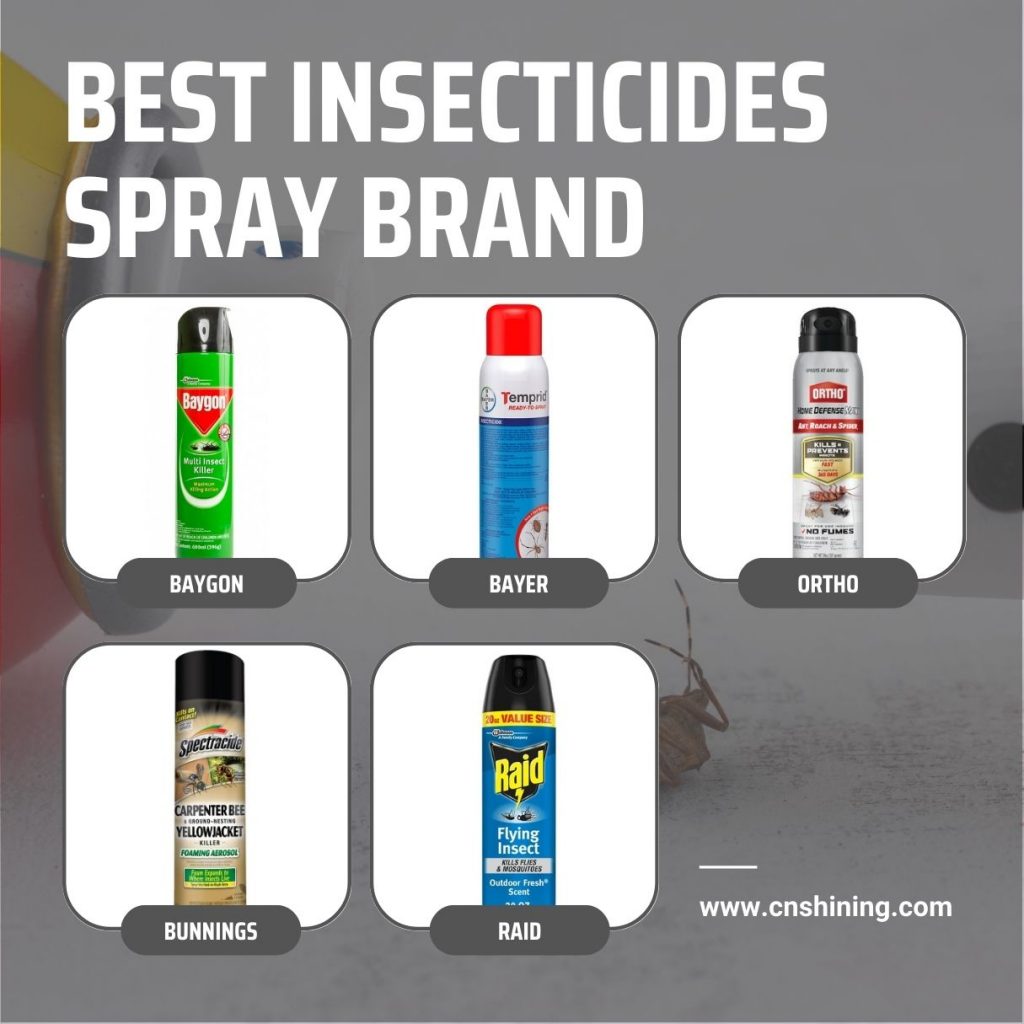 Conclusion
The conclusion of our research into using insecticide spray in aluminium aerosol cans is a positive one. We have discovered that this pest control method is highly effective and simple. The aluminium aerosol can make it easy to store, transport, and apply insecticide while providing an environmentally friendly solution that reduces pesticide runoff.
These findings suggest that aluminium aerosol cans are an excellent way to apply insecticides in areas where pests are active. Not only do they reduce the number of chemicals released into the environment, but they also provide a safe and efficient method for keeping pests at bay. In addition, their lightweight design makes them ideal for indoor and outdoor applications. For these reasons, we believe that using insecticide-filled aluminium aerosol cans is a great option for those looking for an effective way to control pests without compromising safety or the environment.
Looking for reliable manufacturer and supplier of Insecticides Spray Aerosol Can from China? We offer high-quality products with competitive prices.