What Is an Aerosol Flea Spray?
Aerosol flea sprays are a convenient and effective way to control fleas in your home. This flea spray consists of a container with a valve, an aerosol actuator, and the insecticide inside. The valve allows air to enter the container while the actuator releases the insecticide into the air in an aerosol form. It can quickly kill adult fleas and prevent eggs from hatching when applied correctly.
The primary active ingredient in most aerosol flea sprays is a pyrethroid, which has proven safe for humans and animals when used as directed. Pay attention to safety instructions on labels before using any aerosol product around pets or children. In addition, users must follow the directions closely to get maximum effectiveness out of their treatment.
History of Flea Spray
Fleas are a common problem for our beloved canine friends, and as pet owners, we want to ensure that our furry friends stay healthy and comfortable. The use of flea spray can provide relief from these pesky parasites while also preventing them from returning. Flea sprays contain active ingredients that kill the fleas on contact, but it's important to know what other chemicals are in the product, particularly propellants. Propellants are substances used to expel the product from its container.
Types of Flea Spray
Flea spray is an effective way to protect cats, homes, and other living spaces from fleas. Flea sprays are designed to kill existing fleas and their eggs while also repelling new ones. Several different flea sprays are available on the market today, each with its unique characteristics and benefits.
One popular type of cat flea spray is a natural or organic spray that uses essential oils like peppermint or eucalyptus to repel and kill fleas. These eco-friendly sprays are safe for pets and humans but may not be as effective in killing off large infestations. Another type of flea spray is formulated with insecticides like pyrethrin or permethrin, which can quickly eliminate adult fleas on contact.
How Does Aerosol Flea Spray Work?
Flea Spray is an effective way to keep your dog free from fleas. It kills adult fleas, larvae and eggs on contact without additional grooming or bathing. Flea Spray is ideal for dogs sensitive to topical treatments such as shampoos or sprays for their skin and hair.
Aerosol Flea Spray contains combined ingredients that provide immediate relief from fleas. The active ingredients in the spray attack the nervous system of any adult fleas on contact and kill them quickly. This product also contains insect growth regulators that prevent the parasite's immature stages from developing into reproducing adults. The result is a long-term solution that prevents re-infestation of your pet's fur with pesky pests.
What Are The Ingredients In An Aerosol Flea Spray?
An aerosol flea spray is a powerful tool to control and eliminate fleas. It is an effective insecticide that can be purchased in an aluminium aerosol can. The ingredients used in this product vary between brands but typically contain some combination of pyrethrins, permethrin, or other insecticides.
Pyrethrins are derived from the chrysanthemum flower and work by attacking the nervous system of adult fleas, causing them to die quickly on contact. Permethrin is another popular ingredient in aerosol flea sprays that disrupts the neural pathways of the flea's nervous system. Other active ingredients may include prallethrin or d-phenothrin, synthetic versions of pyrethrins and offer fast-acting protection against adult fleas.
Benefits of Flea Spray Aerosol
Fleas are a common problem for pet owners and can be difficult to eradicate from homes. Flea spray aerosol is an effective and easy-to-use flea killer that provides many benefits over other flea control methods.
Flea spray aerosol is convenient and easy to apply, providing quick relief from those annoying pests. It's also highly effective, killing both the adult fleas and the eggs, larvae and pupae. The spray contains chemicals safe for pets and humans, so there's no need to worry about exposing your family or pets to harsh toxins.
The aerosol form of the product also makes it easier than ever to cover hard-to-reach areas where fleas may hide, such as furniture, crevices in floors or walls, carpets and rugs.
Is Aerosol Flea Spray Safe?
Aerosol flea spray is a popular method used to get rid of fleas in the household. But, many people are concerned about the safety of using aerosol sprays around their homes. This article will provide an overview of aerosol flea spray and whether it is safe to use or not.
When using aerosol flea sprays, follow all instructions and take any necessary precautions. This includes wearing protective clothing and avoiding skin, eye, or mouth contact. Additionally, consider keeping pets away from the area when spraying, as some products can be harmful if inhaled directly by animals or humans. Avoid spraying near food or other sensit ive areas such as beds and furniture. Make sure to close windows before applying aerosol flea spray since these products can be toxic when inhaled directly from the canister.
Does Aerosol Flea Spray Expire?
Aerosol flea spray is an effective way to eliminate pesky fleas in your home or your pet. But does it expire? Knowing whether or not the product is still usable can save you time and money.
This article will provide information on the shelf life of aerosol flea sprays, how to tell if the product has expired, and what other alternatives are available for controlling your flea problem. It's important to consider safety and efficacy when choosing a product to control pests in your home.
When using any pesticide, it's important to be aware of expiration dates and understand that an expired product may not work as well as intended. Knowing more about aerosol flea spray expiration dates can help you make informed decisions when buying this type of pest control product.
Best Flea Spray Brand
Flea Spray is a great tool for controlling fleas in your home, but it can be hard to find the right brand. There are so many on the market, and not all are effective. So what is the best flea spray brand?
Vet's Best, Bob Martin, Tropiclean, Beaphar, Frontline, Wondercide, Adams, Raid, Natural Care, Hartz, Black Flag, Ortho, Hot Shot, Petarmor, Sentry, Zodiac, Rip Fleas, Zevo, Bengal, Natural Chemistry, Acclaim, Dawn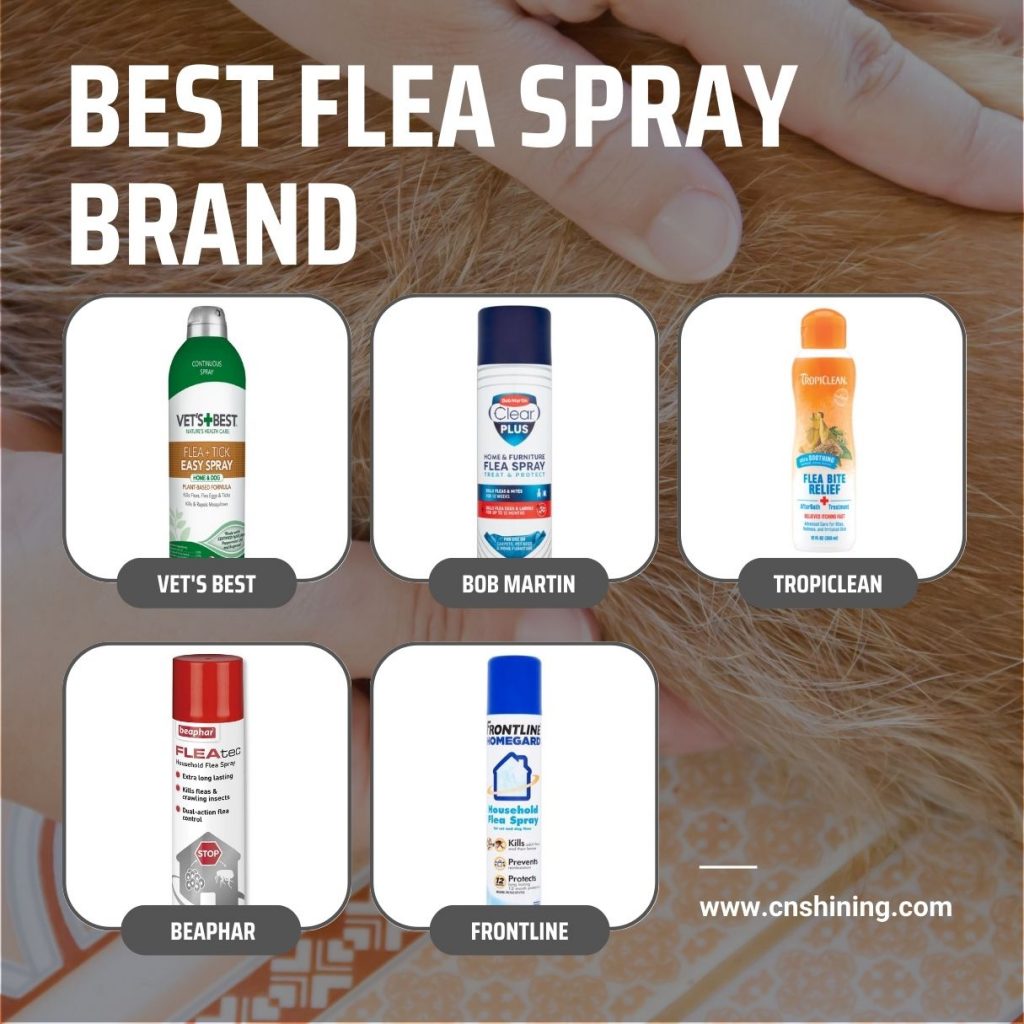 Conclusion
Flea spray is a popular option for pet owners looking to protect their pets from fleas. As with any product, it is important to consider all the pros and cons before investing in flea spray. Fortunately, many benefits come with using a flea spray on your pets.
Flea sprays can provide quick relief against irritating and dangerous fleas while repelling other pests, such as ticks or mites. Additionally, they can help reduce the risk of skin infections and allergies caused by these parasites. The sprays are easy to apply directly onto the fur or clothing of your pet, and their effects usually last for several weeks at a time.
Overall, flea sprays provide an effective solution against pest infestations without damaging your pet's health from harsh chemicals or drugs.
We are a leading manufacturer and supplier of flea spray aerosol cans in China. Our products come with top-notch quality and the most competitive prices.