What Is an Aerosol anti static spray?
Aerosol anti static sprays are a valuable tool to help reduce dust, dirt and other particles that accumulate on electronics and other objects. An aerosol anti static spray is a liquid contained in an aluminium aerosol can with a propellant gas and an actuator. The actuator allows the product to be dispensed as a fine mist when pressed.
The active ingredients in aerosol anti static sprays create a thin layer of protection on electronic components, which helps repel dust, dirt and other particulates away from sensitive surfaces. This layer also acts as an insulator, reducing the amount of electrostatic discharge (ESD) generated from human skin contact or moving objects near sensitive surfaces such as circuit boards, memory chips and microprocessors.
History of anti static spray
The history of anti static spray dates back to the 1950s when aerosol-based products were first developed. Before this, there was no easy way to apply a protective coating that prevented the buildup of static electricity. The development of propellants and pressurized containers allowed for the creation of these innovative products.
Anti static sprays are effective in many different situations, from preventing dust accumulation on electronics to protecting sensitive components from electrical damage due to electrostatic discharge (ESD). Over time, these sprays have become essential to many industries, including manufacturing and aerospace engineering. They are available in various formulations designed for specific applications and environments.
Types of anti static spray
Anti static spray is a product used to reduce static electricity in objects and surfaces. It comes in an aerosol spray form applied to fabrics, carpets, and other materials with a valve at the top. The spray releases molecules into the air that neutralize any electrostatic charge on surfaces. There are several types of anti static sprays available on the market today, each designed for different purposes.
The most common type of anti static spray is a general-purpose one that can be used on any fabric or surface. This product contains a mild surfactant to reduce surface tension and prevent dust from sticking to fabrics or other objects. Another type of anti static spray contains special compounds such as silicone which provide additional protection against moisture and dust accumulation on fabrics or other materials.
How Does Aerosol anti static spray Work?
The aerosol anti static spray is an important tool for preventing the buildup of static electricity. By using this type of product, people can help protect sensitive electronic equipment from damage caused by electrostatic discharges (ESD). But how exactly does aerosol anti static spray work?
When sprayed onto a surface, the active ingredients in aerosol anti static spray form a thin, invisible layer that helps to reduce the amount of triboelectric charging. This charge is created when two different materials come into contact with one another and exchange electrons. As these objects move away from each other, they take these electrons with them and create an imbalance in their electric charges. The protective layer formed by the spray helps to prevent this from happening so that electrical components are not affected by ESD.
What Are The Ingredients In An Aerosol anti static spray?
Anti static spray is an important tool for preventing static electricity in electronics, machinery and fabrics. But what exactly is in an aerosol anti static spray? This article will give you an overview of the main ingredients that make up these sprays.
The first component of any aerosol anti static spray is a solvent or carrier fluid. This liquid helps to disperse the active compounds evenly throughout a surface when applied and can be made from hydrocarbons, alcohols, water or other liquids. The next ingredient is usually a surfactant which helps to reduce surface tension between the liquid and solid surfaces being sprayed. This makes it easier for the other components to spread evenly over the treated area and gives it more cling power on fabrics like carpets and furniture upholstery.
Benefits of anti static spray Aerosol When protecting electronic equipment and sensitive surfaces from static electricity, anti static spray aerosol is an effective solution. Anti static spray helps reduce the risk of electric shock, sparks, and damage to electronic components caused by electrostatic discharge (ESD). It also helps preserve the performance of electrical devices and reduce their susceptibility to dust accumulation.
Anti static spray aerosol provides several benefits beyond protecting against ESD. The fast-drying formula leaves no surface residue while providing a safe coating that can help reduce dust build-up. This makes it ideal for use in areas where regular cleaning may not be possible or practical. Additionally, anti static spray can help protect delicate materials l ike fabrics or plastics from damage caused by friction between them and other objects or surfaces. Finally, its easy application process allows users to cover large areas with minimal effort quickly.
Is Aerosol anti static spray Safe?
The aerosol anti static spray is a commonly used product for treating fabrics, carpets and other surfaces to reduce the amount of static electricity. But is it safe? Let's take a closer look at what aerosol anti static spray is and understand how it works.
The aerosol anti static spray contains an ultra-low particle size that helps neutralize the charge on objects. The particles act like tiny magnets that attract and hold onto each other until they form a thin coating on any surface they come in contact with. This coating helps reduce or eliminate static electricity from building up on objects touched by humans or inanimate objects such as curtains, furniture, carpets and clothing.
Does Aerosol anti static spray Expire?
The aerosol anti static spray is a popular product used by many to reduce the buildup of static electricity in areas such as electronics, clothes, and other items. It is usually applied as a mist that coats the object with an invisible protective layer. But does aerosol anti static spray expire?
Studies have shown that when stored properly, aerosol anti static sprays can last for years without any decrease in performance or efficacy. However, if stored at high temperatures or exposed to direct sunlight, the chemicals within the aerosol may break down over time, reducing its effectiveness and potentially leading to other problems. Additionally, some products may have expiration dates printed on their labels due to changes in chemical composition.
Best anti static spray Brand
Anti static spray is an important tool for preventing damage to electrical components from static electricity. Static electricity can cause various problems, from malfunctioning computers and electronics to destroying sensitive data stored on memory cards and hard drives. To prevent such problems, it is essential to choose the right anti static spray brand.
Static Guard, Sprayway, Endust, Bounce, Downy, Eddingtons, Scotchgard, Servisol, Sprayon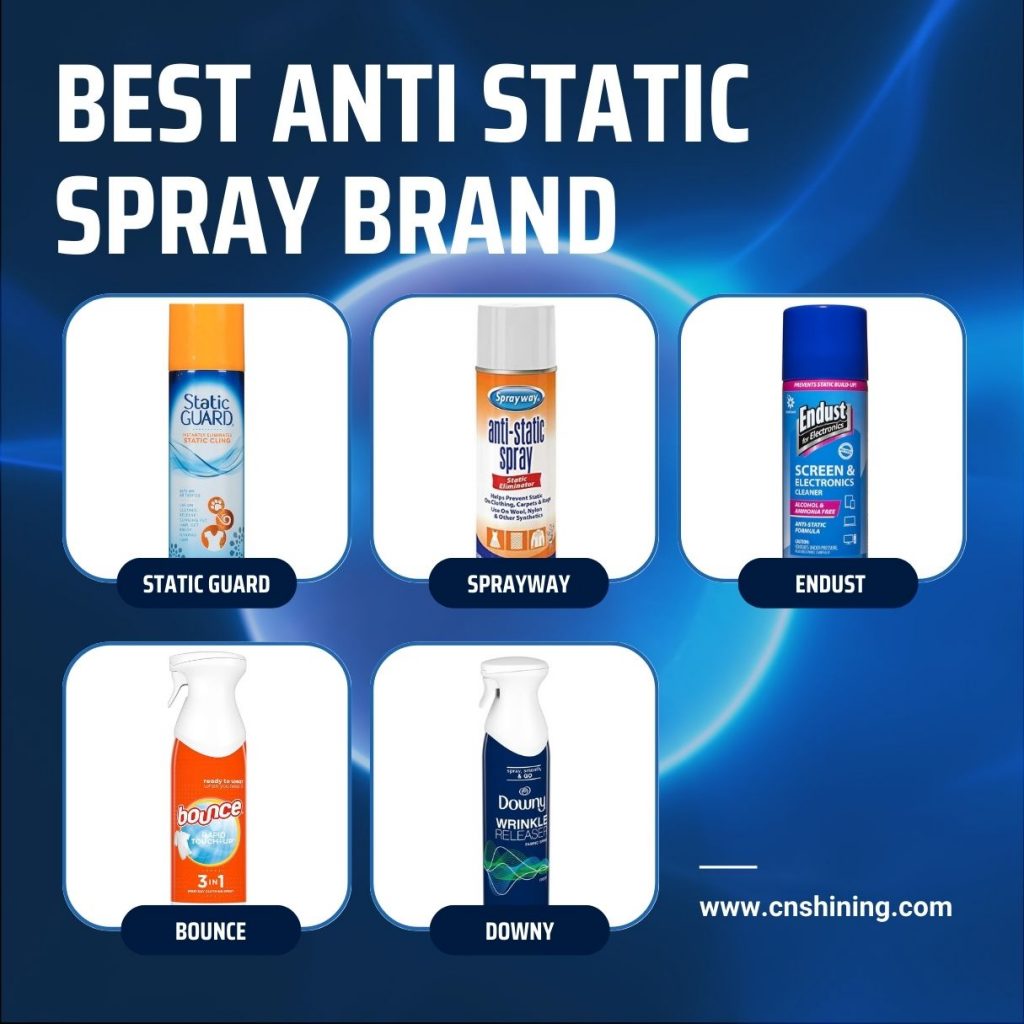 Conclusion
In conclusion, the use of anti static spray is an effective way to reduce the amount of dust and dirt that accumulates on surfaces. This product can be used to protect both metal and non-metal objects from damage due to static electricity. The sprays are relatively easy to use, often requiring just a few quick sprays to achieve maximum effectiveness. Furthermore, they are safe for use around electronics and won't leave behind any residue or cause any harm when used properly. Using anti-static sprays regularly can help you maintain a clean environment and prevent costly repairs down the line due to damaged equipment or debris buildup caused by electrostatic discharge. It's important to remember that the effects of using such products will only last for a short period so regular applications may be necessary for them to stay effective.
Looking for the perfect Anti Static Spray can? We are the leading manufacturer and supplier in China, providing top quality products with unbeatable prices. Buy now and get the best available!