What Is An Aerosol Cooking Oil Spray?
Aerosol cooking oil spray is convenient for coating food lightly with oil. It typically contains oil, propellants, and an actuator that turns it into a mist or fog. This cooking tool is easy to use, but it's important to understand how it works and the potential effects of using aerosol sprays in the kitchen.
The liquid inside an aerosol cooking oil spray can consists of oil, compressed air or other gases (propellants), which are used to push the contents out of the container, and an actuator that creates a mist when you press down on it. This allows for uniform coverage over foods like popcorn or vegetables that need roasting. The oils can range from vegetable-based oils such as olive and canola to animal-based fats like lard or butter-flavoured margarine.
History Of Cooking Oil Spray
Cooking oil spray has been around for decades, but it wasn't until the 1950s that the first aerosol cans of cooking oil became widely available. Initially made from a combination of vegetable oils and propellant gases, these early cooking oil sprays were often difficult to use and could damage cookware due to their high pressure.
In recent years, however, modern bag-on-valve (BOV) technology has revolutionized the cooking oil spray industry. This technology uses a valve fitted inside an aerosol can to create a fine mist without the need for additional gas or propellants – making the spray much easier to control while reducing its impact on cookware. As a result of this technological breakthrough, BOV cooking oil sprays are now widely available at grocery stores worldwide.
Types Of Cooking Oil Spray
Cooking oil spray is an essential item in any kitchen. This product, which comes in an aluminium aerosol can, is used to lightly coat pans and baking sheets with a thin layer of oil before cooking. It saves time, money, and calories compared to traditional cooking liquids or solids.
There are several types of cooking oil sprays available on the market today. Canola spray is popular as it has a neutral flavour and contains less saturated fat than other oils. Olive oil spray is another option for those looking for more flavour profile options. Avocado oil spray provides even healthier fatty acids than olive oil but has a higher price point than most other options. Finally, coconut oil spray is great for high-heat cooking and adds tropical flavours to dishes when used properly!
How Do Aerosol Cooking Oil Spray Work?
Aerosol cooking oil spray is a unique way to get your dishes lightly covered in oil without having to pour it from a bottle. The quick-fix solution simplifies the process of adding fats and oils for a healthier alternative that can help you manage your portions better.
The aerosol cooking oil spray uses compressed air to dispense the liquid contents inside. To operate, the user needs to press down on the nozzle, which causes pressure to build up inside the container, forcing out a fine mist of cooking oils. This makes it easier to spread evenly over any dish or pan without having large clumps of grease dripping off. Furthermore, many types of aerosol sprays are made using natural ingredients such as sunflower and coconut oil instead of unhealthy saturated fats like butter or lard.
What Are The Ingredients In An Aerosol Cooking Oil Spray?
Cooking oil spray is a convenient and popular kitchen staple. It's an aerosol spray that combines vegetable or canola oil, lecithin and propellant. But what exactly are these ingredients, and how do they work together to make an aerosol cooking oil? This article will explain the three key ingredients used in aerosol cooking oils so you know exactly what you're using when spritzing your pan.
Vegetable or canola oil is the main ingredient in any aerosol cooking spray. This oil is known for its neutral taste and high smoke point, making it ideal for use when sautéing or grilling foods. Lecithin acts as an emulsifier to keep the mixture from separating, while propellant provides the pressurized aerated mist that allows the product to be sprayed out of the container.
Benefits Of Cooking Oil Spray Aerosol
Cooking oil spray is a convenient and easy-to-use product that can help to make cooking healthier and easier. Used in place of traditional oils, these aerosol sprays provide an even coating on pans and food items without the added fat or calories. Here are some of the top benefits of using cooking oil spray aerosols.
First, these oil sprays can help reduce how much fat is used in the kitchen. Reducing the amount of oil needed for cooking, can lead to fewer unhealthy fats being consumed while still providing flavour and texture to dishes. And since most cooking oil sprays use vegetable oils, they're typically lower in saturated fats than other oils like butter or lard.
Is Aerosol Cooking Oil Spray Safe?
Aerosol cooking oil spray is a convenient way to add oil to food without too much fat. It is popular with health-consc ious consumers as it allows less oil to be used in cooking and baking. But is aerosol cooking oil spray safe to use?
The safety of aerosol cooking oil spray depends on the ingredients in the product. Many brands contain propellants such as butane, propane, and carbon dioxide, which can be harmful if inhaled. Additionally, some products may have other potentially hazardous additives, such as preservatives or artificial flavours. To ensure safety when using aerosol cooking oil spray, it's important to read the label carefully before purchasing and consider only buying brands free from any added chemicals or propellants.
Does Aerosol Cooking Oil Spray Expire?
The topic of cooking oil spray has been hotly contested for many years. Does aerosol cooking oil spray expire or not? Many people assume that the answer is yes. However, recent studies have shown that this may not necessarily be true.
Aerosol cooking oil spray is composed of a combination of vegetable oil and propellants used to deliver a light and even coating of the desired oil. This cooking spray helps limit the fat used in food preparation by preventing over-saturating foods with too much oil. However, many believe since there are propellants present in aerosols, these sprays do eventually expire and may lead to health issues if consumed after their shelf life has passed.
Best Cooking Oil Spray Brand
Cooking oil spray is an essential kitchen item for those looking to add flavour to their meals. It's a great way to get the same taste of cooking with oil without all of the mess and extra calories that come along with it. But picking the right brand can be tough, as there are many different options today. So what is the best cooking oil spray brand?
Pompeian, Bertolli,Pam, Chosen Foods,La Tourangelle,Heb, Lurpak, Mantova, Parkay, Pure And Simple, Spray Lite, Thrive Algae Oil, Weber, Weight Watchers, Flora, Oxo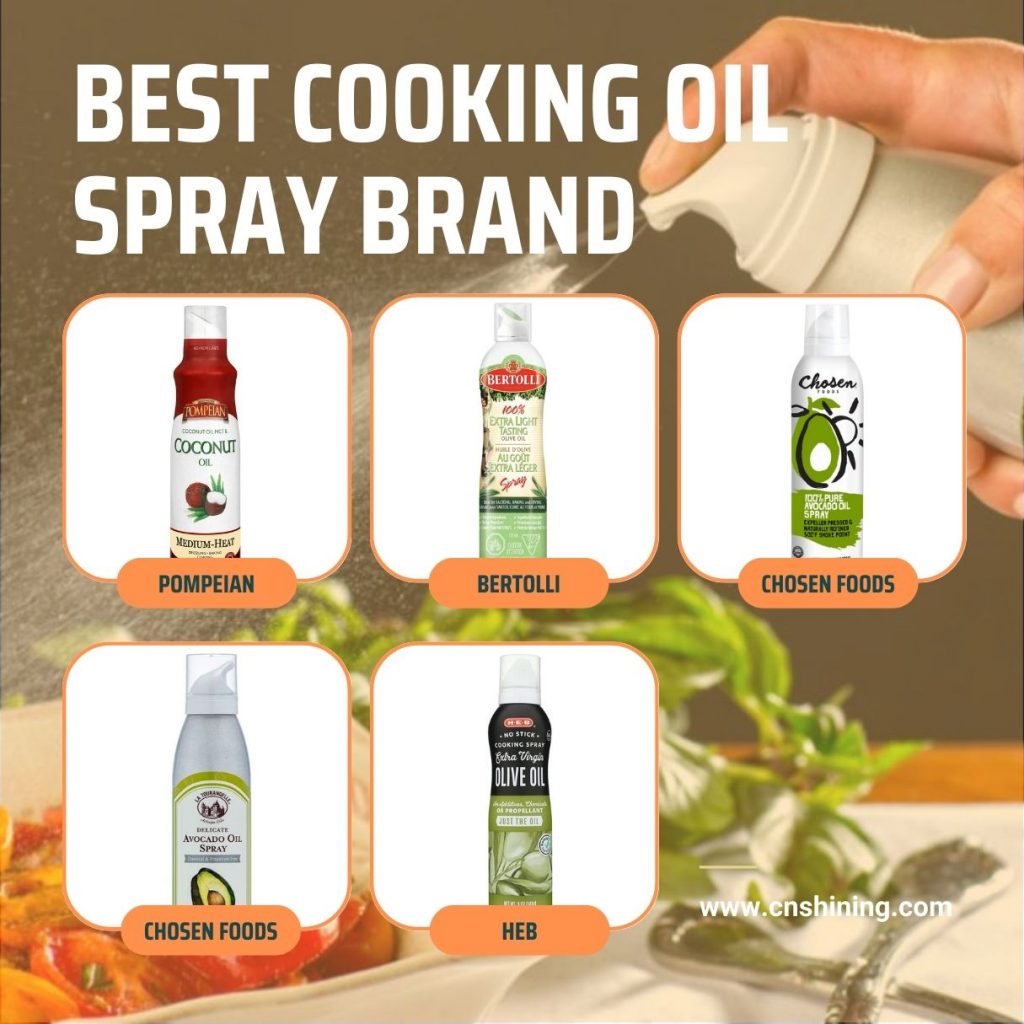 Conclusion
Cooking oil spray is a convenient way to add flavour and prevent food from sticking to cookware. It can also be used for other purposes, such as greasing pans before baking or grilling foods. Ultimately, whether or not to use cooking oil spray is up to the cook and should depend on what they try to achieve in the kitchen.
The benefits of using cooking oil spray are numerous, but it's important to remember that there are also some drawbacks. While it may be more time-consuming than pre-prepared oils, it will ensure that only natural ingredients are used, which may result in healthier meals. It's also important to remember that while convenience is an advantage, overusing oil sprays can lead to fatty dishes with higher calorie counts.
Manufacturer and supplier of cooking oil sprays based in China. We offer top-quality sprays with competitive prices. Our products are certified and perfect for all types of cooking needs.