What Is An Aerosol Liquid Bandage Spray?
A liquid bandage spray is a convenient and easy-to-use alternative to traditional adhesive bandages. It comes in a pressurized aluminium aerosol can containing liquid and propellants. It's sprayed directly onto cuts, scrapes, and other wounds to form a protective barrier that helps keep out germs and dirt while allowing the wound to heal.
Aerosol liquid bandage sprays provide a quick application for minor cuts and scrapes without fumbling with individual adhesive bandages. The spray also seals out water for added protection when showering or swimming, making it perfect for those who lead an active lifestyle. In addition, its germ-killing ingredients help prevent infection from bacteria or fungus, which can extend healing time if present.
History Of Liquid Bandage Spray
Liquid bandage spray has a long and interesting history. This innovative product can be traced back to the 19th century when it was first developed in Europe as an alternative to topical wound care solutions like tinctures, gels, bandages and poultices. Today's liquid bandage spray consists of an aerosol actuator that contains antiseptic ingredients.
The first commercially available version of this product was introduced in the early 1950s by Dr Herbert Krimsky, a medical doctor who had observed how quickly wounds healed when exposed to the air. His invention revolutionized how medical professionals treated cuts and abrasions, enabling them to apply a thin layer of antiseptic solution directly onto a wound with minimal effort or mess.
Types Of Liquid Bandage Spray
Liquid bandage spray is a modern product to help protect and heal wounds. It provides an easy and effective way to apply a water-resistant protective covering to the skin. Liquid bandage spray comes in various types depending on its purpose, such as antiseptic, adhesive or waterproofing.
The liquid bandage sprays are usually packaged in an aerosol can with a valve that allows the user to control the amount of product they need. The aerosol container makes it easier for people to apply the liquid form of wound protection without using their hands which may cause further irritation or contamination. Other than controlling how much you use, aerosol sprays allow even more coverage over larger areas than traditional methods such as gauze or tape.
How Does Aerosol Liquid Bandage Spray Work?
Liquid bandage spray is a convenient and easy-to-use method of wound treatment. An aerosol liquid dries quickly to form a protective barrier over wounds, cuts, scrapes and burns. But how does it work?
Liquid bandage spray creates a thin coating over the wound's surface. This coating protects against dirt and bacteria while forming a seal that helps keep out moisture and prevent further skin damage. The aerosol spray also contains antibacterial ingredients, which help prevent infection while helping to speed up healing time. The liquid bandage dries quickly after application, leaving behind a flexible film-like barrier on the skin, protecting the wound until it can naturally heal itself.
What Are The Ingredients In An Aerosol Liquid Bandage Spray?
A liquid bandage spray is a valuable tool in any first-aid kit. It can be used to help protect wounds from infection and aid in the healing process. But what exactly are the ingredients that make up this helpful product?
Bacitracin is the main active ingredient in liquid bandage spray, an antibiotic found naturally in certain bacteria. This helps reduce the risk of infection when applied to an open wound and can also reduce pain or discomfort. In addition, other common ingredients include alcohol, glycerol, propylene glycol, aloe vera extract, and lanolin for moisturizing properties. Some brands may also contain additional vitamins or herbal extracts for added benefits such as reduced inflammation or accelerated healing time.
Benefits Of Liquid Bandage Spray Aerosol
Liquid bandage spray is an effective way to treat wounds and protect them from bacteria or other infections. This aerosol spray consists of a liquid, protective coating which bonds with the skin and acts as a barrier to help stop bleeding and promote healing. The benefits of using this product are numerous, some of which include the following:
Firstly, liquid bandage spray makes it easy to apply a protective seal around the wound evenly. As this aerosol is designed for topical use, it can be applied quickly without worrying about any excess liquid seeping into the wound. Additionally, once this seal is in place on the skin, it provides extra protection against bacteria or potential contaminants that may cause infection.
Finally, another advantage of this type of product is that it stays in place for longer than traditional adhesive bandages.
Is Aerosol Liquid Bandage Spray Safe?
Liquid bandage spray is gaining popularity as an easy way to cover minor cuts and scrapes. But with the aerosolized formula, it's important to kn ow just how safe this product is for everyday use.
The benefits of liquid bandage spray are clear: it's fast-drying, waterproof, and easy to apply. Plus, it acts as a germ barrier, helping wounds heal faster by eliminating dirt and other air contaminants. But what about the safety of using aerosolized liquid bandages?
Experts agree that aerosols can be dangerous if used without caution. When inhaled, the particles of liquid can cause serious respiratory issues or even lead to asthma attacks in some cases.
Does Aerosol Liquid Bandage Spray Expire?
For those who use aerosol or liquid bandage spray, it is important to know whether the product expires. This article will discuss the shelf life of aerosol liquid bandage spray and provide tips on storing the product properly.
Aerosol, liquid bandage spray can last up to three years if stored properly in a cool, dry place away from direct sunlight or excessive heat. To ensure maximum shelf life, keeping the can tightly close when not in use is important. Additionally, users should refrain from storing aerosol liquid bandage spray at temperatures above 77 degrees Fahrenheit as this could accelerate the breakdown of chemical components and make it less effective over time.
Those with aerosol liquid bandages past their expiration date should discard them immediately and purchase a new one for use.
Best Liquid Bandage Spray Brand
For those who don't have the time or patience for traditional bandages, liquid bandage sprays are a great alternative. Not only does it provide an easy and quick solution for minor cuts and scrapes, but it also helps protect wounds from germs and infection. But when you're at the store looking for the right product, what is the best liquid bandage spray brand?
We've rounded up a list of top-rated liquid bandage brands to help make that decision easier.
Curad, Elastoplast, New Skin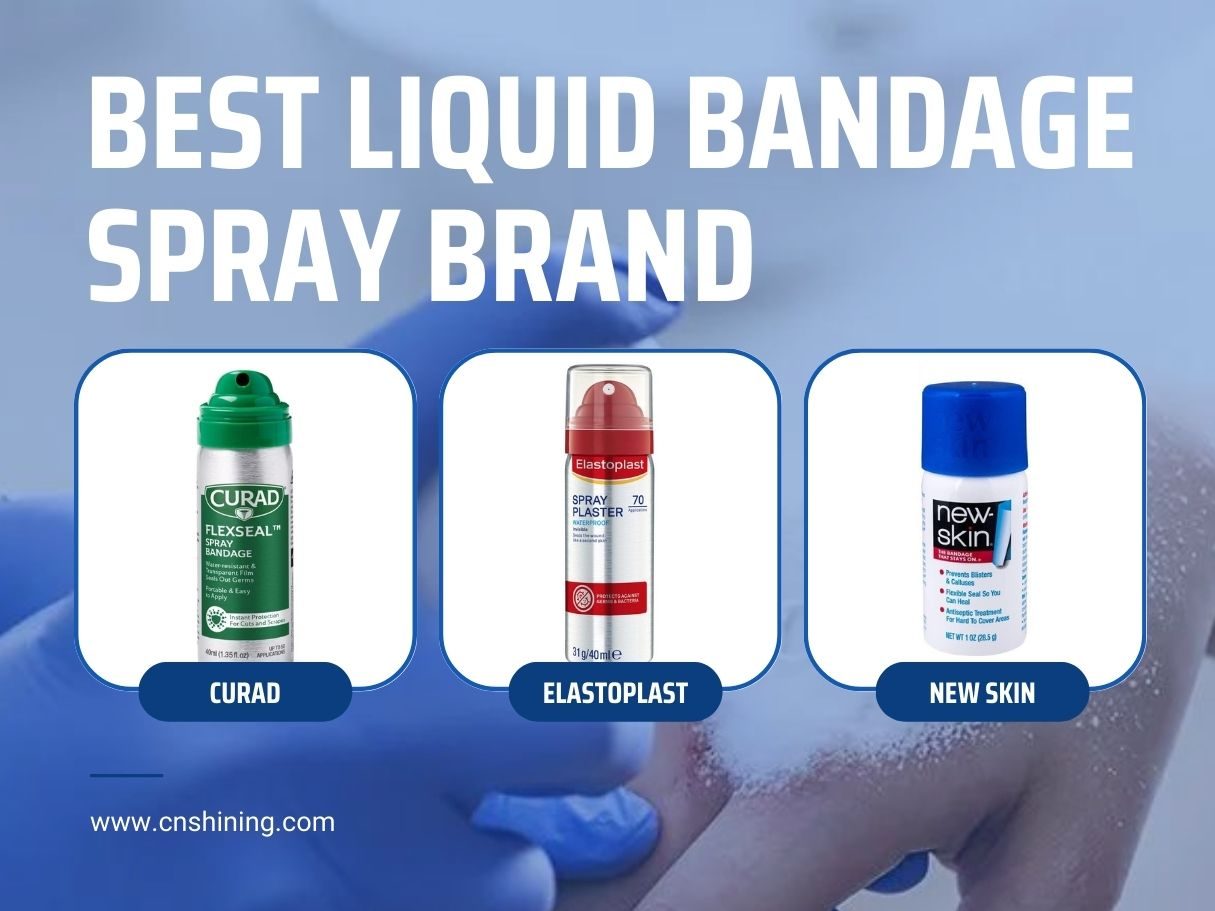 Conclusion
The conclusion to the article on liquid bandage spray is clear: this product is a valuable addition to any first aid kit. It provides an easy-to-use and painless way of treating minor cuts, scrapes, and burns, and it also helps protect against infection by creating a waterproof barrier. The fact that the bandage can be applied quickly and easily means that even those with little experience in wound care can feel confident in using it effectively.
Moreover, liquid bandage sprays are generally very affordable and widely available online and in stores. This makes them an accessible option for anyone looking for an effective way to treat minor injuries without having to go through the process of applying traditional gauze or tape bandages. All in all, liquid bandage spray is an invaluable tool for any first aid kit that should not be overlooked.
Looking for a reliable manufacturer and supplier of Liquid Bandage Spray CAN? Look no further! Our China-based operation offers high quality, reliable products at competitive prices.