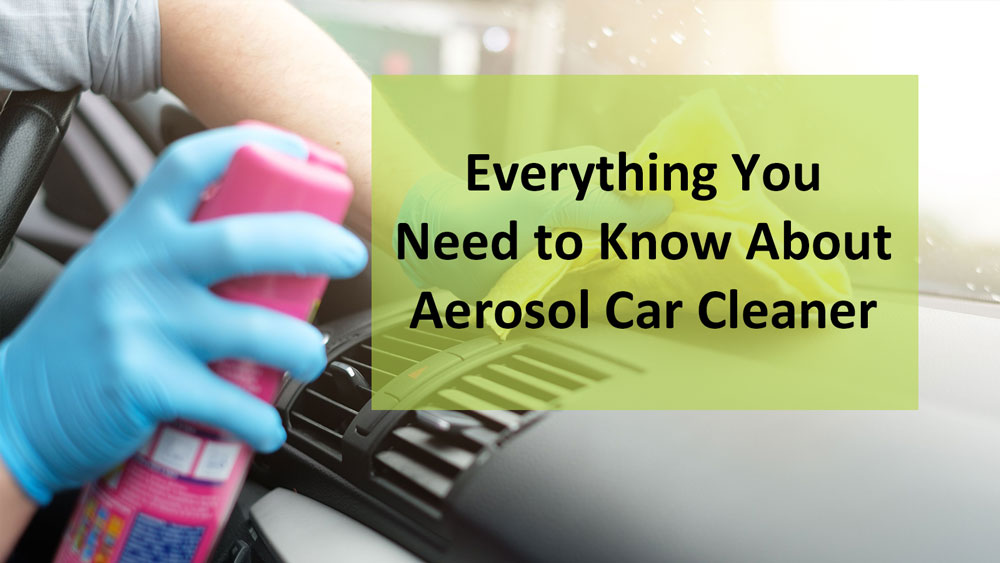 What is aerosol car cleaner?
If you are wondering what aerosol car cleaners are, you need to note that these car cleaners have a self-dispensing pressurized packaging form. It contains a metal, glass, or plastic container with a permanently attached continuous or metering valve. These are designed to dispense the car cleaner mainly in sprays, streams, gels, foams, lotions, or gases.
Aerosol clean in the car
Out of the different types of aerosol car cleaners, the aerosol upholstery cleaner is top-rated for good reasons. Here you can have the fabric & upholstery cleaner. It is a hard-working form that deep cleans all types of colorfast upholstery. These can also add extra shine to your car fabrics and their upholstery.
Aerosol evaporator coil cleaner
The Aerosol evaporator coil cleaner can help clean coils of ACs and other components very quickly. All you need is gently wet the coils to remove excess debris and dirt further. Once this is done, you must spray foaming coil cleaner onto the coils in a back-and-forth motion. Finally, the coil cleaner will foam and start collecting dust and debris.
Aerosol fuel injector cleaner
The aerosol injectors are used to clean engine fuel injectors. The process involves connecting the injectors to a canister containing an aerosol formulation comprising a liquid cleaner and a compressed air propellant. Then there is the Cleaner through the injectors to remove contaminating deposits from that place. Apart from this, it also uses a conduit for transferring the formulation from the canister to the internal combustion engine. The compressed air serves as a combustion oxidant and a fuel for the Cleaner.
Aerosol brake cleaner
The aerosol brake cleaner 1uickly dissolves and washes away lining dust. Besides, it also helps to reduce brake noise and cleans without disassembly. It helps improve the efficiency of brakes. It also assists in the prevention of uneven braking, noise, and chattering. Owing to the benefits that the Aerosol brake cleaner offer, they are prevalent and widely used by all.
Aerosol carburetor cleaner
The carburetor is a very component in any car. Therefore, it would be best to keep it clean, which you can easily do with the aerosol carburetor cleaner. It helps quickly remove deposits from the inside and outside of the carburetor and helps in improving engine performance and fuel economy. You can also use it for cleaning gum, varnish, and dirt from clogged carburetors and choke valves.
The aerosol carburetor cleaner helps clean choked valves and unpainted metal parts to improve performance and reduce emissions.
Aerosol parts Cleaner
The aerosol parts cleaners are mainly used to rapidly clean and degrease small components in the automotive and industrial sectors. They can be used efficiently for cleaning brakes, clutches, transmissions, and form-fitting and repair work. The great benefit of these cleaners is they can remove oil and grease spots from floor coverings, materials, and linings.
Aerosol Cleaner can Manufacturers
You will realize that the aerosol cleaner can brands are many, but when it comes to the empty aerosol cans they are supplied in, SHINING Aluminum Packaging is the best aerosol can manufacturer.