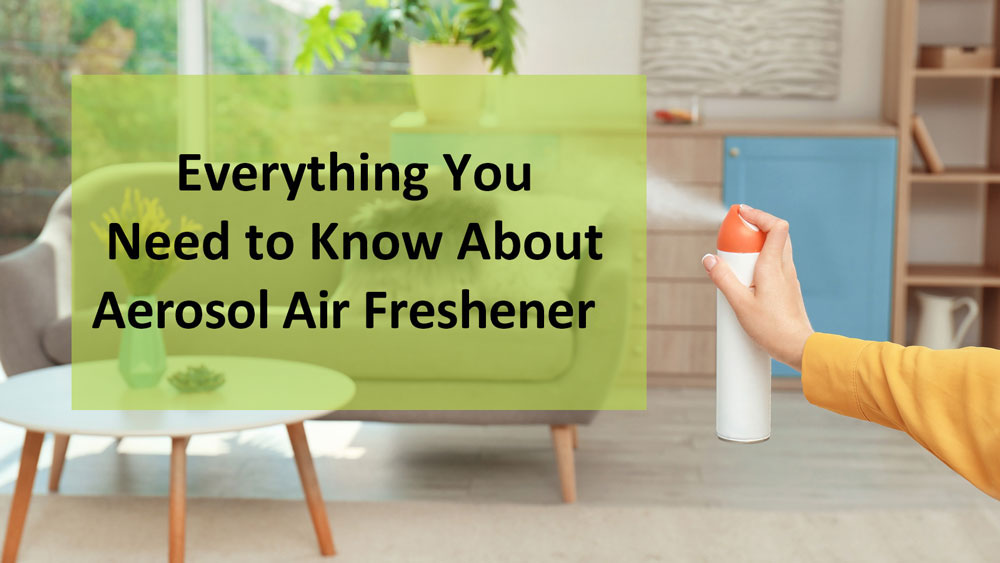 What is an aerosol air freshener?
The aerosol spray air fresheners use a propellant and fragrance packaged under pressure in a sealed metal or glass container with a valve. It is opened by pressing a button containing a spray nozzle – the actuator. Aerosol air fresheners use a specific dispensing system. First, it creates an aerosol mist of liquid particles. The aerosol contains fine solid particles or liquid droplets in the air.
What is a non-aerosol air freshener?
Unlike aerosol air, freshener is not dispensed by a pressurized spray system. Here the air fresheners remove odours instantly by using natural ingredients. No harsh chemicals are used, which means they are environmentally friendly and safe for the health. Thus, they are in high demand now.
How do aerosol air fresheners work?
The aerosol spray makes use of a propellant. The fragrance here is packaged under pressure in a sealed metal or glass container. The container has a valve, which is opened by pressing a button containing a spray nozzle. It is known as the actuator. The fragrance is forced through the spray nozzle when the user opens the container's valve by pressing the actuator. It is located inside the actuator to create a mist of droplets containing fragrance.
What are the ingredients in an aerosol air freshener?
The ingredients used in the aerosol air freshener include absorbents, oxidizers, and surfactants. Along with these, the ingredients include fragrance, aerosol propellants, preservatives, and solvents. The solvents are mineral oil and glycol ethers.
Are aerosol air fresheners safe?
There has been a concern about the effects of aerosol air fresheners on health. First, you need to note that from the perspective of our health, air fresheners have been associated with adverse effects. These include ill health effects such as migraines, asthma attacks, mucosal symptoms, infant illness, and breathing difficulties. But at the same time, their toxic effects depend on their formulation. However, if the toxic substances are inhaled in a small amount, they may not be very harmful.
Do aerosol air fresheners expire?
Much like any other household items, aerosol air fresheners have an expiry date. Though the expiry date of the aerosol air fresheners varies from brand to brand, this is usually 2 years from the date of manufacture. So, the next time you clean your closet, check the expiry date and eliminate them if it is over.
Top 3 best aerosol air fresheners brands.
Ambi Pur Lavender Bouquet Air Freshener
The air freshener under this brand has been designed to contain a precise odour technology that traps in the air. Then it leaves behind particles of a refreshing scent and fragrance that you will find genuinely delightful.
Godrej Aer Home Air Freshener Spray.
If you like something mild and relaxing that will make every nook and corner of your home delightfully fragrant, the Godrej Aer Home Air Freshener Spray is the ideal product you need to look into.
Airance Automatic Air Freshener Dispenser
It is another air freshener that is very popular. The fragrance here is very long-lasting and natural smelling too, which makes it highly popular.
Aerosol Air Freshener Manufacturer
You will realize that the aerosol air freshener brand are many, but when it comes to the empty aerosol cans they are supplied in, SHINING Aluminum Packaging is the best aerosol can manufacturer.