What Is an Aerosol Deodorant?
Aerosol deodorants are an effective way to keep you smelling fresh during the day. An aerosol deodorant is a spray that comes in a can filled with antiperspirant or deodorant and is propelled out of the can by a propellant, usually air or another gas such as carbon dioxide. The spray is released from the can through an actuator button on top of the can, which, when pressed, releases a cloud of mist from the nozzle.
The aerosol makes it easy to apply the product directly onto your skin for maximum effect; it also helps to spread out more evenly than using with your hands, ensuring you don't end up with patches of stronger and weaker scented areas.
How Do Aerosol Deodorants Work?
Aerosol deodorants are popular for many people looking to control body odour. They come as an aerosol can, with a pressurized valve containing chemicals and fragrances released when the user presses down on the nozzle. But how does this process work, and why is it so effective?
An aerosol deodorant works due to an under-pressure valve that releases a fine mist of spray when activated. The valve contains chemical compounds such as alcohols and oils, which combine with fragrances to neutralize odours while also providing a pleasant scent. In addition, some aerosol products contain antibacterial agents that help prevent bacteria growth on the skin's surface. This combination helps reduce body odour throughout the day while also adding fragrance.
What Are The Ingredients In An Aerosol Deodorant?
Aerosol deodorants are a popular choice for fast and effective odour protection. While the most common aerosol deodorants contain aluminium as an active ingredient, other options are available. This article will cover the key elements found in aerosol deodorants, as well as offer some tips on how to find an aluminium-free product.
The main components of an aerosol deodorant are typically alcohol, fragrance, propellant and antiperspirant agents such as aluminium chlorohydrate or zirconium. Alcohol kills bacteria that cause odours, while fragrances provide a pleasant scent. Propellants like butane or propane help the liquid move out of the can and onto your skin in fine particles when you press down on the nozzle.
Benefits of Deodorant Aerosol
Deodorant aerosol is famous for staying fresh and odour-free throughout the day. It's convenient, practical, and can be used nearly everywhere. But what are the benefits of using an aerosol deodorant? There are a few key advantages to consider when choosing a product.
One of the main benefits of using an aerosol deodorant is that it comes in an aluminium aerosol can, which makes it portable and easy to store. You can carry it wherever and apply it before leaving home or work. Also, aluminium-free deodorants come in these cans, so if you're looking for an even more realistic option than traditional antiperspirants, this could be the way to go.
Is Aerosol Deodorant Safe?
Aerosol deodorant is a popular product used by many to maintain body odour control. But how safe is it? This has become an increasingly important question in recent years, given the rise of natural and organic deodorants. Other products like Drysol have also been gaining traction among consumers for their perceived safety benefits.
To better understand the safety of aerosol deodorants, let's explore what they are made from and how they compare to natural and alternative options. Aerosols contain a combination of propellant gases, emulsifiers, stabilizers, fragrances and sometimes alcohol, which produce the mist that helps keep us fresh throughout the day.
Do Aerosol Deodorant Expire?
Aerosol deodorant is popular among individuals looking to stay dry and odour-free throughout the day. However, many may not be aware that aerosol deodorants have an expiration date. Knowing when an aerosol deodorant has expired can help keep you smelling fresh and reduce the risk of skin irritation or other adverse reactions.
Aerosol deodorants are packaged in pressurized cans containing various ingredients, including alcohols, fragrances, propellants, and preservatives. The active ingredients in these products eventually break down over time, making them ineffective at keeping body odour under control. Additionally, exposure to extreme temperatures or moisture can shorten their shelf life than indicated on the packaging labels.
Best Deodorant aerosol Brand
Deodorant aerosol sprays are a great way to feel and smell fresh throughout the day. With so many brands on the market, it can be hard to know which is the best one for you. Fortunately, we've broken down some of the top deodorant aerosol sprays to help you make an informed decision.
Nivea, Dove, Old Spice, Rexona, Axe, Secret Deodorant, Degree Deodorant, Speed Stick, Mitchum, Wild Stone, Gillette, Chanel, Hugo Boss, Dior, Arm & Hammer, Arrid, Avon, Toms, Vichy, Ck, Adidas, Right Guard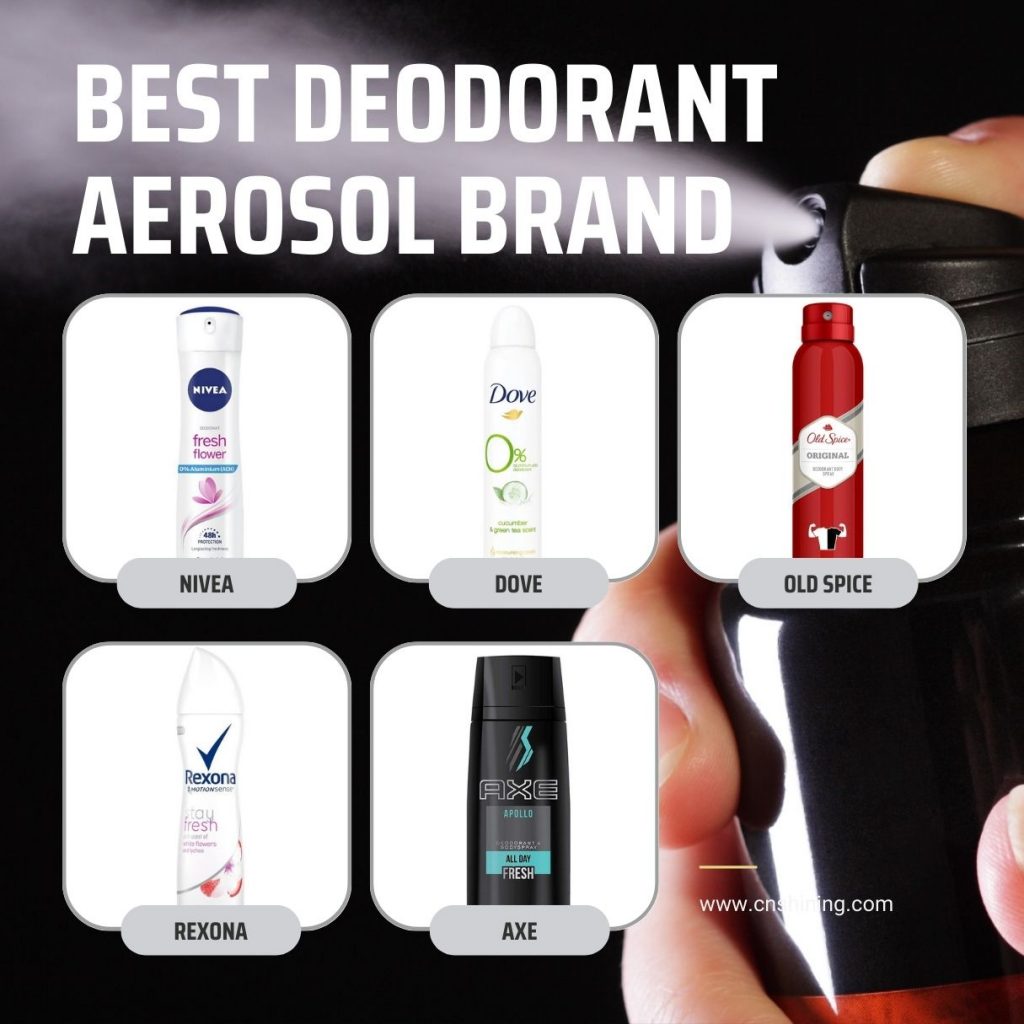 Conclusion
In conclusion, using aerosol deodorant has many potential benefits and drawbacks. On the one hand, it can provide long-lasting protection against body odour and is easy to apply using a spray bottle. However, some environmental concerns are also associated with aerosol deodorants due to their release of volatile organic compounds into the atmosphere. Consumers must consider these factors when deciding which deodorant to use. Additionally, it may be beneficial for manufacturers to invest in more eco-friendly formulas that do not contain harmful compounds such as CFCs or HCFCs. Ultimately, by considering all these points, individuals can make informed decisions and take steps towards protecting both personal health and the environment.