What Is An Aerosol Lubricant Spray?
An aerosol lubricant spray is a product used to reduc+e friction and protect surfaces from wear and tear. It typically comes in an aluminium aerosol can, allowing easy delivery of the lubricant to the desired area. The spray contains certain chemicals designed to prevent corrosion, reduce noise from moving parts, and seal out moisture.
Aerosol lubricants serve many purposes, including loosening stuck nuts or bolts, removing dirt or debris on surfaces before applying other lubricants, reducing squeaks in hinges or doors, protecting metal surfaces from rust and providing a temporary waterproof coating on electrical connections. They are also widely used in automotive maintenance jobs such as cleaning spark plugs or removing gummed-up grease deposits. In addition, they can help improve the performance of outdoor equipment like chainsaws by reducing friction between moving parts.
History Of Lubricant Spray
The history of lubricant spray dates back to the late 19th and early 20th centuries. Lubricants have been used for many years to reduce friction and wear on moving parts, but it was not until the invention of aerosol cans that lubricant sprays became popular. Before aerosol cans were invented, liquid lubricants had to be applied with a brush or cloth.
In 1925, Erhard Holz developed an aerosol container with a valve and propellant gas, allowing liquids such as oil and grease to be sprayed in an even mist onto mechanical components. This development marked the introduction of lubricant spray into the industry and automotive applications. Since then, many improvements have been made in terms of performance, safety, convenience and environmental considerations allowing it to remain a popular choice for many industries today.
Types Of Lubricant Spray
Lubricant spray is a versatile and convenient way to keep various components of machines running smoothly. This type of lubricant is available in aerosol cans that contain the lubricant and propellants that allow it to be sprayed onto a surface. Several different types of lubricant sprays are designed for specific tasks.
One common type of lubricant spray is WD-40, which is made up of hydrocarbons and other compounds that protect against rust and corrosion. This oil-based product can also help loosen stuck bolts, nuts, screws, and other parts on machinery or vehicles. It's also very useful as an all-purpose cleaner for tools and parts around the home or garage.
Aerosol silicone-based sprays offer superior waterproofing capabilities for metal surfaces such as bike chains or door hinges exposed to rain or snow.
How Does Aerosol Lubricant Spray Work?
An aerosol lubricant spray is an essential tool for various applications that require quick, easy, and consistent lubrication. Aerosol sprays have been around for decades, yet many people still don't understand how these sprays work. Simply put, aerosol lubricants are sealed in a pressurized container with a propellant gas. The propellant forces the fluid out through a nozzle in an atomized mist when the user presses down on the actuator. This mist contains tiny droplets that quickly and evenly spread across the surface they are applied.
The convenience of aerosol lubricants comes from their ability to deliver high-performance lubrication without making a mess or requiring manual application like traditional oils and greases.
What Are The Ingredients In An Aerosol Lubricant Spray?
Lubricant spray is essential in many households and commercial settings, providing a quick and easy way to lubricate surfaces. But what exactly is inside these aerosol cans? The ingredients of an aerosol lubricant spray are typically made up of a combination of oils, solvents and other additives that effectively reduce friction between two surfaces. Depending on the specific formula, a variety of components can be included in the mix.
The main purpose of using a lubricant is to reduce wear and tear over time from metal-on-metal contact between moving parts. Most sprays contain oil that coats the surface with a thin layer to achieve this goal, reducing friction and protecting it from corrosion.
Benefits Of Lubricant Spray Aerosol
Lubricant spray aerosol is a popular product that reduces friction and wears on mechanical parts. It can also help protect surfaces from rust and corrosion. With its many uses, lubricant spray aerosol offers numerous benefits for industrial and home use.
Industrial-grade lubricant spray aerosol helps machines run smoothly and operate more efficiently, reducing downtime due to repairs or maintenance. It also helps increase the lifespan of machinery parts by preventing excessive wear caused by friction and protecting metal components from rust and corrosion. Additionally, using lubricants in an aerosol form allows workers to quickly apply it in tight spaces that would otherwise be difficult to reach with traditional oil-based lubricants.
For homes or DIY projects, lubricant spray can be used for anything from creaky door hinges to squeaky fan belts.
Is Aerosol Lubricant Spray Safe?
When it comes to keeping your vehicle running smoothly, lubricant spray is one of the best ways to maintain its parts. From bicycle chains and power tools to engines and other components, a good aerosol lubricant can help prevent rusting, reduce wear and tear on parts, and ensure that your car runs at peak performance. But what exactly is this product, and is it safe?
Aerosol lubricants are specifically designed for cars as they deliver a fine mist that coats all surfaces evenly with a thin film of oil or grease. This allows for better protection against corrosion while still allowing the part to move freely without added friction. It also adds an extra layer of protection from dust or dirt buildup, which can be damaging if left unchecked.
Does Aerosol Lubricant Spray Expire?
Lubricant spray is a product that provides smooth and efficient operation of machinery, tools, and other equipment. It can also reduce wear on components by providing lubrication between moving parts. But does aerosol lubricant spray expire?
The answer is yes; some aerosol lubricant sprays do have an expiration date. Generally, the expiration date will be indicated on the container label or in the product manual. This expiration date indicates when the product may deteriorate in quality or performance due to age and/or exposure to environmental elements such as humidity and temperature changes. In addition, some manufacturers may advise users not to use the product after a certain period has passed since its purchase, even if it hasn't yet reached its official expiration date.
Best Lubricant Spray Brand
Lubricant spray is an indispensable tool for maintaining and repairing various mechanical equipment. Whether it's a motorbike, lawnmower or car, lubricant spray can help keep your machinery running smoothly. When choosing the best lubricant spray brand for your needs, there are several important factors to consider.
The first thing to look for is quality. A reputable company will produce high-quality products designed to last and provide reliable results each time you use them. Check out customer reviews and compare different brands to find the one with the highest ratings from users who have used the product before. You should also check whether the brand provides any warranty or guarantee on their products so that if something goes wrong, you can get it replaced or repaired easily.
Rocol, Liqui Moly, Permatex, Ambersil, Loctite, Motul, Castrol, Kleen Flo, Royal Purple, Sonax, Mobil 1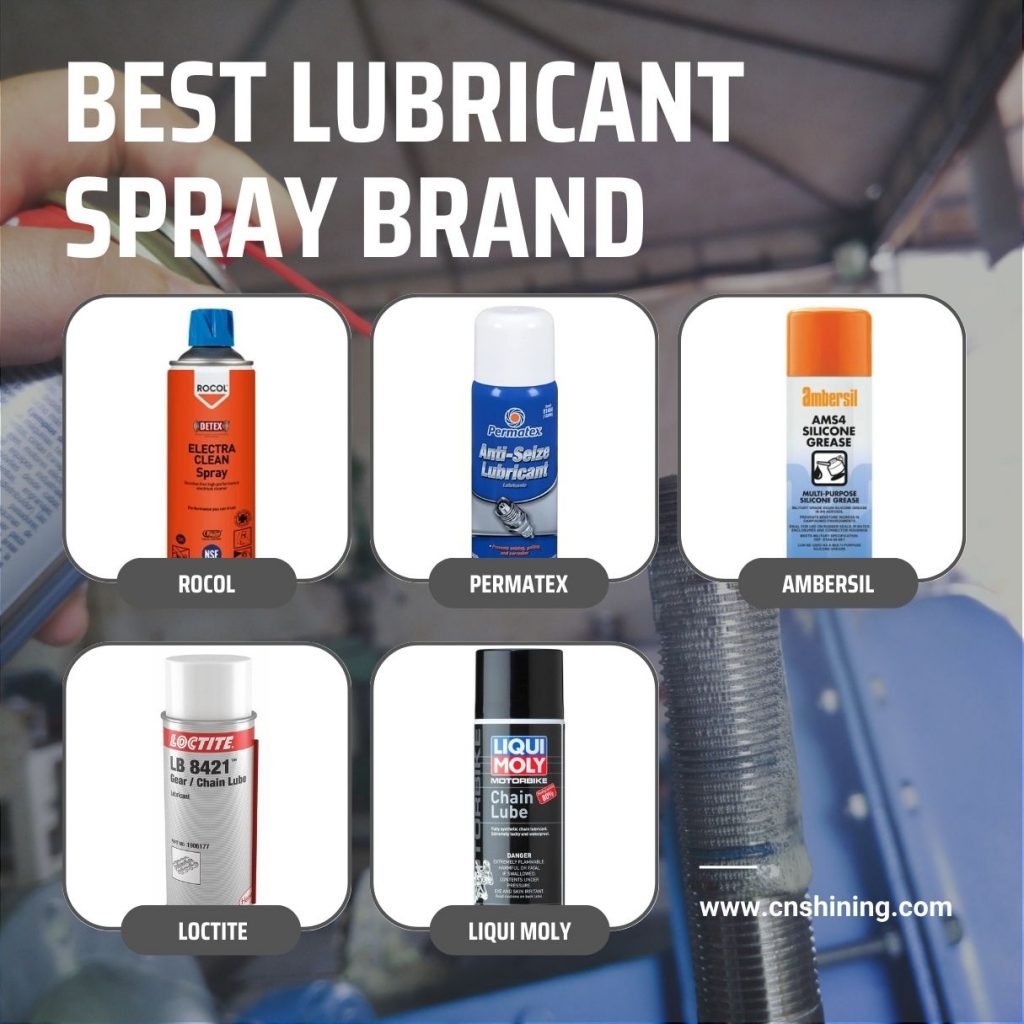 Conclusion
This article on lubricant spray concludes that it is an essential tool for many applications. It can reduce friction, protect parts from corrosion and wear, and improve performance in many environments. Lubricant spray has proven to be a cost-effective solution for industrial and automotive uses due to its versatility, low cost, and easy application.
Furthermore, the use of lubricant spray offers numerous benefits, including reduced maintenance costs and improved efficiency. Choosing the correct type of lubricant for your particular needs is important to ensure optimal performance. With proper care and maintenance, lubricant spray can help maintain your vehicle or production line in optimal condition for years to come.
Are you looking for a reliable manufacturer and supplier of lubricant spray can in China? We offer high quality, reasonably priced products with professional services and fast delivery.