What Is An Aerosol Adhesives Spray?
An aerosol adhesive spray is a type of fastener that is used to bond materials together. It works by combining the adhesive with a propellant, which forces the mixture out of a valve and through an actuator when the nozzle is pressed. The result is an even coating of adhesive that can be sprayed onto surfaces to adhere them together.
Aerosol adhesive sprays are available in different varieties and vary in strength and ability to bond to various surfaces. Depending on their intended application, they can also come in different colours or with special additives such as fire retardants or UV protection. This makes them more versatile than other adhesives since they can work on many projects without switching products.
History Of Adhesives Spray
Adhesives spray has come a long way since it was first invented in the 1950s. Its original purpose was to make the assembly of materials easier and faster, and it is now one of the world's most widely used construction materials. The history of adhesives spray begins with its invention as an aerosol can filled with aluminium oxide particles suspended in a solvent base.
The aerosol spray was an immediate success as it allowed for fast and easy application. With just one button press, adhesive can be applied quickly without worrying about accidental spills or messes. As technology progressed, more efficient forms of adhesive spray were developed, allowing for increased accuracy. Additionally, new formulations were created to improve adhesive strength and durability on any surface.
Types Of Adhesives Spray
Adhesives spray a great way to quickly and effectively attach materials. Whether you are constructing furniture or arts and crafts, it can be handy to have a strong adhesive that can be applied easily. Here we will discuss the types of adhesive spray available today.
An aerosol glue is one common type of adhesive spray. This product typically comes packaged in an aluminium aerosol can containing propellants that push out the glue when sprayed onto surfaces. Aerosol glue is ideal for metal, plastic and glass attachment projects; however, it should not be used on fabrics as it may cause staining or discolouration. Other types of adhesive spray include contact cement, rubber cement, and vinyl adhesive sprays, which are helpful for specific applications such as upholstery work or floor covering installations.
How Do Aerosol Adhesives Spray Work?
Aerosol adhesives spray provides an efficient and effective way to bond two surfaces together. This type of adhesive is easy to use due to its spray form, and it can be used for various materials such as wood, metal, cardboard, plastic and more. The ingredients in aerosol adhesives create a strong bond between the two surfaces that cannot be broken.
Aerosol adhesive sprays are made up of a combination of liquid polymers and solvents, which react with each other when they come into contact with air. When the aerosol adhesive is sprayed onto a surface, the solvents evaporate, leaving behind only the polymers, which create a strong bond that provides an excellent seal on any material.
What Are The Ingredients In An Aerosol Adhesives Spray?
An aerosol adhesive spray is a commonly used product for many crafting and industrial projects. Whether you are looking to bond two materials together or add additional strength to your project, a reliable adhesive can make the job much easier. But what goes into an aerosol adhesive spray, and how does it work?
An aerosol adhesive spray consists of three components: resin, propellant, and solvent. The resin is the main ingredient responsible for forming a strong and durable bond between two materials. Propellant allows the product to be sprayed from an aerosol can, while solvents help with the viscosity of the spray so that it spreads evenly on material surfaces when applied. When sprayed onto a surface, combining these ingredients creates an extremely strong bond that adheres immediately with no drying time required.
Benefits Of Adhesives Spray Aerosol
Adhesives spray aerosol is invaluable for any home improvement or craft project. This versatile product can attach virtually anything, from paper and fabric to wood and plastic. With its easy-to-use aerosol spray applicator, adhesives spray allows users to quickly bond materials together with a strong, long-lasting hold. Here are some of the key benefits of using adhesive spray aerosol:
One important benefit of this adhesive is that it creates a strong bond between two surfaces without applying pressure. Additionally, their lightweight design makes aerosol adhesives easier and faster to use than traditional glue applications. This makes them great for quick fixes on foam boards or window frames and more complex projects such as crafting costumes or sculptures.
Is Aerosol Adhesives Spray Safe?
Adhesives spray a convenient way to attach items using an aerosol canister. But is it safe? Aerosol adhesive sprays are an easy choice for many craft projects, home repairs, and other applications. They provide a strong bond that will last and work on various surfaces without needing additional equipment. Yet there are some safety concerns to consider when using these products.
The most important point is that aerosols contain volatile organic compounds (VOCs). These chemicals can potentially be hazardous if not used properly or in well-ventilated spaces. Additionally, users should wear protective gear such as gloves and eye protection when spraying adhesive to prevent potential skin irritation or inhalation of particles from the spray.
Does Aerosol Adhesives Spray Expire?
Adhesives spray a common tool used to join two different materials together. It has been around for many years and is an essential toolbox component. But does aerosol adhesives spray expire?
The answer to this question varies depending on your specific adhesive spray. Generally, aerosol adhesives will have a shelf life of around 1-2 years before they lose their effectiveness. Many manufacturers will include an expiration date on their products, so it's important to check that before using. Additionally, if your adhesive begins to feel thicker or more difficult to work with, it may be time to purchase a new canister of adhesive spray. UV exposure can also damage the product over time, leading it to expire faster than expected.
Best Adhesives Spray Brand
Adhesives spray is one of the most versatile and convenient ways to ensure your projects stay together. But with so many different brands on the market, it cannot be easy to know which one to choose. Here, we'll explore some of the best adhesive spray brands available so that you can find the perfect product for your needs.
Whether you need an adhesive spray suitable for upholstery and leather or a product ideal for paper crafts and scrapbooking, there's something here for everyone.
Loctite, Permatex, 3m, Gorilla Glue, Krylon, Elmer's, Styrofoam, Fevicol, Odif, Weldwood, Camie, Tensorgrip, Selleys, Bostik, Bunnings, Everbuild, Trimfix, Aleene's, Sika, Spray Lock, Sta Put, Formica, Roberts, Sprayway, Evo Stik, Firestone, Great Stuff, Mitre Bond, Mitreapel, Tesa, Crc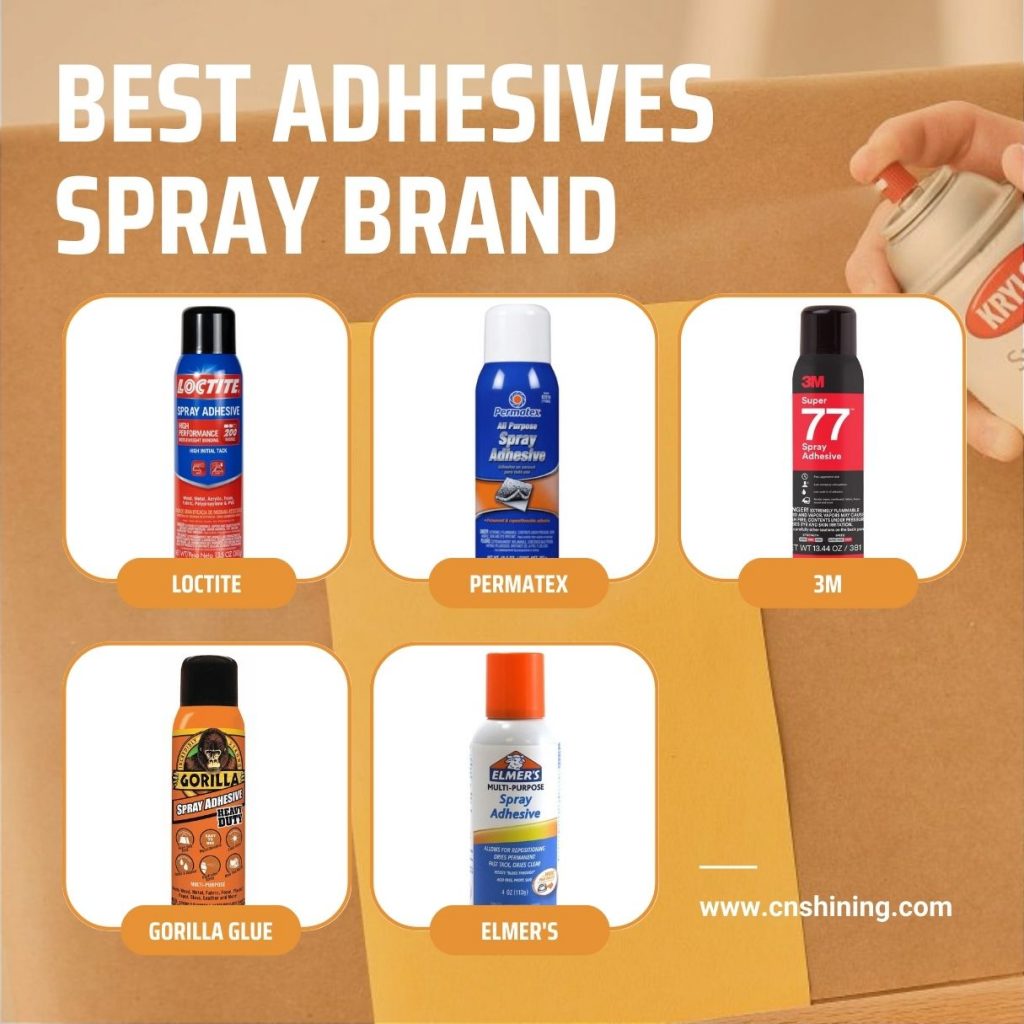 Conclusion
The adhesive spray has become increasingly popular, especially in the manufacturing and construction industries. Whether you need to quickly secure a piece of wood or metal or repair a broken item, adhesives spray is an effective solution. After evaluating various types of adhesive sprays on the market today, it can be concluded that each product offers its advantages and disadvantages.
The best type of adhesive spray for any situation depends on the application and material used. Considerations such as cost-effectiveness, bonding strength, bond time and environmental factors should all be considered when selecting an adhesive spray product. Additionally, it is important to read the label carefully to ensure compatibility with specific materials and surfaces. Adhesive spray can provide a convenient and reliable way to join different materials in many different contexts.
Looking for a manufacturer and supplier of adhesive spray can? Look no further! We are the top leading China-based company that offers superior quality and durable adhesive spray cans.