What Is an Aerosol Hairspray?
An aerosol hairspray is a popular hair styling product to achieve volume, texture, and hold. It is available in both men's and women's formulations, making it a versatile styling tool for both genders. Aerosol hairsprays are composed of small particles suspended in a canister of liquified gas or propellant, allowing the user to spray the product directly onto their head.
Aerosol hairsprays vary significantly regarding ingredients and benefits, such as humidity-resistant formulas, anti-frizzing agents, shine enhancers, or added vitamins or extracts. Common ingredients include alcohol denatured (which helps with hold), copolymers resins (for maximum strength) and film formers (for long-lasting hold).
How Does Aerosol Hairspray Work?
Aerosol hairspray is a popular styling product used by women to keep their hair in place. It's easy to use and offers great results for those looking for a long-lasting hold and volume. But what exactly is aerosol hairspray, and how does it work?
Aerosol hairspray is a chemical solution made of polymers and other ingredients that form a protective layer around the hair strands when spraying. The polymers help the strands stick together, while the other ingredients provide shine and texture. When applied, the polymers create an invisible barrier that locks moisture in for a while, keeping humidity out – helping to keep styles looking their best all day long.
What Are The Ingredients In An Aerosol Hairspray?
Few products are as essential as aerosol hairspray when achieving the perfect hairstyle. The hair styling staple helps you lock in your look while adding shine and volume. But what exactly is in an aerosol hairspray?
The main ingredients found in most aerosol hairsprays are a combination of alcohols, polymer resins, and propellants like dimethyl ether or propane. Alcohols help set the style, while resin provides a lasting hold to keep your hair looking great all day long. Different brands may also add fragrances and moisturizers to their products for additional benefits.
If you're looking for the best hair spray for your needs, read reviews from other users and compare ingredients on product labels before making your selection.
The Benefit Of Aerosol Hairspray
Aerosol hairspray is essential for both men and women in styling their hair. It can provide a strong, long-lasting hold that keeps your hair in place all day without the need to reapply, allowing you to look your best with minimal effort. Not only does aerosol hairspray offer enhanced styling power, but it also contains beneficial ingredients that can help protect and improve the overall health of your hair.
Aerosol hairsprays are a must-have product for men who want a sleek, finished look for their hairstyle. The stronger hold allows them to achieve the desired look with no flyaway strands and keep it looking great throughout the day. Women also benefit from using aerosol hairsprays as they can create intricate styles such as curls or waves without worrying about them falling out quickly.
Is Aerosol Hairspray Safe?
Aerosol hairspray is a popular choice for women looking to set their hair in place. But with all the chemicals used in these products, many wonder if aerosol hairspray is safe.
The good news is that several alternative hair-setting spray options are available today that can provide similar results without exposing users to potentially harmful chemicals. Many of these sprays are made with natural ingredients like aloe vera or coconut oil and do not contain any propellant chemicals.
Do Aerosol Hairspray Expire?
Aerosol hairspray is a popular styling product for both men and women. But does aerosol hairspray expire? The short answer is yes, it does. Manufacturers recommend replacing your aerosol hairspray every 12 months to keep the product in peak condition. This will ensure that the spray works correctly and won't clog up when you use it on your hair.
Expired aerosol hairspray can still be used, but it may not deliver the same level of hold or shine as a new can. Additionally, using expired products can also cause buildup on your hair due to ingredients that are no longer effective after their expiration date has passed. It's best to err on caution and throw out any old aerosol hairspray cans if they're more than 12 months old.
Best Hairspray Brands
When it comes to hairspray, you want to ensure you have the best aerosol brand. It's important to know what ingredients are in the product and how it will affect your hair. A great aerosol hairspray should be lightweight and offer a long-lasting hold that won't leave a sticky residue on your hair or scalp. Knowing which brands provide this is essential when it comes to effective hairspray.
There are several top-rated brands of aerosol hairspray that have been known to provide excellent results.
Schwarzkopf, L'Oréal, Tresemme, Kenra, Tigi, Got2b, Bed Head, Aussie, Redken, Sexy Hair, Paul Mitchell, Pantene, Wella, Aveda, Chi, Joico, John Frieda, Garnier Fructis, Moroccanoil, Living Proof, Alterna, Suave, Vo5, Davines, Sebastian Professional, Bumble And Bumble, Goldwell, Kevin Murphy, Amika, Ghd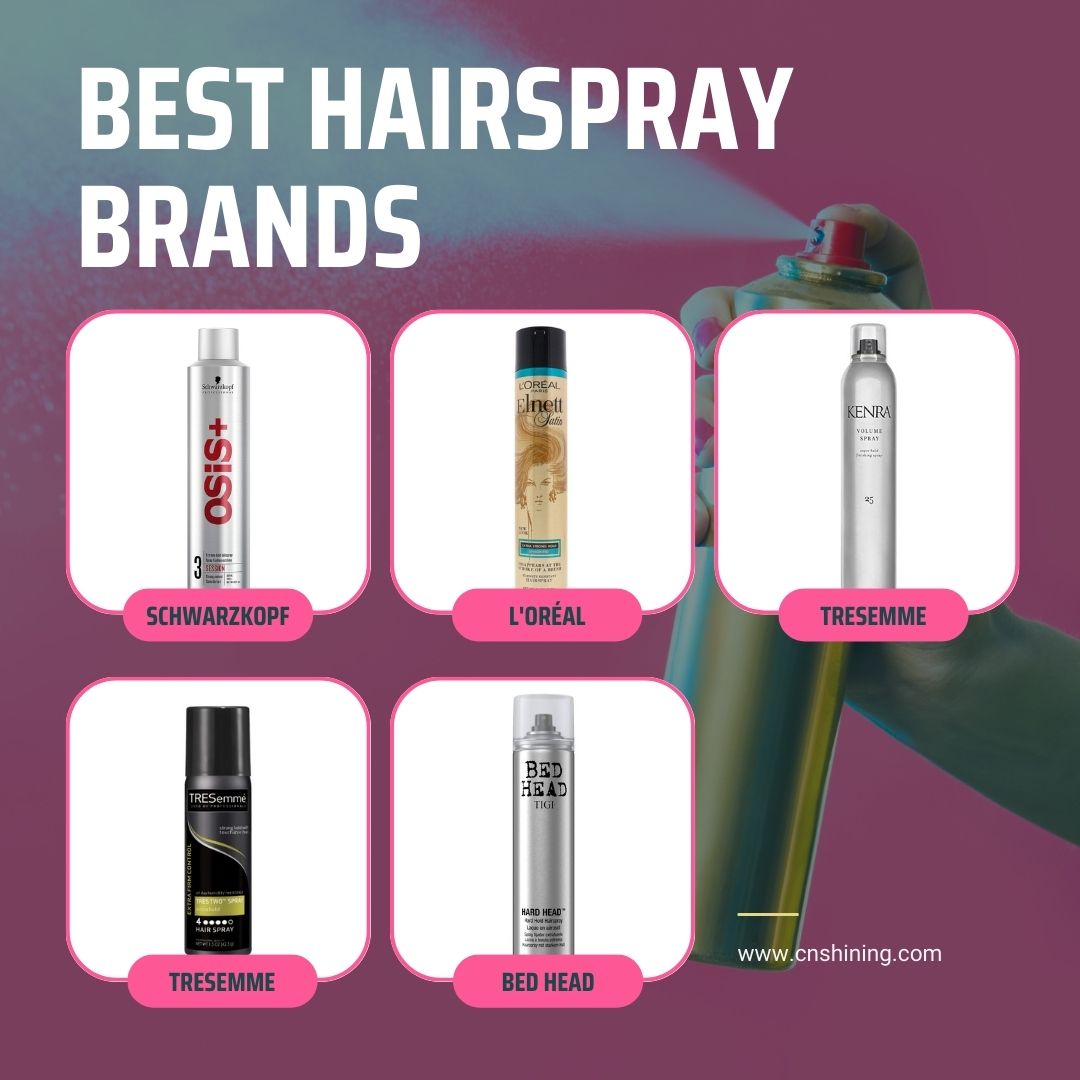 Conclusion
Hairspray aerosol has become essential to many people's daily hair routines. It is used for both men and women to style, control and holds their hair in place. With the right product, users can achieve a range of looks, whether they are looking for something subtle or full-on glamour. Hairspray aerosol is also convenient since it comes in travel-size versions that fit easily into a bag or purse.
When choosing hairspray aerosol products, you must consider what kind of look you want to achieve and how much control and hold you need. Different hairsprays offer different hold levels, with some providing light hold while others provide stronger holding power. Additionally, specific sprays are designed specifically for men and women with different needs when styling their hair.