What Is Aerosol Hair shines?
Aerosol hair shines a product that imparts shine and protection to hair. They come in easy-to-use cans that contain a combination of water, oil, and propellant gases. The propellants help the product inside the can shoot out through an actuator when pressed. This fine mist coats the hair with a glossy finish, making it look healthier and more vibrant.
The aerosol form allows even distribution on all hair types, not just long styles; users can spray it onto their roots or scalp without worrying about clumping or residue buildup. Additionally, aerosols provide better control over application than other forms, such as sprays or foams. Aerosol hairspray is an ideal choice for an effortless way to add shine and moisture to their locks without weighing them down.
How Do Aerosol Hair shines Work?
Aerosol hair shines is a popular styling tool that gives hair an extra sheen and lustre. The product is contained in an aerosol can, which sprays the shine onto the hair when triggered. While many people think aerosols are bad for their health, aerosol hair shines provide a safe and easy way to add shine to your hairstyle.
Using an aerosol spray for styling your hair is simple and fast. To use it, you need to hold the aerosol can at least 15 centimetres away from your head and then depress the nozzle until you have enough of the product on your hands. Once you've sprayed some of the shine onto your hands, spread it evenly through damp or dry strands with a light massage motion.
What Are The Ingredients In Aerosol Hair shines?
An aerosol hair shine is a spray product typically used to add a glossy finish and protection to the hair. It's easy for people to achieve a salon-like look without visiting their stylist. The ingredients in aerosol hair shines vary from brand to brand, but most contain some combination of oils, silicones or polymers that help coat strands with gloss and sparkle while providing heat protection.
To understand what is inside an aerosol hair shine, it's important to know the main categories of ingredients found in all aerosols: emollients, which lubricate and soften; humectants, which add moisture; surfactants, which make the product spreadable; and propellants, which allow the product to be released in an aerosol form.
Benefits of Hair shines Aerosol.
Hair shines aerosol is a great way to add shine and texture to hair. This product can be used on any hair type or colour, providing an all-over shine that looks natural and healthy. The most common form of hair shines aerosol is held in an aluminium aerosol can with a valve at the top for easy application.
Hair shine aerosol provides many benefits, such as reducing frizz and adding volume to dull locks. Additionally, it helps protect the hair from damage by forming a protective layer between the strands and environmental factors like heat styling tools or humidity. It also adds an extra layer of protection against split ends and breakage while simultaneously keeping the scalp hydrated and nourished. Finally, it enhances colour vibrancy in coloured hair, so users always have salon-perfect locks!
Is Aerosol Hair shines Safe?
Hair shine aerosol is a popular choice for achieving glossy, smooth locks. It can tame flyaways and make hair look glossy and healthy. But is this type of hair product safe to use?
Aerosol hair is often made with silicones and synthetic fragrances, which may contain alcohols or other chemicals that could damage your scalp and hair follicles. In addition, the propellant used in aerosol cans may emit fumes that can irritate your eyes, nose, throat and lungs if inhaled directly. This makes it important to use caution when applying these products to your face.
Do Aerosol Hair shines Expire?
Shine up your hair with an aerosol hair shine! But do they expire? Hair shines, also known as polishes and glazes, are an effective way of adding a glossy finish to any hairstyle. Whether you want to add sparkle to your curls or create sleek locks, there are many options available in aerosol form. So what is the shelf life of these products?
Most aerosol hair shines have a typical shelf life of two years. This means that once opened. You can use it for up to two years before needing to replace it. However, if the product has been exposed to high temperatures or direct sunlight, this period may be shorter. Therefore, you must store the product at room temperature in a cool and dark place – away from heat sources such as radiators and ovens.
Best Hair shines Brand.
To make it easier, we have put together our list of the top brands of aerosol shine sprays. Each one comes with its unique combination of ingredients and textures that will add long-lasting results to any hairstyle. From light reflective glosses to strong-hold hairspray with built-in conditioners, there is something for everyone in this selection.
Paul Mitchell, Garnier, Kevin Murphy, Chi, Pantene, Cantu, Schwarzkopf, Amika, Babyliss, Loreal, Tigi, Joico, Remington, Bed Head, Creme Of Nature, Revlon, American Crew, Conair, Redken, Shea Moisture, Aveeno, Biolage, Goldwell, Kerastase, Sexy Hair, Sunsilk, Alikay Naturals, Aussie, Dark And Lovely, John Frieda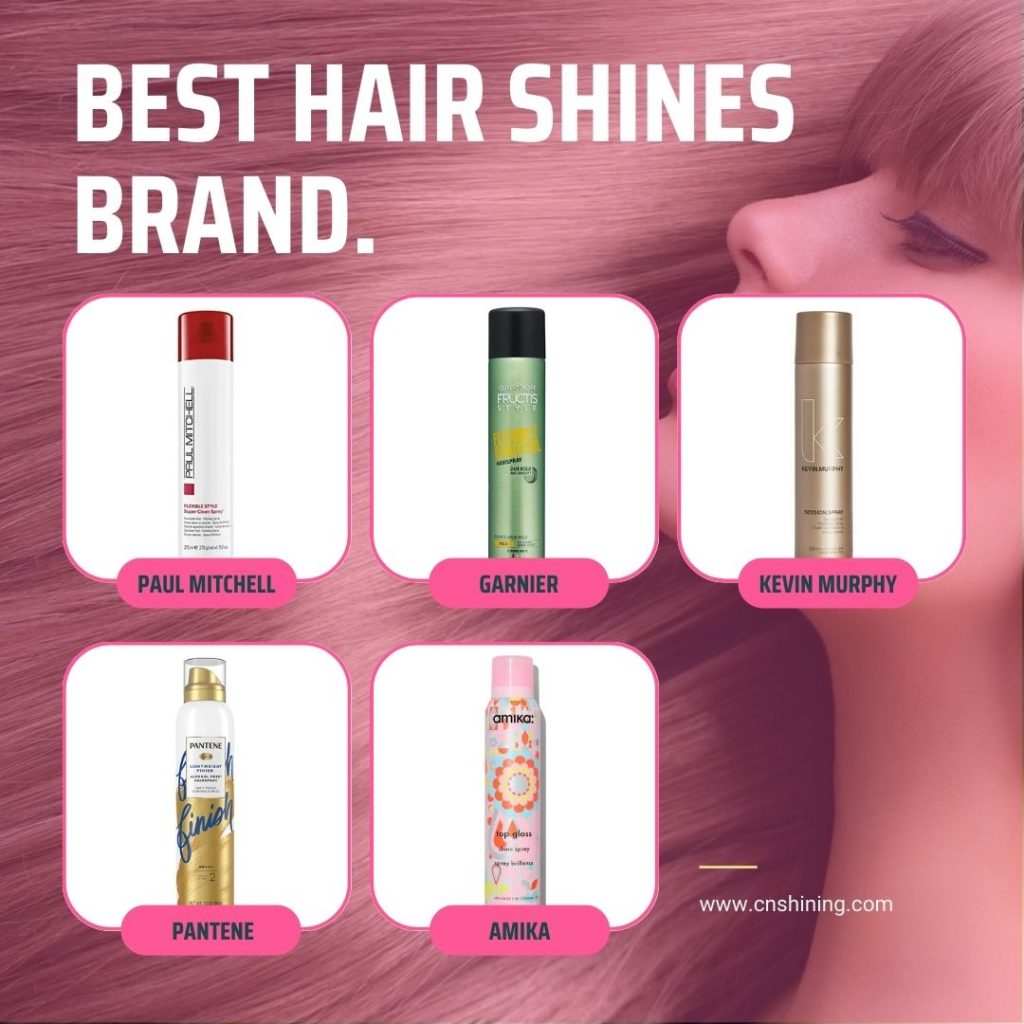 Types: Spritz, Mist, Foam
Aerosol spray products have become a must-have for hairstylists and beauty buffs alike. Now, hair shines aerosols provide an easier way to give your locks a glossy finish. These hair polishes come in three different types – spritz, mist, and foam – so you can choose the one best suited for your particular hair style.
The spritz type is lightweight and easy to use; spray it on wet or dry hair to give it a lovely shine that lasts all day. The mist type creates a more subtle appearance with a soft sheen that won't overpower but will still leave your hair looking gorgeous. And the foam variety provides maximum coverage with an intense gloss that lasts until shampooed out.
Application: Dry or Wet Hair
When it comes to hair care, there is always a debate over which technique is best for achieving the most beautiful and healthy-looking results. For those seeking an extra glossy shine, there are two main application techniques: dry or wet hair.
Dry hair application involves spraying the aerosol directly onto the strands of your locks while they are still dry. The advantage of this method is that you can apply it directly to any area that requires a gloss boost and easily control where the product is being applied so that you don't end up with too much product in one spot. However, if not carried out correctly, there can be some residue left behind from the spray.
On the other hand, wet hair application involves spraying a light mist of aerosol onto damp strands after styling and then blow drying for maximum shine.
Safety Concerns: Chemicals, Smells
Hair loss is a product that has become increasingly popular over recent years. It promises to give your hair a shine and sparkle that lasts for days. However, many people have started questioning the safety of these products because of the chemicals and odours associated with them.
The aerosol form of hair gloss uses chemicals like alcohol, propellants, and other ingredients to help it to disperse in the air. These can be potentially dangerous if inhaled as they may cause irritation or even more serious problems depending on exposure levels. Many people are also concerned about using these products regularly's potential long-term health effects.
When it comes to smells, some aerosol hair shines contain fragrances or other artificial scents which may be toxic when inhaled or ingested.
Conclusion
The conclusion to this article about hair shines aerosol is that it can be a great way for people to achieve the look of salon-perfect hair without having to pay a premium. Hair shines aerosol provides an easy and convenient solution for those who don't have the time or money to visit a professional stylist. It gives your hair that extra shine and helps protect your locks from environmental pollutants like UV rays and humidity while locking in moisture.