What Is an Aerosol Hair mousse?
Hair mousses are a popular styling product used to create volume and texture in hair. But what is an aerosol hair mousse? This article will explain the difference between regular hair mousse and aerosol mousse, how they work, and the benefits they offer when styling your hair.
An aerosol hair mousse is a styling aid that comes in an aerosol can or spray. This form of the product is designed with air-infused foam, which helps distribute the product evenly onto your strands for a firm hold without feeling crunchy or sticky like traditional gels or products applied with hands can do.
Types: Volumizing, Styling
Hair mousses in aerosol form are a great way to volumize and style hair. An aerosol is a device that contains propellant gas under pressure and uses an actuator to dispense products such as hair foam. Hair mousses provide texture, hold, and body for all hairstyles.
The added volume and texture make styling easier than ever before. The versatile mousse can be used on damp or dry hair and provides maximum lift, definition, shine, protection from heat damage and humidity control. Users can also create braids more easily using the additional control the mousse provides. With its lightweight formula that won't weigh down the hair, users can expect lasting results throughout the day without feeling sticky or stiff like other products may do.
How Do Aerosol Hair mousses Work?
Aerosol hair mousses are a popular styling product to create texture and volume. They are typically packaged in an aluminium aerosol can with a valve at the top that sprays out the mousse when pressed. But how do aerosol hair mousses work?
The pressurized canister holds the ingredients of the mousse, including water, alcohol, propellants and salt. When you press down on the valve at the top of the aerosol can, it releases a combination of these ingredients, which mix, creating foam or mousse. This mixture is then dispensed through small holes in the nozzle and onto your hair. The propellants help distribute this mixture evenly throughout your locks creating texture and volume while maintaining a hold on your style.
What Are The Ingredients In Aerosol Hair mousses?
Hair mousses are a popular styling product that gives volume and texture to hair. They come in an aerosol can, which dispenses the mousse in a foam form easily distributed through the hair. But what ingredients make up these foamy styling products?
The main ingredients used in most aerosol hair mousses are water, alcohol, salt, and guar gum. Water softens the hair shaft and keeps it hydrated during styling. Alcohol helps dissolve oils and other components of the mousse formula so they will blend well. Salt helps thicken the foam consistency for easy application onto curly locks or other hairstyles. Guar gum adds hold without making the hair stiff or crunchy.
Benefits of Hair mousses Aerosol
Aerosol hair mousses have become the go-to product for those who want to style their curly hair. They provide great hold and definition, and many other benefits associated with using aerosol mousse make it a practical choice.
For starters, aerosol mousses are much easier to apply than traditional styling products, as you need a few sprays onto towel-dried hair, and you're ready to go. This makes them perfect for those on the go who don't have time to mess around with complicated styling techniques. Additionally, because it's an aerosol product, it won't leave any residue of buildup in your hair like some other products can.
Lastly, aerosol mousse can add texture and volume to even the limpest or fine curly locks.
Are Aerosol Hair mousses Safe?
Styling mousses are popular products that achieve desired hairstyles, such as curls and volume. But what about aerosol hair mousses? Are they safe to use, and can they help with styling?
Aerosol hair mousses come in lightweight cans that dispense a foam-like material. This foam is formulated with many of the same ingredients as traditional styling mousse but delivers a lightweight hold through an aerosol spray. Propane, butane, and other gasses combine with the formula to give it its foaming action and provide even coverage. Despite containing chemicals, aerosol hair mousse is generally considered safe for most people when used correctly. The product can be beneficial in helping create fullness and texture without weighing down the hair or leaving behind any residue.
Do Aerosol Hair mousses Expire?
Aerosol hair mousses are a popular styling product among many, but do these products have an expiration date? Hair mousse is a type of foam that provides extra volume and body to the hair. It's also used to protect against heat damage from hot tools, like curling irons or straighteners. To determine whether aerosol hair mousses expire, it's important to understand what ingredients are included in the product.
Most aerosol hairstyling products contain some form of alcohol which acts as a preservative and helps keep the product from spoiling. Additionally, most aerosol cans include other ingredients like polymers and proteins that help give the foam its texture and hold on to the hair shafts. These ingredients can break down over time if not stored properly, which could lead to an expired product with reduced efficacy.
Best Hair mousses Brand
Hair mousses are a styling product that's been popular for decades. The aerosol version allows you to apply the product with ease and convenience. But what makes one hair mousse better than another? To help you choose, we've rounded up the best hair mousse brands today.
Tresemme, John Frieda, Loreal, Wella, Sexy Hair, Aussie, Pantene Pro V, Redken, Got2be, Moroccanoil, Herbal Essences, Shea Moisture, Cantu, Lottabody, Ag Hair, Paul Mitchell, Garnier, Suave, Living Proof, Oribe, Tigi, Amika, Bb, Joico, Kenra, Nexxus, Design Essentials, Shu Uemura, Indola, Kevin Murphy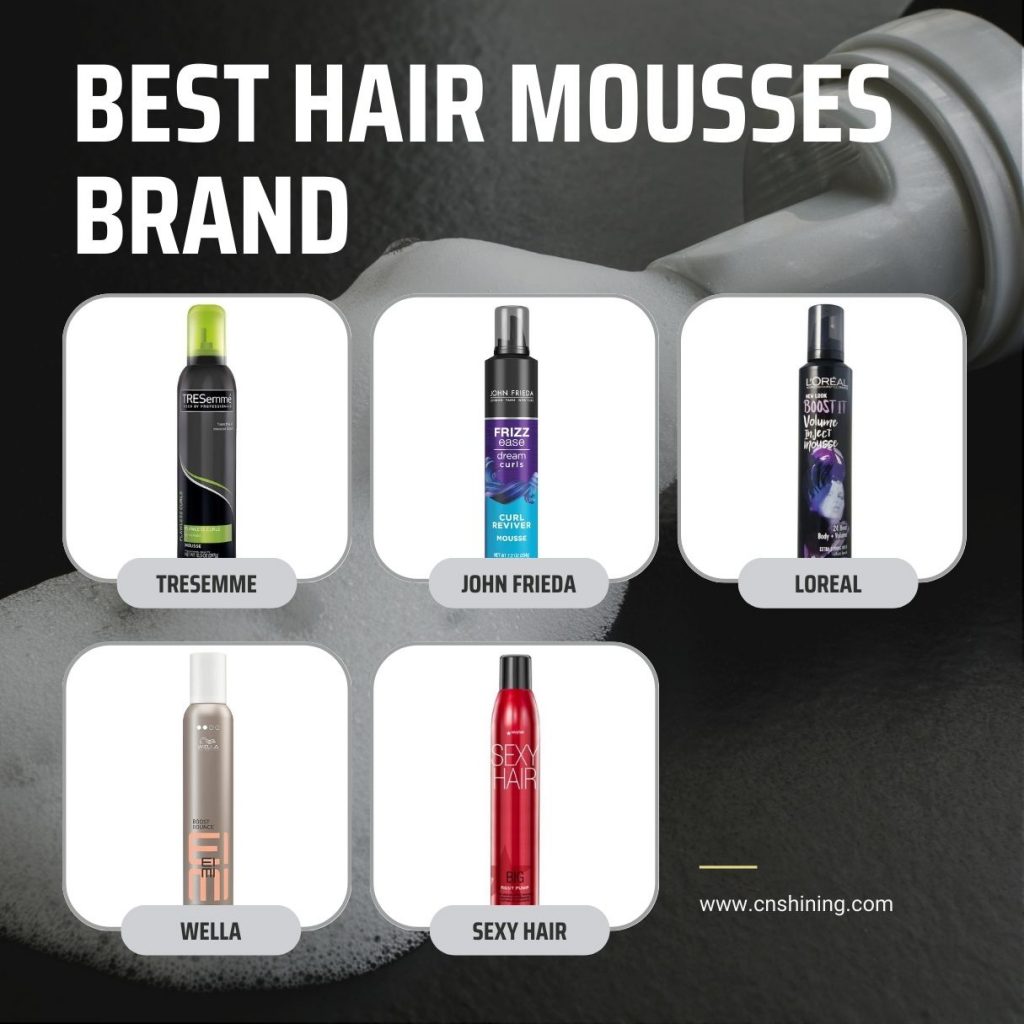 Conclusion
Hair mousse aerosol concludes they are an effective styling product for all hair types. Whether you have curly, straight, coloured or highlighted hair, it can be tamed and held in place with this versatile product. Hair mousse aerosols are a great alternative to traditional gel-based products and won't leave your hair feeling hard or sticky. They offer both conditioning and styling benefits without damaging your locks. Additionally, their lightweight consistency ensures that your hairstyle looks natural and moves with you throughout the day. Hair mousses aerosol provide amazing results quickly and easily so you can create perfect looks in minutes.