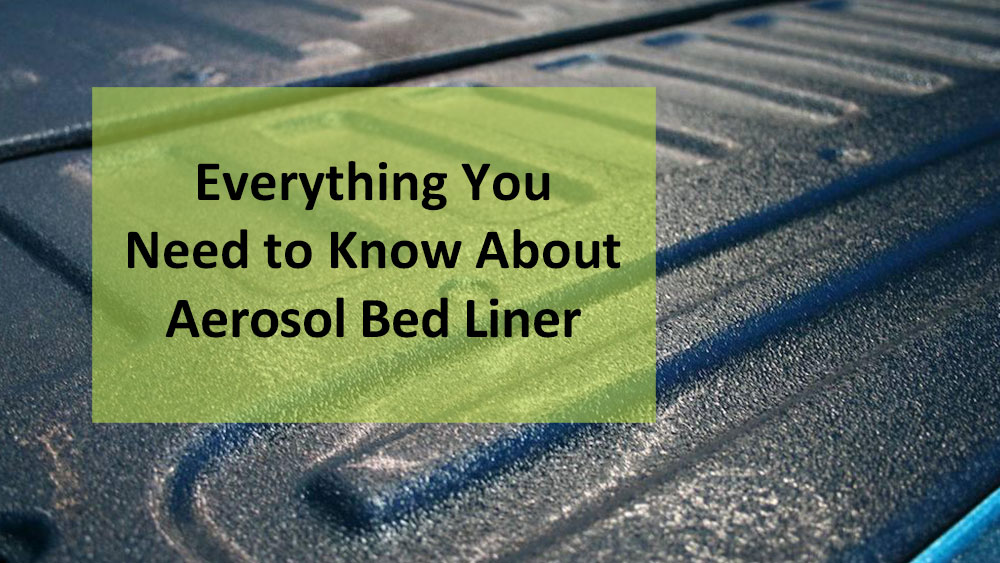 Whenever one buys a new truck, you will surely hear one word. That is, none other than "aerosol bed liner." But do you know what precisely these bed liners are? We will make you know about it and the benefits of the same. So, let us move forward and read to learn more!
What is an aerosol bed liner?
An aerosol bed liner is a coating applied with a spray bottle onto the inner area of the truck bed. This helps prevent that particular area of the truck from scratching and denting. Most importantly, this bed liner helps create a skid-resistance surface that allows the cargo placed in it to stay intact.
How do aerosol bed liner colors work?
The significant factor in describing its work and importance depends upon how the first spray application of the aerosol bed liner is made. So, before applying the same on any surface, the surface should be first prepared to allow the coating to adhere to itself properly. Next, aerosol bed liners must be applied with the roller at low pressure.
As it is a sensitive process, it should be done by a trained professional only. The professional will follow the proper procedure in applying the bed liner, which will help the sprayed aerosol bed liner make a strong and permanent bond. This strong bond will help prevent bubbling in extreme weather conditions.
What are the ingredients in aerosol bed liner?
Aerosol bed liners are mainly used in the automotive industry to protect their trucks from chipping, corrosion, and physical impacts. Moreover, the spray bed liner coatings are a mixture of 100% pleura and 100% polyurethane. The combination of these two chemicals protects the trucks from any physical impact from any pressure.
Aerosol Bed Liner Colors
When we talk about colors in aerosol bed liners, we have many options for color pigments for all applications. There are standard colors available with the dealers, and if you do not like the standard ones, they will surely give you an option to customize your paint color. So some of the stock available colors in aerosol bed liners are :
Black
pink
Emerald green
Powder blue
Garnet red
Camouflage Green
Indigo blue
Purple
Camouflage Brown
Medium blue
Red
Charcoal Gray
Medium gray
white
Dark Blue
Medium green
Yellow
Dark Green
Dove Gray
Desert Tan
Top 3 best aerosol bed liner brands
The only way to protect the truck bed without extra protection is to paint it with spray aerosol bed liners. So, after good research, we have come up with some of the best aerosol bed liners for you:
Raptor aerosol bed liners are ideal for being applied on running boards, tailgates, and truck beds. As these are solvent-based, we can spray them on all types of metal, fiberglass, aluminum, and wooden truck bed surfaces. After applying 1-2 coats of Raptor aerosol bed liner, it takes up to 30 minutes to dry and gives an attractive textured finish to the truck bed area.
Herculiner aerosol bed liner.
Herculiner aerosol bed liner is a water-based product that makes the truck bed a durable and skid-resistant area when applied. It helps prevent chipping off, rusting, corrosion, and peeling. Once applied, it will take approximately one hour to dry up.
Dupli aerosol bed liner is a durable coating that consists of black vinyl polymer and can be applied with the help of a spray gun or roller. These are designed so that anyone can use them very quickly.
Aerosol Can Air Freshener Manufacturer
In summary, aerosol bed liners prevent the truck bed from scratching and denting and firmly keep the area in its shape.
You will realize that the aerosol bed liner is many, but when it comes to the empty aerosol cans they are supplied in, SHINING Aluminum Packaging is the best Aerosol Air Freshener can Manufacturer.