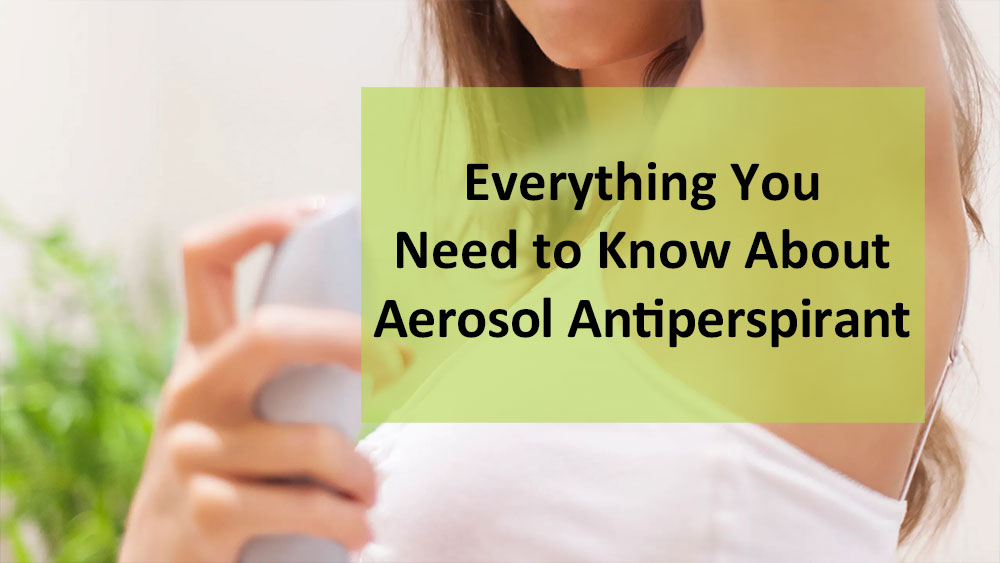 Wet underarms are common in summers, leaving you annoyed with stinky underarms. But, even if you don't sweat heavily, a hot summer day can make you drenched in sweat. So, how to combat this?? Well, aerosol antiperspirant is a fantastic product that will keep you dry and fresh even in high temperatures. So, let's find out how antiperspirants can reduce sweating and discover what brands can be an excellent choice for the same.
 What is aerosol antiperspirant?
An aerosol antiperspirant is a skincare product that helps lessen sweating in the underarms. However, this should not be confused with deodorant, which serves only to mask foul or unpleasant odors.
Aerosol antiperspirants are the perfect mate in summers to help stay sweat-free and active. Some antiperspirants can also provide a pleasant fragrance while keeping excessive sweating on the bay.
How does aerosol antiperspirant work?
Aerosol antiperspirants contain aluminum chlorohydrate (ACH), which reduces the amount of perspiration by obstructing sweat ducts in our skin. Therefore, when one sprays antiperspirant on the body, it starts coming in contact with sweat. This, in turn, elevates the pH level making the aluminum salts residue and plugging over the sweat glands.
The sweat continues to build up; however, the plug created obstructs it from reaching the skin's surface. Moreover, such salts also help reduce lousy odor by reducing the growth of bacteria in sweat-sensitive areas.
What are the ingredients in aerosol antiperspirant?
As mentioned above, aluminum chlorohydrate is the core ingredient in aerosol antiperspirants. It is combined with other chemicals to create products of different strengths.
Nowadays, aluminum zirconium compounds are more used in these antiperspirants. These are well tolerated by our skin and cause the minor irritation to razor burns or any cut on the skin.
Top 5 brands of aerosol antiperspirants
Now that you know how essential these antiperspirants become in summers, it's time to pick your compatible mate by analyzing the top brands:
Dove aerosol antiperspirant: Containing 1/4th of moisturizing cream, this product is perfect for controlling excessive sweating. It gives protection from sweating for 48 hours and keeps you fresh and active.
Degree aerosol antiperspirant: A dry antiperspirant locks wetness for 72 hours. It gets deposited in an invisible powder form which dissolves with sweat and blocks further sweating. It is a perfect product for athletes who do heavy workouts.
Right guard aerosol antiperspirant: It is another famous antiperspirant brand that works magic on excessive sweating. It not only controls sweating but also gives a pleasant fragrance. This brand is exclusively available for men.
Suave aerosol antiperspirant: This antiperspirant combats sweat along with odor-blocking that keeps your feeling fresh all day. It gives 24 hours protection against sweat and is available in various flavors.
Secret aerosol antiperspirant: If you are a woman who sweats a lot, then this aerosol antiperspirant will work magic for you. Its sweat-locking formula is excellent and controls up to 100% wetness.
 Aerosol Antiperspirant Manufacturer
You will realize that the aerosol antiperspirant brand is many, but when it comes to the empty aerosol cans they are supplied in, SHINING Aluminum Packaging is the best aerosol can manufacturer.