What Is An Aerosol Silicone Spray?
An aerosol silicone spray is a type of spray that utilizes a pressurized aluminium aerosol can to dispense the product. It lubricates and protects surfaces from corrosion, moisture, and other environmental elements. The product comes in an easy-to-use aerosol can that allows the user to apply the spray evenly across a surface with minimal effort.
Aero-Silicone sprays are 100% pure silicone, providing superior protection against corrosion, water damage, oxidation and wear caused by friction. The highly concentrated formula ensures superior performance when contacting any substrate, including metals, plastic, rubber and wood surfaces. Additionally, it will not degrade or break down over time like other lubricating products do when exposed to harsh conditions or temperature changes. As such, it provides long-lasting protection for indoor and outdoor applications.
History Of Silicone Spray
Silicone spray has been used since the early 1960s and is a popular lubricant today. It protects, lubricates, is waterproof, and provides insulation against moisture or heat. Its versatility makes it a useful tool in many industries, from automotive to electronics.
Silicone spray is silicone oil suspended in volatile propellants such as propane or butane. Combining these two ingredients allows for an even application of the product on surfaces such as valves, bearings and other moving parts. It acts as a barrier between metal surfaces, reducing friction and wear over time. Additionally, silicone spray can also be used to reduce corrosion on metals by preventing oxidation from air or water contact with the surface. This makes it a great choice for protecting delicate machinery from rusting or seizing up due to moisture exposure.
Types Of Silicone Spray
Silicone spray is a versatile product used to treat and protect surfaces from wear, tear, and corrosion. This spray is available in several forms, including aerosol sprays, actuator sprays, and more. Each type of silicone spray offers its unique benefits for specific uses.
Aerosol silicone sprays are the most common type of silicone spray. They come in pressurized cans with a nozzle attached that allows for an even application of the liquid onto any surface. Actuator silicone sprays are similar to aerosol sprays but require manual pumps to release the liquid. The benefit of this style is that it allows for more precision with the application of the solution, as there is no risk of over-spraying or uneven distribution on surfaces.
How Do Aerosol Silicone Spray Work?
Aerosol silicone spray is a versatile and easy-to-use product that can be used for various applications. It is made from silicone oil, combined with other compounds to create a product with unique lubricating and waterproofing properties. When sprayed, aerosol silicone sprays form an invisible, thin film of protection on the surface it covers. This makes it ideal for protecting against rust, dirt, moisture, and corrosion.
Aerosol silicone spray creates an airtight barrier between the metal surface and the environment. This protective layer prevents water or other liquids from being absorbed into the substrate and helps reduce abrasion due to friction. The resulting thin coating also significantly reduces wear and tear on equipment while extending its life span. By reducing friction, aerosol silicone sprays can increase energy efficiency and improve product performance.
What Are The Ingredients In An Aerosol Silicone Spray?
Silicone spray is a popular product for many tasks around the home and workplace. It can be used to lubricate, preserve, and waterproof surfaces and protect them from rust and corrosion. But what exactly are the ingredients in an aerosol silicone spray?
The main components of an aerosol silicone spray are polydimethylsiloxane (also known as dimethicone) and a hydrocarbon propellant such as propane or butane. These two elements combine to create a thin coating that adheres to various surfaces, including metal, plastic, rubber, and paper. In addition to these two main ingredients, aerosol silicone sprays may contain additives, such as emulsifiers or antioxidants, which help with application and provide extra protection against oxidation and wear and tear.
Benefits Of Silicone Spray Aerosol
Silicone spray is an aerosol lubricant and sealant that can be used for various applications. From protecting and preserving surfaces to lubricating moving parts, silicone spray is one of the most versatile products on the market today. The primary benefit of using a silicone spray aerosol over other forms of this type of product is its ease of application. In addition to being user-friendly, there are several important benefits to using a silicone spray aerosol in different situations.
One major advantage of silicone spray in aerosol form is that it provides uniform coverage every time it's applied. This makes it ideal for projects that req uire exact measurements or processes such as patching holes, sealing materials or protecting surfaces from environmental elements like water and dust particles. It also ensures that any potential rust spots are covered without requiring too much effort on the user's part.
Is Aerosol Silicone Spray Safe?
Is aerosol silicone spray safe? Silicone spray is a versatile product used to lubricate, protect, and waterproof surfaces in many applications. But when it comes to safety, there are concerns about its potential inhalation hazards and environmental impacts.
Silicone sprays contain a variety of substances that can be hazardous if inhaled. Long-term exposure to these chemicals has been linked to various health issues, including skin irritation and respiratory problems. There have also been reports of some individuals developing asthma-like symptoms after using aerosol silicone sprays. Additionally, there is evidence that chemical compounds can harm the environment if improperly disposed of or released into the atmosphere.
Despite the potential risks associated with aerosol silicone sprays, many people use them for their benefits, such as reducing friction on moving parts or protecting surfaces from corrosion and rusting.
Does Aerosol Silicone Spray Expire?
Silicone spray is a multi-purpose product used in many home and industrial applications. It can help to lubricate door hinges, protect surfaces from moisture and prevent rust. But does aerosol silicone spray expire?
Most manufacturers of aerosol silicone spray claim that their products do not have an expiry date. However, if the product has been sitting on the shelf for a long time or has been exposed to extreme temperatures, it may be best to discard it. Over time, the propellants in aerosol cans can break down and lose their effectiveness, potentially affecting the silicone spray's quality.
Best Silicone Spray Brand
The hunt for the best silicone spray brand is important when lubricating, cleaning and protecting metal surfaces. Whether you're looking for a product to protect against corrosion or a lubricant to prevent sticking and squeaking, silicone spray has you covered. When it comes to finding the right one, there are many factors to consider to find the highest quality product.
To help narrow your search and ensure that you get the most out of your purchase, we've compiled a list of some of the top silicone spray brands on the market today. From waterproofing sprays designed for marine environments to industrial-grade aerosols boasting enhanced protection against rust and extreme temperatures – these products have been tested for their reliability and effectiveness in various applications.
Permatex, Loctite, Kleen Flo, Wd 40, Crc, Bunnings, Liquid Wrench, Wurth, Dei, Helmar, 3m, Dupont, Liqui Moly, Henry, Sprayway, Selleys, Yamaha, Bosny, Carrom, Mannol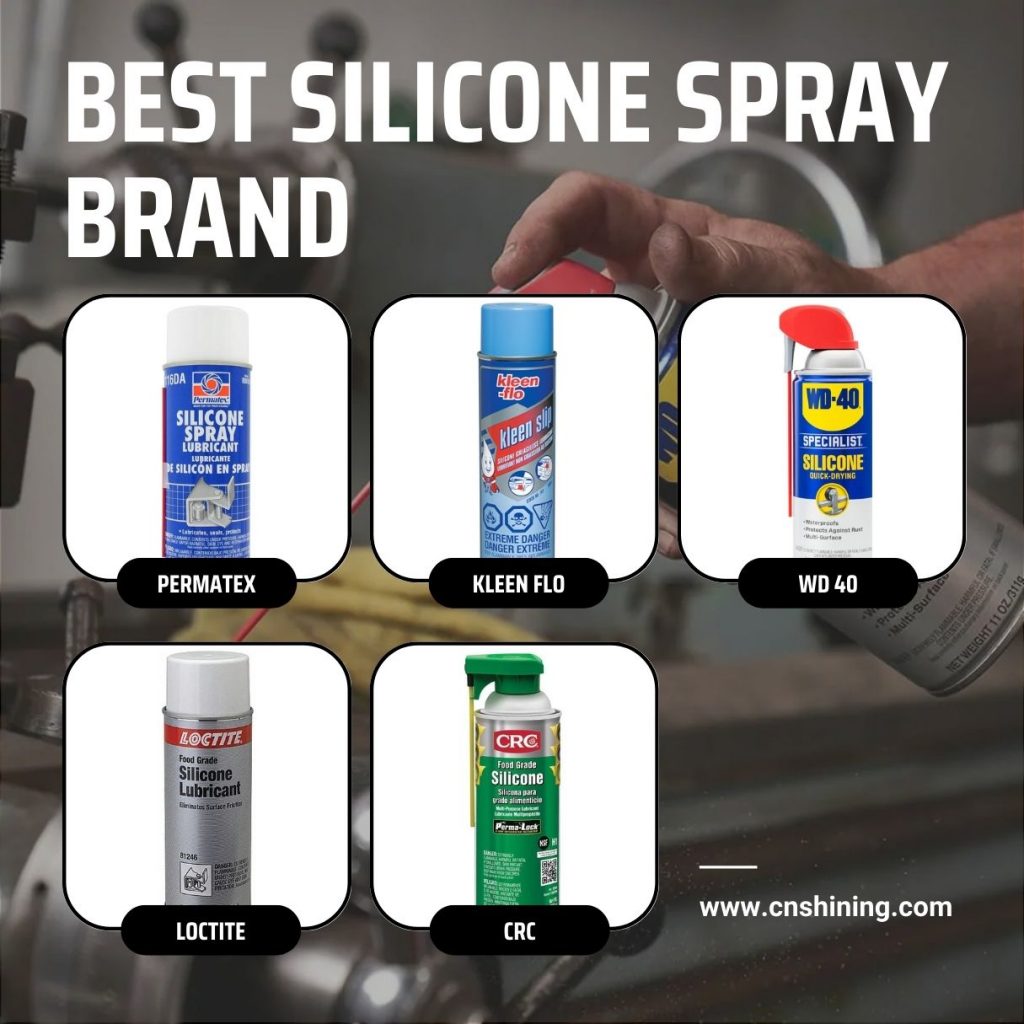 Conclusion
Silicone spray concludes that it is an effective and easy-to-use tool for improving the performance of any object. It effectively lubricates, waterproofs, protects against corrosion and reduces surface friction. It can also be used in multiple applications, such as industrial equipment, locks and hinges, automotive parts, kitchen appliances, etc.
Professionals in various industries have used silicone spray for years, and its popularity continues to grow due to its versatility. When properly applied on the correct surface, it will provide long-lasting protection while prolonging the life of various objects regularly exposed to harsh weather conditions or contact with abrasive materials. For these reasons silicone spray should be considered a great choice when attempting to improve the functionality of any product or item.
Looking for a manufacturer and supplier of silicone spray can from China? Our company provides high-quality and durable silicone spray cans at competitive prices.