What Is An Aerosol Welding Anti Spatter Spray?
Aerosol welding anti spatter spray prevents spatter and slag buildup during metal welding processes. It is a convenient solution for welders, as this spray comes in an aerosol can with a nozzle actuator and valve attached. Applying the liquid directly onto the metal before or during welding makes it easy. The spray creates a protective coating which prevents spatter from sticking to the metal surface, preventing discolouration and damage due to excessive heat.
The spray also acts as an insulator, blocking out any excess heat generated during welding, which could cause further splattering of molten material on surrounding surfaces. Moreover, it helps create clean welds by ensuring all surfaces remain free from contamination or foreign particles before welding and cleaning up quickly afterwards with minimal effort required from the welder.
History Of Welding Anti Spatter Spray
Welding Anti Spatter Spray is a product used to reduce the effects of spatter that can occur when welding. It is an aerosol spray applied to the weld area and has been used for many years. The history of welding anti-spatter spray dates back to the 1950s when propellants were first introduced into aerosol cans. This allowed for more efficient delivery of liquids, including welding anti spatter spray.
The use of welding anti spatter spray became popular in the 1960s among construction workers and welder apprentices who needed an easier way to keep their workspaces clean during welding jobs. The introduction of this product revolutionized how welders kept their work areas free from debris, and it soon became a staple in any professional welder's tool kit.
Types Of Welding Anti Spatter Spray
Welding anti spatter spray reduces the amount of weld spatter that accumulates during welding operations. This spray helps prevent weld spatter from sticking to surfaces and causing damage. Two main types of welding anti-spatter sprays are aerosol cans and liquid aerosol sprays.
Aerosol cans are aluminium or steel containers filled with a pressurized liquid solution. The pressure forces the liquid out through a nozzle, which creates a mist spray that coats surfaces before welding begins. Aerosol cans come in various sizes and can be used for multiple applications, including light-duty jobs around the home or heavier industrial uses.
Liquid aerosol sprays are typically found in pressurized containers, such as bottles with a valve on top.
How Do Aerosol Welding Anti Spatter Spray Work?
Aerosol welding anti spatter spray is an important tool for any welder. It prevents weld spatter from adhering to the surface of the metal and makes post-weld cleanup faster, easier and more efficient. This product is available in an easy-to-use aluminium aerosol can, making it accessible for both novice and experienced welders.
Welding anti-spatter spray forms a protective barrier between the weld area and surrounding metal surfaces, preventing excess splatters from sticking during welding operations. The spray lubricates the electrodes as they are used to create a stronger arc and smoother bead formation, meaning less likelihood of weld spatter sticking to nearby surfaces. Additionally, this lubricating layer helps reduce splatter buildup on the nozzle tip, which can cause reduced performance or even clogs in some cases.
What Are The Ingredients In An Aerosol Welding Anti Spatter Spray?
Aerosol welding anti-spatter spray is a must-have for any welder's toolbox. This spray prevents and reduces spatter buildup on welding surfaces, allowing welders to work effectively and efficiently. So what are the ingredients in an aerosol welding anti-spatter spray?
Most aerosol welding anti-spatter sprays contain a combination of mineral oil, petroleum distillates, surfactants and emulsifiers. The mineral oil helps lubricate the metal surface during welding, reducing friction between the electrode and the workpiece. Petroleum distillates help clean the surface, while surfactants help disperse particles that may build up during the process. Emulsifiers also aid in dispersing particles while forming an emulsion that prevents the wetting of the metal surface before or after welding.
Benefits Of Welding Anti Spatter Spray Aerosol
Welding is a difficult and often messy process, but welding anti-spatter spray can make it much easier. Welding anti-spatter spray aerosol is a great way to reduce spatter during welding and make the job faster. This type of spray is used by professionals in all types of welding applications and it has many benefits that every welder should know about.
Using this aerosol spray helps prevent spatter from sticking to the metal being welded and other components. It also prevents rust and corrosion, making it easier to clean up after the job is completed. The non-flammable formula makes it safe for use in confined spaces, and it can be applied quickly with minimal effort, thanks to its convenient aerosol form factor.
Is Aerosol Welding Anti-Spatter Spray Safe?
Welders have used aerosol Welding Anti Spatter Spray for decades to protect their equipment and tools. But is it safe for workers to use? Recent studies have raised questions about the safety of this type of spray, and many welders are concerned about its potential health risks.
Welding Anti Spatter Spray helps keep spatter from sticking to metal surfaces while welding, reducing clean-up time and protecting the integrity of the welded material. The spray also reduces or eliminates sparks, making it much safer than traditional welding methods. However, some studies suggest that these aerosol sprays may produce hazardous chemicals when heated during welding operations. Workers can inhale these chemicals, leading to various health problems such as irritation to mucous membranes in the eyes, nose, throat and lungs.
Does Aerosol Welding Anti Spatter Spray Expire?
Aerosol welding anti spatter spray is a product that helps to reduce the amount of weld spatter on metal and other surfaces. It is a common tool for any welder, but does it expire? Does it still work after being stored for extended periods? The answer may surprise you.
It turns out that aerosol welding anti spatter spray doesn't have an expiration date. If you store it correctly, with no extreme temperatures or humidity changes, the product will remain effective indefinitely. However, suppose you notice changes in the performance or consistency of the product over time. In that case, it's best to discard it as its effectiveness may be diminished due to age and exposure. Additionally, ensure not to leave your aerosol can open too long because this can lead to oxidation and clogging of the nozzle, rendering the product useless.
Best Welding Anti Spatter Spray Brand
Welding can be messy, with spatter from the welding process causing an array of problems. To combat this, welders use anti-spatter sprays that help to reduce the amount of spatter and protect the environment around their work site. But what is the best brand of anti-spatter spray available?
The answer depends on several factors, including a budget, the type of metal being welded, and what kind of performance you expect from your welding project. Some brands specialize in particular metals or processes, while others offer general protection against all welding spatters. Some sprays are better suited for heavy-duty projects, while others provide lighter coverage.
No matter what type of project you're undertaking or which metal you're working with, there will be an anti-spatter spray brand that fits your needs perfectly.
Lincoln, Crc, Weld aid, Loctite, Sprayway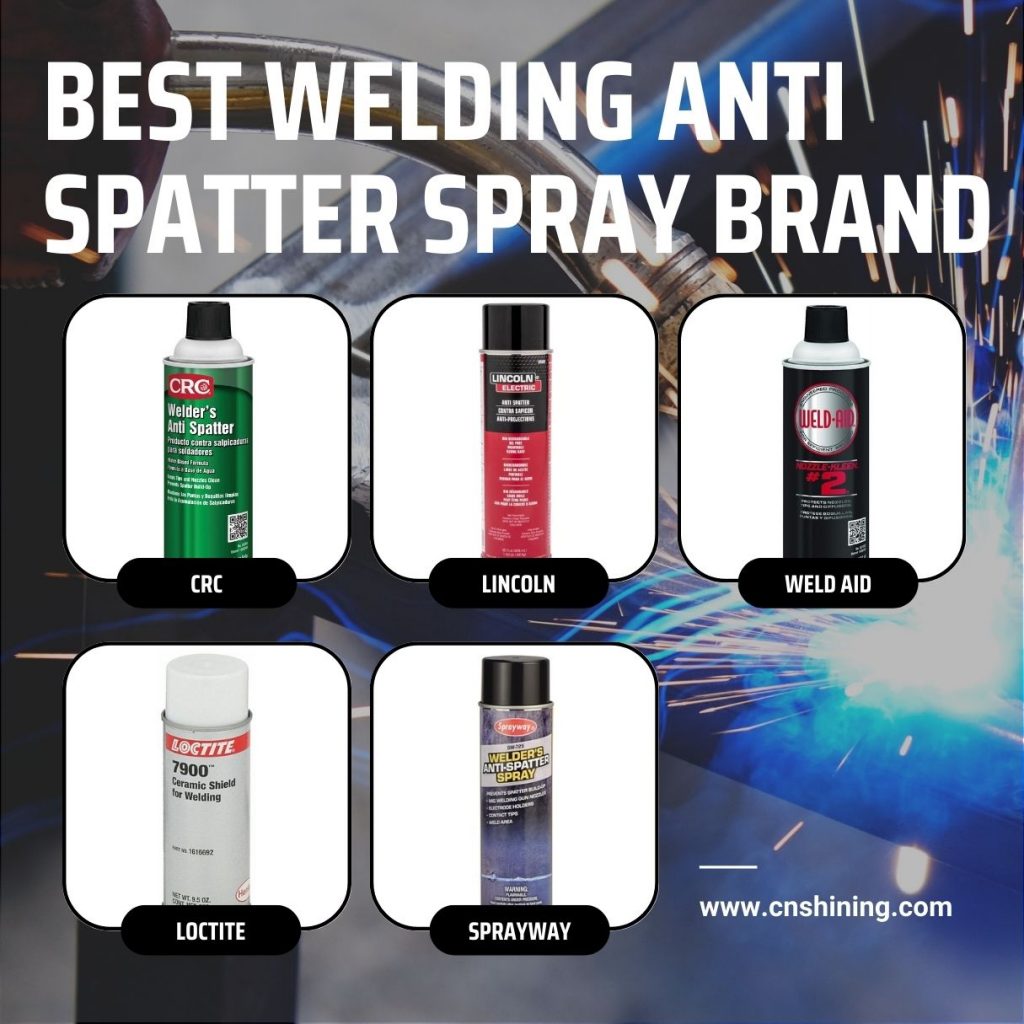 Conclusion
Welding anti spatter spray is an essential tool to have on hand when welding. It helps to protect the weld from oxidation and also reduces the amount of time it takes to clean up after a job. The cost of purchasing welding anti spatter spray is relatively low, making it a great investment for any welder.
The benefits of using this product far outweigh the costs associated with having it on hand at all times. Not only will it save you time and effort in regard to cleaning and maintenance, but it will also provide extra protection from potential damage caused by oxidation or other contaminants present during the welding process.
Overall, investing in some quality welding anti spatter spray can be one of the best decisions a welder can make for their workshop.
Looking for a manufacturer and supplier of welding anti spatter spray can? Look no further! We are China's leading provider of quality welding solutions.