What Is An Aerosol Butane Canister?
An aerosol butane canister is a pressurised container containing a liquified hydrocarbon gas, typically butane. It is frequently used as a propellant for various aerosol products, such as spray paints and air fresheners. The canister consists of a metal cylinder with an internal valve that allows the gas to escape through an opening in the top.
When exposed to heat or pressure, the stored liquid inside the canister vaporizes and creates enough pressure to propel its contents through the nozzle. This process is known as atomization, enabling aerosol products to be sprayed with accuracy and consistency. These types of can offer several advantages when compared to traditional propellants, such as compressed air, including greater portability and lower cost.
History Of Butane Canister
The history of the butane canister is intriguing and dates back many decades. Butane canisters are a type of liquefied petroleum gas (LPG), and they come in various shapes and sizes, ranging from small pocket-size containers to large aluminium aerosol cans. Initially developed in the 1940s, butane canisters were first used by miners who required a compact and reliable fuel source for their portable lights.
Today, butane canisters are ubiquitous and essential for camping trips and barbecues. The convenience afforded by its lightweight structure allows individuals to carry it around with them wherever they go easily. Moreover, users have the luxury of connecting it to various appliances, such as gas stoves or heaters, without needing any specialized tools or accessories. It's no wonder why so many households rely on these convenient containers!
Types Of Butane Canister
Butane canisters are a convenient and safe way to store the fuel for portable stoves, lighters, and other small appliances. They come in a variety of sizes and types to suit individual needs. Depending on your appliance type, there are several options available when it comes to choosing the right canister for your needs.
The most common type is the non-refillable butane canister, which contains pressurized gas with an actuator that allows users to control the spray delivery of fuel. These canisters offer safety features such as an overfilling indicator, allowing users to know when their canister is full. Another popular option is the aerosol spray butane canister, which uses aerosol technology to provide a consistent fuel flow.
How Do Aerosol Butane Canisters Work?
Aerosol butane canisters are small, sealed containers that contain a mixture of butane gas and propane. These canisters fuel camping stoves, portable heaters and other outdoor applications. Butane canisters are portable, lightweight and easy to use, making them an ideal choice for outdoor activities such as camping or tailgating.
Attach the appropriate size connector to the gas valve on the fueled appliance to use an aerosol butane canister. Hold the canister upright with its nozzle facing away from you, then press down firmly on top of the valve until it clicks into place. Once activated, pressure builds up in the container, causing liquid fuel to vaporize and escape through a nozzle at the top of the container.
What Are The Ingredients In An Aerosol Butane Canister?
Butane canisters are popularly used for various purposes, from camping to cooking. But what exactly is in an aerosol butane canister? The answer may be surprising! An aerosol butane canister is composed of several ingredients, with the primary component being liquefied petroleum gas (LPG). This propane or butane gas liquid gives the canister its fuel source.
Furthermore, it also contains a hydrocarbon propellant such as dimethyl ether and other gases like nitrous oxide and carbon dioxide. To ensure safety while using the product, aerosol butane cans may also include additional additives that promote slow burning and help prevent dangerous flare-ups. Finally, some brands may also add fragrances to their products for a bonus.
Benefits Of Butane Canister Aerosol
Butane canister aerosols are a revolutionary way to store and deliver products efficiently and cost-effectively. This canister is designed to be compact and lightweight, making it ideal for travel or everyday use. With the benefits of butane canister aerosols, many users are taking advantage of their convenience and versatility.
This type of packaging allows products to be sprayed directly from a pressurized container without any waste or mess. The product inside the canisters is usually highly concentrated, which eliminates any need for extra mixing with other ingredients. Additionally, butane canisters offer an extended shelf life compared to other traditional methods, such as bottles and containers requiring frequent refills.
Another benefit of using these containers is that they require minimal maintenance since most come with easy-to-follow instructions for proper usage and storage.
Is Aerosol Butane Canister Safe?
Are aerosol butane canisters safe? This is a question that many people have been asking, especially after a recent spate of fires and explosions involving these devices. There have been several well-publicized accidents in which combustible materials near a canister caused an explosion or fire, leading to serious injuries and fatalities.
Aerosol butane canisters are generally considered safe when handled properly and with proper safety precautions. You should always check the manufacturer's instructions before using any flammable material. Furthermore, never expose the canister to open flames or sparks, as this could cause an explosion or fire. Be sure to keep your canister away from combustible materials such as wood or paper and store it upright in a cool place from direct sunlight.
Does Aerosol Butane Canister Expire?
Aerosol butane canisters are often used in various settings, from camping to cooking. A common question is whether or not these cans expire, and if so, when does that occur? The answer may surprise you as it depends on the type of aerosol butane canister you have.
The expiration date for pressurized aerosol cans usually begins when they were manufactured and not when they were purchased. In most cases, an aerosol container will be good for up to two years after manufacture unless stated otherwise by the manufacturer. It's important to note that the contents inside the canister may deteriorate over time due to heat or moisture exposure which could cause them to become less effective than before.
Best Butane Canister Brand
Butane canisters are becoming increasingly popular among outdoor enthusiasts, campers and backpackers. These lightweight cylinders contain pressurized butane gas used to fuel camp stoves, torches and other portable cooking appliances. With so many brands of butane canisters on the market, consumers need to find a reliable brand that provides consistent quality and performance.
Rei, Iwatani, Gasone, Alva, Gasmate, Kovea, Campingaz, Marksman, Ace Hardware, Primus, Sterno, Bunnings, Hi Gear, Standard, Stansport, Yellowstone, B&Q, Bcf, Chef Master, Kampa, Marko Outdoor, Maxsun, Ngt, Outback, Ronson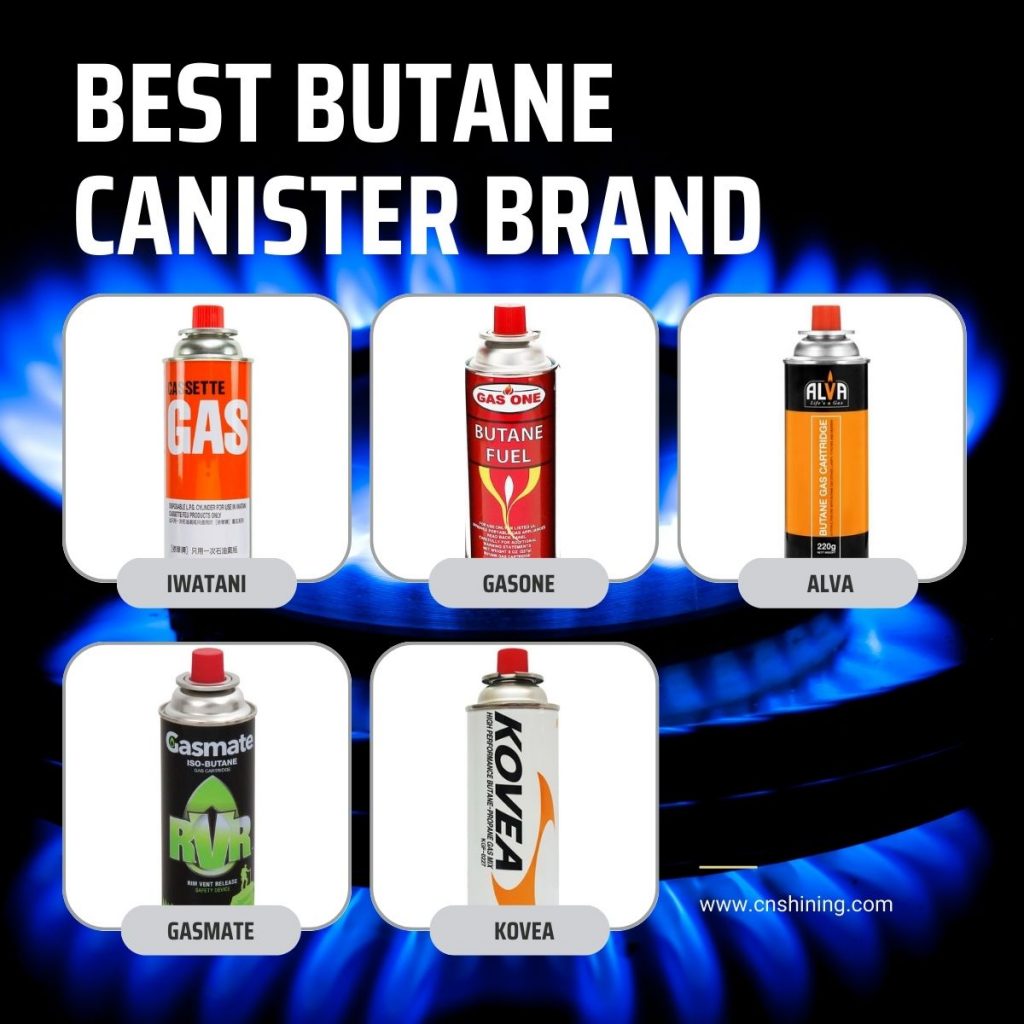 Conclusion
The conclusion to this article on butane canisters is clear; they are an important component of many cooking and heating systems and a must-have item in any emergency preparedness kit. Butane canisters must be used safely and responsibly, as improper use or storage could lead to hazardous situations. Users must also understand the risks associated with their use, including the potential for fire or explosion if misused.
By following all safety instructions that come with their purchase, staying up to date on local regulations regarding their usage and taking proper precautions when handling them, consumers can safely use butane canisters without putting themselves or others in danger.
Looking for a reliable butane canister manufacturer and supplier in China? Get quality products at competitive prices. Contact us today—we're here to help!