What Is An Aerosol Engine Cleaner Spray?
An engine cleaner spray is a solution that helps to keep the internal components of your vehicle's engine clean. This type of product typically comes in an aluminium aerosol can, which can help remove dirt, grease and grime from the various parts of your car's engine. An engine cleaner spray makes it easier to keep your vehicle running smoothly and helps protect against corrosion and wear and tear on metal components throughout the system.
Using an aerosol cleaner is simple – read all directions carefully before beginning. Generally speaking, you should start by disconnecting any wires or cables connected to the engine that you don't need while cleaning. Once this step is done, shake up the can of cleaner and hold it approximately six inches away from any surface you're planning to spray.
History Of Engine Cleaner Spray
The history of engine cleaner spray dates back to the 1970s when aerosol-based valve cleaners were first used. Soon after, engine cleaner sprays became popular among car owners and mechanics to maintain the performance and lifespan of their vehicles' engines. Nowadays, engine cleaner spray is available in aerosol and non-aerosol forms and is often used by professionals during routine maintenance checks to eliminate tough grime or dirt buildup.
Engine cleaner spray works by loosening up dirt or buildup from around valves, pistons, spark plugs, crankcase walls, and other areas that can cause a decrease in an engine's performance if left unchecked. In addition to cleaning these hard-to-reach areas, the active ingredients within the spray help protect engines against rust or corrosion.
Types Of Engine Cleaner Spray
Engine cleaner spray is an effective way to clean and maintain the engine of any vehicle. The spray helps keep the engine free of dirt and debris, helping it run more efficiently. Several types of engine cleaner sprays are available on the market, making it easy to find one that suits your needs.
The most common type of engine cleaner spray is an aerosol product that uses a propellant gas to deliver a fine mist onto the surface. This spray can be used for cold and hot engines, allowing you to easily clean off dirt and grime without having to wait for the engine to cool down first. Aerosol sprays also make it easier to reach tight spaces in the engine where dirt can accumulate.
How Do Aerosol Engine Cleaner Spray Work?
Engine cleaner spray is an effective and convenient way to keep automotive engines running clean and smooth. The aerosol engine cleaner uses a pressurized actuator and propellants to deliver the necessary cleaning agents directly into the engine's combustion chamber.
The actuator is activated when the user pushes down on it, releasing the propellants stored in the canister. These propellants create a mist that carries with it the cleaning agent components, allowing for deep penetration into even small crevices within the engine's combustion chamber where dirt, grease, grime and other debris may be hiding. This helps to prevent build-up from occurring over time, thereby increasing performance and ensuring all components remain free of corrosion or any unwanted debris.
What Are The Ingredients In An Aerosol Engine Cleaner Spray?
An engine cleaner spray is an essential automotive product for those looking to maintain their vehicle's performance and lifespan. Most aerosol engine cleaners contain a combination of ingredients that work together to remove dirt, grime and grease from the engine components. To best understand how these products work, it's important to know what goes into them. This article will discuss the various ingredients found in an aerosol engine cleaner spray and why they are necessary for optimal engine cleaning.
The primary ingredient in most aerosol engine cleaners is a solvent that helps dissolve oil, fuel and other deposits on your car's motor parts. Other additives can include detergents designed to break down heavy grime and dirt buildup and surfactants that help create foam when sprayed onto the surfaces.
Benefits Of Engine Cleaner Spray Aerosol
Engine cleaner spray aerosol is a fast and effective way to keep your car engine in top condition. It's designed to clean, lubricate and protect your car's engine from dirt and debris. Engine cleaner spray also helps reduce wear and tear on the engine parts, giving you more miles for less money.
Using an engine spray can help prolong the life of your vehicle by keeping it clean and running smoothly. The product contains special solvents that help remove harmful deposits from the engine's internal components. This helps increase fuel efficiency, reduce emissions, and improve overall performance. Furthermore, using an engine spray can help prevent rust formation, which can cause expensive repair bills in the future.
You don't have to be a mechanic or have special tools to use this product; follow the instructions on the label of you r chosen brand for the best results.
Is Aerosol Engine Cleaner Spray Safe?
Engine Cleaner Spray is an aerosol product designed to keep your car's engine in tip-top shape. It removes dirt, grime, and oil from the engine surface so that it runs more efficiently and looks better without any residue or build-up. Many people wonder if this product is safe to use as there have been reports of some chemicals found in aerosol sprays causing harm to the environment.
The good news is that Aerosol Engine Cleaner Spray is safe when used properly. The main ingredient in the spray consists of surfactants, non-toxic, water-soluble compounds that help break down dirt and oils in contact with the engine surface. This makes it easier to rinse off with a hose or cloth afterwards, leaving no harmful residue.
Does Aerosol Engine Cleaner Spray Expire?
Engine cleaner spray is essential for regular maintenance of your car engine, but does it have a shelf life? Whether you prefer to use aerosol or liquid engine cleaner, you should ensure that the product has not expired.
Engine cleaners are typically composed of solvents and detergents that help break down deposits, dirt and grease from the engine's interior surfaces. The effectiveness of these products can deteriorate over time due to evaporation, oxidation or other chemical reactions leading to the breakdown of their active ingredients. Therefore it is important to check that your cleaning solution is still viable before use to avoid damaging surfaces or components within your engine compartment.
Best Engine Cleaner Spray Brand
Engine cleaner spray is a great way to keep your engine running smoothly and looking great. But not all engine cleaner sprays are created equal, so it's important to find the best brand for your specific needs.
Seafoam, Wd40, Wurth, Gunk, Spray Nine, Wynns, Autozone, Crc, Meguiars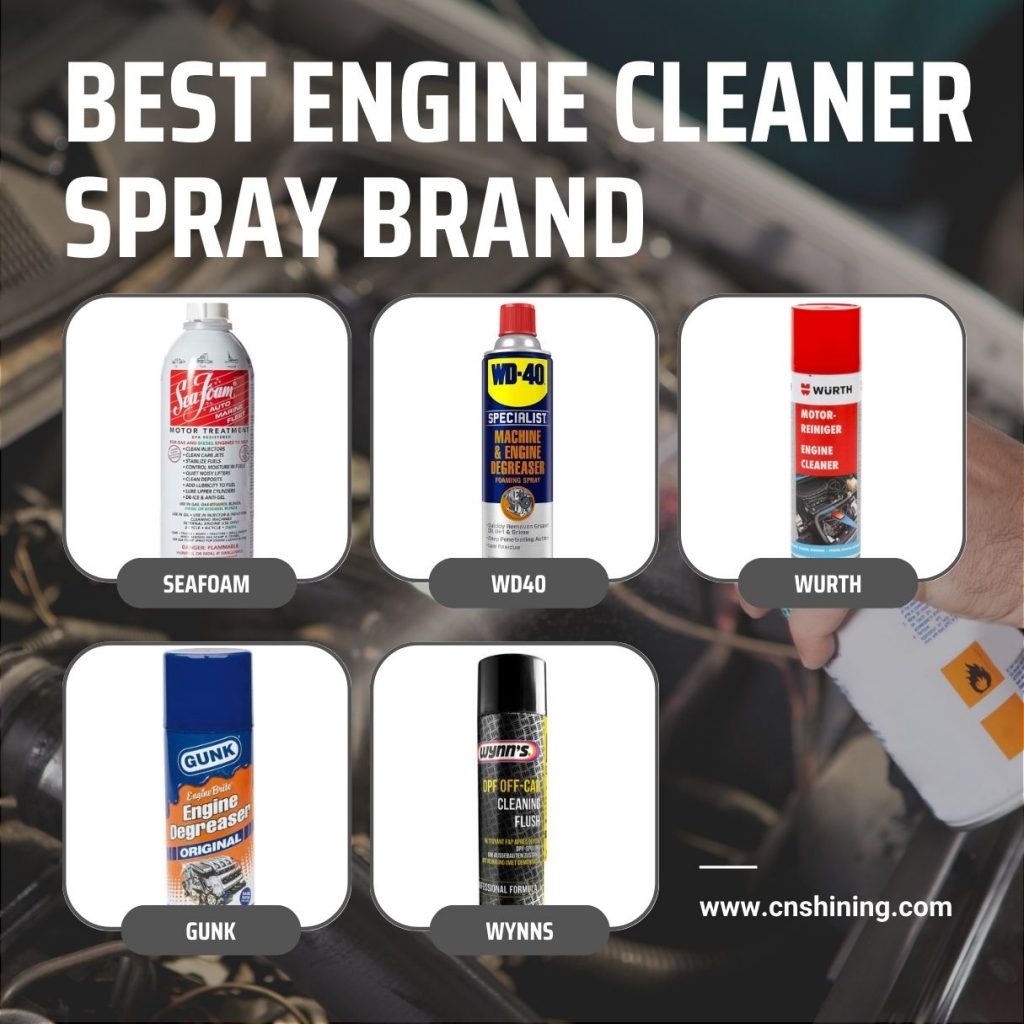 Conclusion
Engine cleaner spray is an effective solution for cleaning the outside of your engine. This product can help to restore the look and shine of your engine, as well as help protect it from rust and corrosion. With regular use, engine cleaner spray can help keep your vehicle in top condition and running smoothly for years to come.