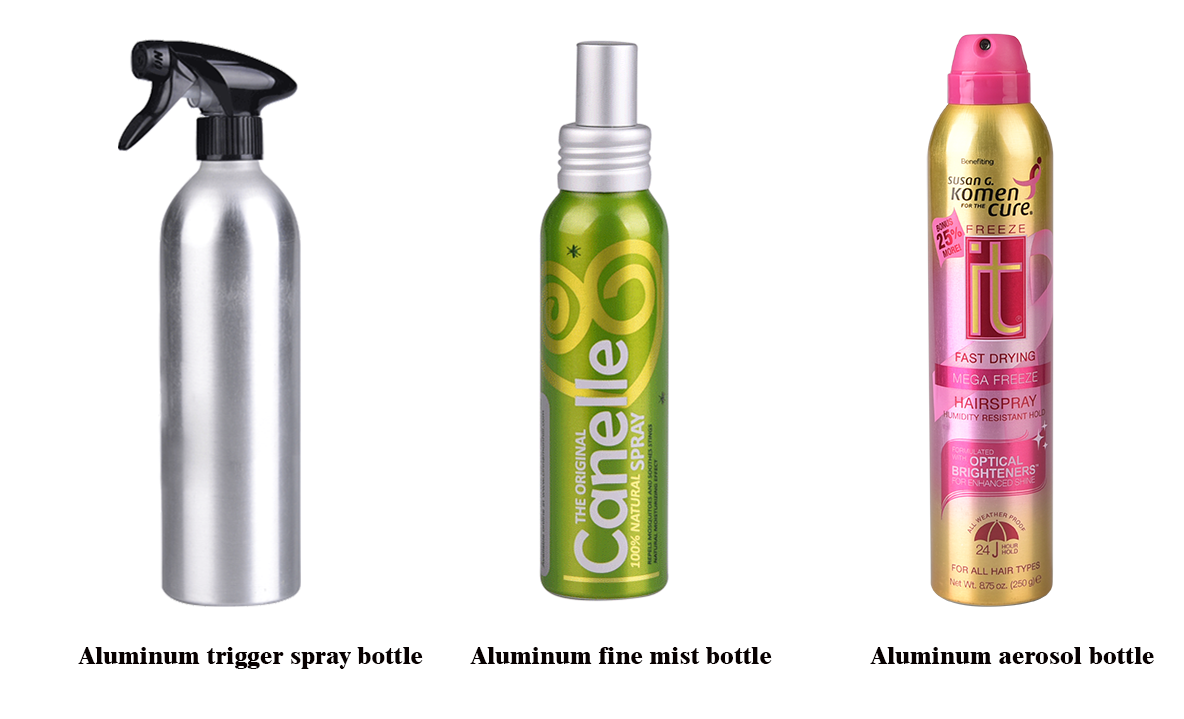 Aluminum spray bottles are a great alternative to plastic spray bottles. They're durable, easy to find, and come in different sizes. Aluminum is also lightweight, making it easier for people to carry their water bottles with them (like me). In this article, we'll explore aluminum spray bottles, so you can make an informed decision when buying one!
What is an Aluminum Spray Bottle?
Aluminum spray bottles are an excellent way to store liquids. Aluminum is a metal that most people have used for centuries, and it is one of the most durable metals on earth. Manufacturers create aluminum spray bottles using aluminum as their primary material, but they also have other components that make them unique. They come in two types: trigger-operated or pump-action sprays. The best part about aluminum spray bottles is their durability – they last for years without rusting! Depending on your bottle needs, you can consider the right aluminum bottle from a trusted manufacturer.
What countries use aluminum bottles? Aluminum bottles are popular in the USA, UK, Canada, and Australia. Most countries, such as those mentioned above, know that aluminum spray bottles help conserve the environment, unlike plastic bottles. These bottles also have a longer shelf life than those stored in plastic or glass bottles. Manufacturers make them from recycled material and can get used as an energy source after recycling if necessary! You can also order these products online from your favorite manufacturer or brand.
Aluminum Spray Bottle Size and Capacity
Our aluminum spray bottles are suitable for a wide range of products, including hair care products, household cleaning products, car care solutions, and more! The size and capacity of the spray bottle can confuse when deciding which one will work best for your needs.
If you're looking for aluminum bottles, we supply them in different sizes, including 30 ml to 1 liter. You can also find our bottles in a variety of sizes such as: 30ml, 50ml, 100ml, 125ml, 150ml, 200ml, 250ml, 300ml, 500ml, and 1L.
The difference between spray bottles and aerosol can
You can find two kinds of spray bottles, spray bottle and aerosol can. The one without pressure is aluminum spray bottle, while the aerosol can have pressure inside. You have to flush the aerosol bottle with nitrogen in advance, but remember, you can't take an aerosol bottle on a plane.
Aluminum Spray Bottles with Trigger
Most aluminum spray bottles with triggers are the perfect bottle for carrying your homemade cleaning solution.
Many aluminum spray bottles with triggers are easy to use and durable enough for any job. This is not like other cheaply made plastic options on the market. You can choose colorful aluminum trigger spray bottles, including white, black, or gold! So, make sure you check out in our website today if you need one of these great products!
Aluminum Fine Mist Spray Bottle
Pump spray bottles are one of the most popular choices for dispensing many liquids. You can find them in an array of sizes, colors, and shapes. The aluminum fine mist spray bottle is well-suited for various tasks around the house or on the job site, as it is lightweight and easy to take with you. It's also available in an assortment of different colors so that your purchase will match whichever mood you're feeling!
These mist spray bottles are a great way to release essential oils and fragrance into the air without clogging up your space with an overpowering scent. Spray in front of you, behind you, besides you! These bottles allow you to control how much product you use and help keep your workstation clean by not having to pour or scoop the product out onto it.
Alumina fine mist spray bottles are perfect for crafting because they come in various colors, hold an ample amount of product, and have fine mist and stream options.
Aluminum Spray Bottle Printing
Several printing methods can get used on aluminum spray bottles. They offset the most common printing, which can produce up to three colors in a single pass. Another printing method is silk screen printing, which can produce two colors in one print process. Heat transfer aluminum spray bottles can also produce up to three colors, but the process is a bit more complicated.
Regardless of the printing method used, it is important to make sure that the colors are bright and eye-catching. This is especially critical for aluminum spray bottles, as they are often used to promote a product or brand.
Manufacturers offset a standard aluminum spray bottle printing method. This involves using a press to transfer ink from aluminum plates to aluminum bottles. The aluminum plates get covered in a thin film of ink, and they then transfer the image to the aluminum bottle using pressure and heat.
Are the Aluminum Spray Bottle Safe?
Aluminum spray bottles are convenient to dispense liquids, but some people get concerned about their safety. Aluminum is a safe material and has no known adverse effects when used in spray bottles. Manufacturers coat the aluminum with an inner layer that is safe to use and will not release any harmful chemicals or aluminum into the liquid.
Most aluminum spray bottles are a safe and convenient way to dispense liquids. If you have questions about the safety of aluminum spray bottles, please consult us. We will choose the right inner coating according to your product
Where to Buy Aluminum Spray Bottles
If you're looking for a way to spruce up your home or business with natural, eco-friendly cleaning products, aluminum spray bottles are a great option. You can contact a China aluminum bottle supply, such as SHINING aluminum packaging. We will help create a unique custom aluminum spray bottle with your private brand.
Order Custom Aluminum Spray Bottles
Let's get started! Contact us help you propel your brand forward.