What Is An Aerosol Car Odor Eliminator?
An aerosol car odour eliminator is designed to help remove unpleasant smells from your interior. This type of odour remover typically comes in an easy-to-use, portable aerosol spray canister with an actuator that releases the scent-neutralizing ingredients when pressed. The aerosol car odour eliminator works by neutralizing odours on contact, providing a quick and convenient solution to eliminate those unwanted smells.
The most common odours this type of product addresses are pet dander, smoke, food spills and new car smell. To use it, press down on the actuator before spraying into areas with strong smells or directly onto upholstery and carpets. For best results, leave it on for several minutes before wiping it off with a clean cloth or vacuum cleaner attachment.
History Of Car Odor Eliminator
The use of car odour eliminators has been around for centuries. In the olden days, people would set up open valves in their cars to let out the smell of smoke. This was one of the first methods to eliminate disagreeable odours from vehicles.
In more modern times, car odour eliminators have come a long way. Nowadays, many different types available on the market provide an effective and efficient solution to unwanted odours in your vehicle. These products can remove smoke and other unpleasant smells, such as pet urine and food spills. They work by absorbing odours or neutralizing them with fragrances or natural ingredients like baking soda or charcoal filters.
These products are easy to use and can be found anywhere, from grocery stores to specialized automotive shops and online retailers.
Types Of Car Odor Eliminators
Car odor eliminator is an invaluable tool to help you get rid of embarrassing smells inside your car. Whether it be cigarette smoke, pet odors, mildew smell, or general musty smells that occur over time, there are a variety of car odor eliminators available to suit any budget and need.
One popular type of car odour eliminator is an aerosol can that sprays out a mist containing special formulas designed to attack and neutralize odors. This product releases a pleasant scent in your car as the chemicals bond with the air molecules inside your vehicle and eliminates any bad odors. Another option for eliminating unpleasant smells from your vehicle is using baking soda, which absorbs moisture and helps absorb foul odors. You can also purchase natural products such as charcoal filters that act as deodorizers and will remove offensive smells without using harsh chemicals.
How Does Aerosol Car Odor Eliminators Work?
When it comes to keeping cars smelling fresh, a car odor eliminator can be an excellent solution. This article will discuss how aerosol car odor eliminators work and why they are such a great choice for getting rid of unwanted odors in any vehicle.
Aerosol car odor eliminators come in an aluminium aerosol can and contain special propellants that help to release the scent or deodorizer into the air quickly and effectively. When sprayed inside a car, these deodorizers neutralise unpleasant odors on contact. This helps your vehicle smell fresh again without you having to worry about any lingering foul odors that smoking, pets, food spills, etc, may have caused. The aerosols also allow for even distribution throughout your car's interior so that all areas get sufficient coverage and you can experience maximum freshening power.
What Are The Ingredients In An Aerosol Car Odor Eliminator?
Are you looking for a way to eliminate those unpleasant odors in your car? An aerosol car odor eliminator might be the answer. Aerosol car odor eliminators are a quick and easy solution to eliminating smelly odors in cars, leaving them smelling fresh and clean. But what exactly is an aerosol car odor eliminator, and what ingredients are used in it?
An aerosol car odor eliminator is a spray designed to freshen up the air inside your vehicle quickly. It typically contains several different ingredients that help neutralize bad smells while providing a pleasant scent. The most common ingredients used in these products include water, alcohols like ethanol, fragrances such as essential oils, surfactants (which help distribute the product evenly), and deodorizers like baking soda or activated charcoal.
Benefits Of Car Odor Eliminator Aerosol
Car odors can be a source of embarrassment, especially when you're taking friends or colleagues for a ride. A car odor eliminator aerosol is an effective way to keep your vehicle's interior smelling fresh and clean. Not only does it help remove any unpleasant smells, but it also provides several other benefits that make it a must-have for every car owner.
A car odor eliminator aerosol eliminates bad odors from the source, rather than just masking them with fragrances. This not only helps to eliminate current odors but also prevents future smells from forming in the long run. In addition, these aerosols don't contain har mful chemicals that can damage your vehicles interior and are safe to use around children and pets.
Is Aerosol Car Odor Eliminator Safe?
Are you looking for ways to eliminate the musty or smoky smell in your car? One option is an aerosol car odor eliminator. But how safe are these products, and what do they contain?
Aerosol car odor eliminators typically contain fragrances that help mask odors. These fragrances usually contain chemicals like benzene, formaldehyde, and xylene. While these ingredients may seem harmless, research has shown that some can irritate the eyes, skin, and respiratory system when inhaled at high concentrations. Additionally, repeated exposure to them can be hazardous over time.
It's best to research a product before using it in your car and make sure it contains fewer potentially harmful ingredients.
Does Aerosol Car Odor Eliminator Expire?
Do you have a car odor that needs eliminating? You may consider an aerosol car odor eliminator, but does it expire? The answer is yes; most aerosol car odor eliminators have expiration dates. These products contain ingredients such as essential oils and fragrances that can break down over time. As the ingredients become less potent, the product's effectiveness will decrease. To get the most out of your product and ensure its effectiveness, check the label for an expiration date before you buy it and after it has been opened.
Although aerosol car odor eliminators do expire, there are still some ways to extend their shelf life and keep them effective for longer.
Best Car Odor Eliminator Brand
Car odors are a common problem for car owners that may result from various sources. Fortunately, there are car odor eliminators available to help you get rid of unpleasant smells in your vehicle. But with such a variety of products available on the market, it can be hard to determine the best option for you. We list the best car odor eliminator brands.
Meguiars, Armor All, Turtle Wax, Sonax, Ozium, Refresh Your Car, Biocide Systems, Autozone, Star Brite, Amazon, Detail King, Moso Natural, Purggo, Ultra Shield, Walmart, Arm And Hammer, California Scents, Duo, Innofresh, Reddit, Shine Armor, Zep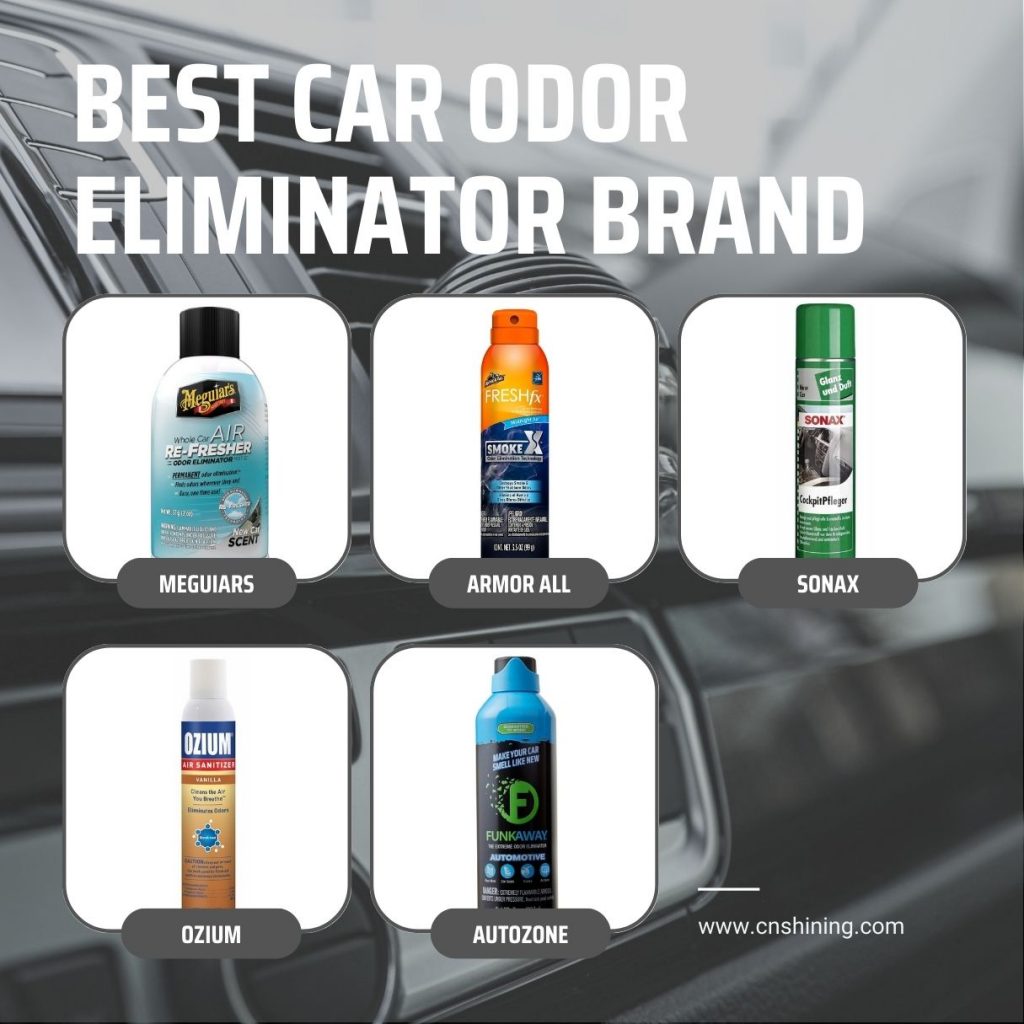 Conclusion
The conclusion of our car odor eliminator experiment is that there are a few solutions available to get rid of bad smells in cars. These solutions provide effective and easy ways to keep your car smelling fresh, from baking soda to purchasing an air freshener.
When it comes down to it, the decision as to which solution works best for you will depend on your preferred method and budget. The most important thing is that you take action as soon as possible—it's much easier (and less expensive) to eliminate odors when they first start rather than waiting until the smell has become unbearable. Taking the time now will save you trouble (and money) in the future!
Looking for a reliable manufacturer and supplier of car odor eliminator spray can in China? Check out our wide selection of quality products with competitive prices.