What Is an Aerosol Oven Cleaner spray?
An aerosol oven cleaner spray is a cleaning product designed for ovens and other enclosed cooking spaces. It typically contains chemical compounds capable of breaking down grease and stuck-on food debris, helping you clean your oven quickly and safely. The aerosol spray is propelled from the can by a special type of propellant, usually a hydrocarbon or carbon dioxide-based gas.
The propellant allows the cleaner to be released in an even mist, coating all interior surface areas with the cleaner for maximum penetration. This makes it much simpler to use than traditional cleaners, which require you to apply them using cloths or sponges. When using an aerosol oven cleaner spray, you may need to leave it on the surfaces for several minutes before wiping any excess residue with damp paper towels or rags.
History of Oven Cleaner Spray
The history of oven cleaner spray is an interesting one. It all started in the 1950s when aluminium aerosol cans were invented, and a new way to dispense liquids was born. Today, oven cleaner spray is a staple in most homes. The liquid is designed to dissolve tough grease and grime on kitchen surfaces and inside ovens.
Oven cleaner sprays are typically pressurized with propellants such as propane or butane, which gives them their cleaning power when released through an actuator at the top of the can. This unique delivery system makes it easy for consumers to apply the product directly onto surfaces with no mess and minimal effort. Nowadays, many different brands and formulas offer fast-acting solutions for all greasy messes in kitchens everywhere!
Types of Oven Cleaner Spray
Oven cleaner spray is a fast and effective way to keep your oven clean. Oven cleaner sprays come in many varieties, each designed for different types of ovens and cleaning needs. From aerosols with adjustable valves to foam cleaners with specialized applicators, there are many options for oven cleaner spray.
Aerosol oven cleaners typically contain corrosive ingredients that make them very effective at breaking down grease, grime, and food residue. These cleaners come with a valve that can be adjusted to deliver either a strong or weak concentration of the cleaning agent depending on the job at hand; this makes them ideal for tough jobs like removing baked-on stains from the inside surfaces of your oven. Additionally, since these cleaners are aerosol, they don't require scrubbing or rubbing – point and spray!
How Does Aerosol Oven Cleaner spray Work?
Aerosol oven cleaner spray is a powerful and convenient way to tackle built-up grime inside your oven. This cleaning product uses aerosol technology to help you quickly and effectively clean away grease, food residue, and other debris from your oven. But what exactly is aerosol oven cleaner spray, and how does it work?
Spray cans with an aerosol dispenser use a combination of chemicals pressurized with a propellant. When you push down the nozzle of the can, the pressure causes these chemicals to mix before shooting out in a fine mist or foam. This mixture helps remove tough stains from surfaces, including grease and kitchen oils. The ingredients also contain lubricants that help prevent scratching as you scrub off the residue left behind by particles in food that may have been burnt onto the walls of your oven.
What Are The Ingredients In An Aerosol Oven Cleaner spray?
Aerosol oven cleaner sprays are an effective and convenient tool for cleaning your oven. This type of spray is composed of various chemicals that work together to dissolve grease, grime, and burnt-on food particles from the oven's surface. Knowing what is in an aerosol oven cleaner can help you decide which product to use when cleaning your kitchen appliance.
The main ingredients in aerosol oven cleaners are lye or caustic soda, petroleum distillates, surfactants, and propellant gases such as butane or propane gas. Lye is highly alkaline and works by loosening the greasy residue from the walls of the interior of your oven.
Benefits of Oven Cleaner spray Aerosol.
Oven Cleaner spray is an effective and easy solution for removing hard-to-clean residue from oven surfaces. Oven cleaner aerosols are particularly beneficial because they can reach your oven's hard-to-clean nooks and crannies for a deep, thorough clean. The convenience of the aerosol format means you don't have to worry about spills or messes when using them. Plus, since a single can contains multiple applications, it's an economical choice for keeping your oven sparkling clean.
These aerosol sprays offer several advantages over other cleaners thanks to their powerful active ingredients and capabilities. Oven cleaner in spray form is strong enough to cut through grease, burnt food residues and grime quickly without the need for scrubbing and scouring.
Is Aerosol Oven Cleaner spray Safe?
This is a question that many home cooks and professional chefs have been asking. Oven cleaning can be a daunting task, especially when it comes to the built-up grease, grime and burnt-on food. Fortunately, aerosol oven cleaner spray can make this job much easier. But what are the potential risks of using this product in your kitchen?
Aerosol oven cleaners contain chemicals like lye or caustic soda, which have high pH levels that can burn skin on contact. This means they should only be used with caution, protective gloves, and safety glasses while spraying the product into the oven cavity. Inhaling these fumes may also cause respiratory issues, so it's important to ventilate the area before using an aerosol oven cleaner spray if possible.
Does Aerosol Oven Cleaner spray Expire?
With the popularity of home oven cleaning products, many consumers wonder whether aerosol oven cleaner spray has an expiration date. After all, no one wants to purchase a product only to find out it is no longer effective. Fortunately, the answer to this question is simple: No, aerosol oven cleaner spray does not expire.
When stored properly, these products are designed to remain effective for several years as long as their lids remain securely closed. Additionally, because aerosol cans contain propellants like nitrous oxide and compressed air (difluoroethane), they can be safely stored without fear of explosion or other safety hazards. Thus, consumers can rest assured that their purchased product will still work when needed – even after a few years on the shelf!
Best Oven Cleaner spray Brand
Oven Cleaner spray is a must-have for any kitchen. It quickly and effectively cleans grease, baked food, and other stubborn messes from the oven without harsh scrubbing. But with so many brands on the market, it can be not easy to decide which is the best for your needs.
Mr Muscle, Concept-Name, Cif, Easy Off, Astonish, Dr, Fairy, Oven Pride, Formula 409, Fuller Brush, K2r, Oven Mate, Spray Nine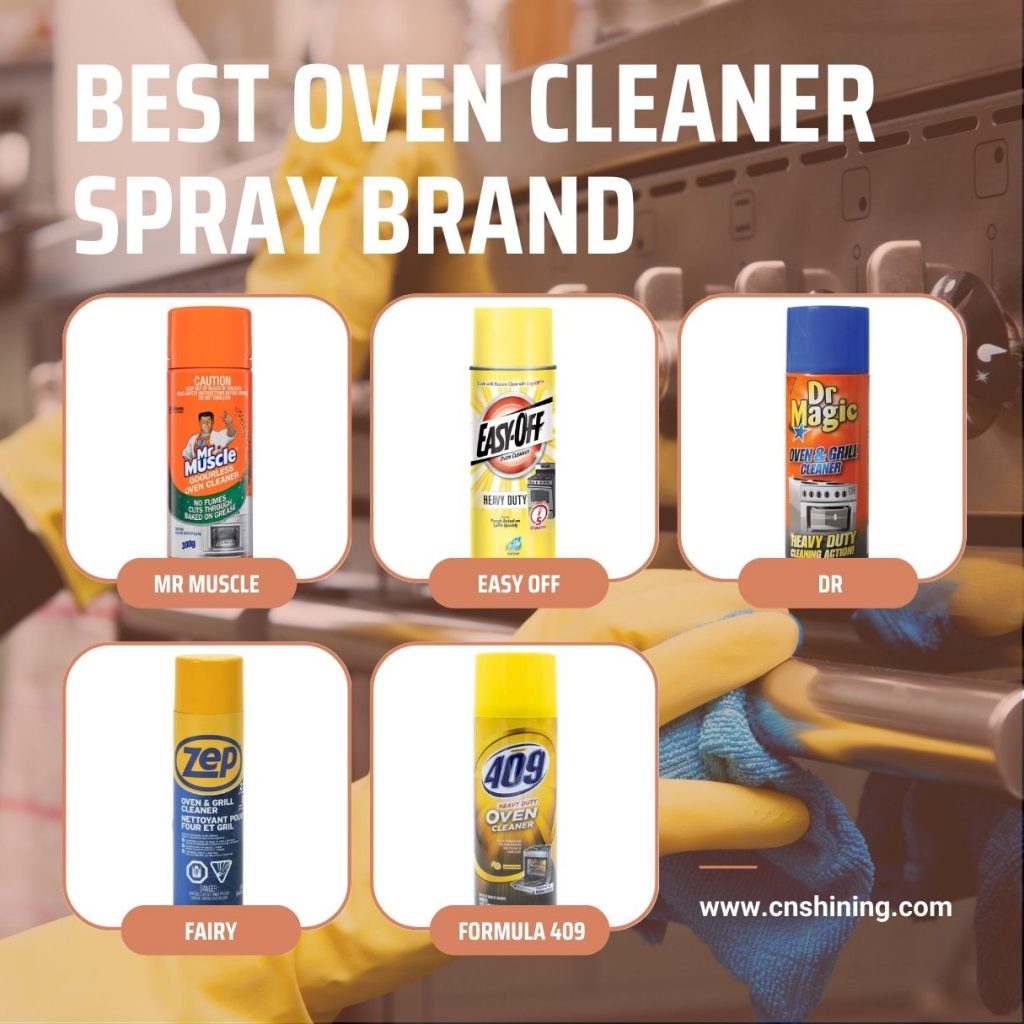 Conclusion
The article about oven cleaner spray concludes that it is an effective and convenient way to make cleaning easier. Oven cleaner spray is an excellent choice for removing stuck-on grease and grime from your oven walls, racks, trays, and other surfaces. It cuts through tough stains quickly and leaves behind a clean surface with minimal effort. Additionally, it can be used on many different appliances such as toasters, stoves, microwaves, grills, etc., making it a great all-in-one product.
However, when using any oven cleaner spray, it is important to read all warnings and directions carefully to avoid any possible hazardous reactions or damage to the cleaned appliance. Wearing gloves and proper protective gear is also highly recommended when using these products.
Looking for a reliable manufacturer and supplier of oven cleaner spray cans? Look no further! We are a trusted Chinese company offering high quality products at competitive prices. Get in touch today!