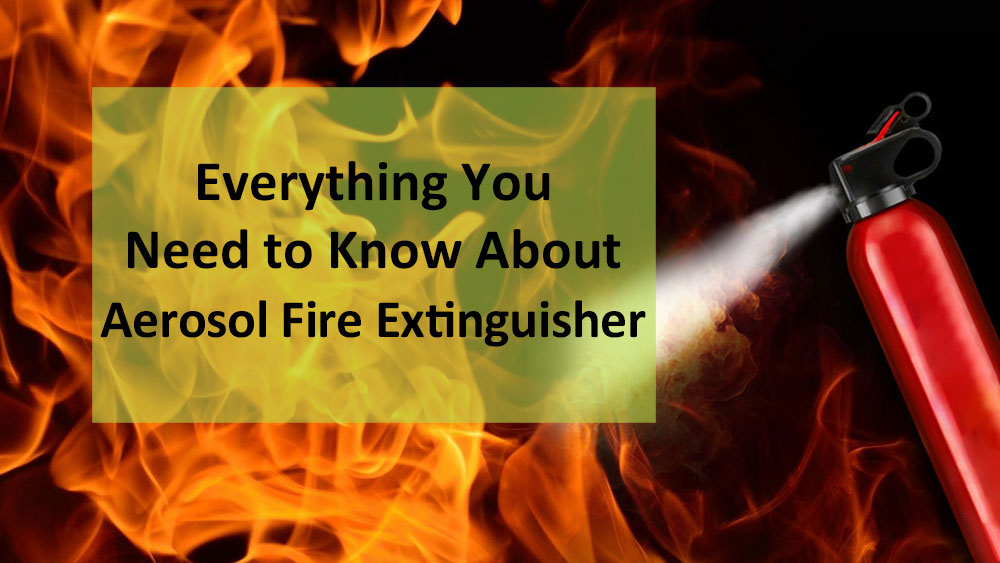 With research and technology, military pyrotechnics have developed a new kind of fire extinguisher known as aerosol fire extinguishers. These aerosol fire extinguishers, being low-priced and easy to use, have become tempting purchases for people. So let us know about some of the best aerosol fire extinguishers that can help us in many ways.
What is an aerosol fire extinguisher?
Aerosol fire extinguishers work on a specific mechanism known as aerosol fire suppression. There's a combination of gaseous matter and microparticles to extinguish the fire area. Until these particles are discharged from the extinguisher, they are in a vapor state. After the release, they cause a chain reaction that produces gaseous matter and solid particles that suppress the fire.
How does an aerosol fire extinguisher work?
The fire tetrahedron on the fire extinguisher should be broken to suppress the fire. And after the release, the suppression chemicals coming out of the fire extinguisher will reduce the fuel in the affected area. Substantially removes the oxygen, removes the heat, and then creates a chain reaction. Thus, the aerosol fire extinguishers work by removing the excess heat from the affected area.
What are the ingredients in an aerosol fire extinguisher?
The main ingredient of aerosol fire extinguishers is potassium nitrate, which acts as an oxidizer while suppressing the fire. However, the chemical particles in the fire extinguishers are a thermoplastic mixture of a combustible binder, an oxidizer, and some additives. The oxidizer (solid potassium nitrates), the binder (solid nitro-cellulose), and the other additives used for stabilization are all entirely environmentally friendly.
Are fire extinguisher aerosol sprays safe?
Unlike traditional fire extinguishers, aerosol fire extinguisher sprays are more convenient to use. The mists also disperse the particles four times as long as conventional fire extinguishers do. Thus, making it ideal for use in cases of household fires.
It is even safe to use them as biodegradable formulas to make such foam fire extinguishers. And they are even easy to clean as a damp cloth will be enough for the chore. Moreover, an aerosol fire extinguisher spray helps suppress the fire faster.
The top 3 best aerosol fire extinguisher brands
Fire extinguishers help prevent damage to your property and save lives from fire. So, we have a list of tested and proven fire extinguishers based on their effectiveness, usage, and durability.
First-alert aerosol fire extinguisher
First-alert aerosol fire extinguishers are simple and provide greater control over fire suppression. They take just 32 seconds for discharge, ensuring the fire is extinguished within that time frame. It is portable and ideal for traveling, kitchen, and even boats. In addition, the non-toxic, biodegradable foam that comes out when using it is easy to clean up later.
Fireside aerosol fire extinguisher
The Fireside aerosol fire extinguisher is a foam-based extinguisher that can be used for fires outdoors or around your house. These are designed in a way that they can be easily used and applied anywhere. They follow a non-corrosive, no-mess, and water-based formula to suppress the fire, which does not leave any residue behind in operating them, point, and spray.
Home first aerosol fire extinguisher
Home First aerosol fire extinguishers are foam-based and can be used for houses and garages. The compact size of this extinguisher will make you feel that you always have a fireman by your side. It can handle fire on most items like cloth, paper, rubber, plastic, flammable liquids, gas, paint, and oil.
Aerosol Fire Extinguisher Manufacturer
Incidences of fire are dangerous and unpredictable as well. So, if you are concerned about the safety of your family members and yourself, you should buy a good brand of aerosol fire extinguishers. Taking the reviews from the above list of brands, you can buy the one that suits your requirements.
You will realize that the aerosol fire Extinguisher brand is many, but when it comes to the empty aerosol cans they are supplied in, SHINING Aluminum Packaging is the best aerosol can manufacturer.