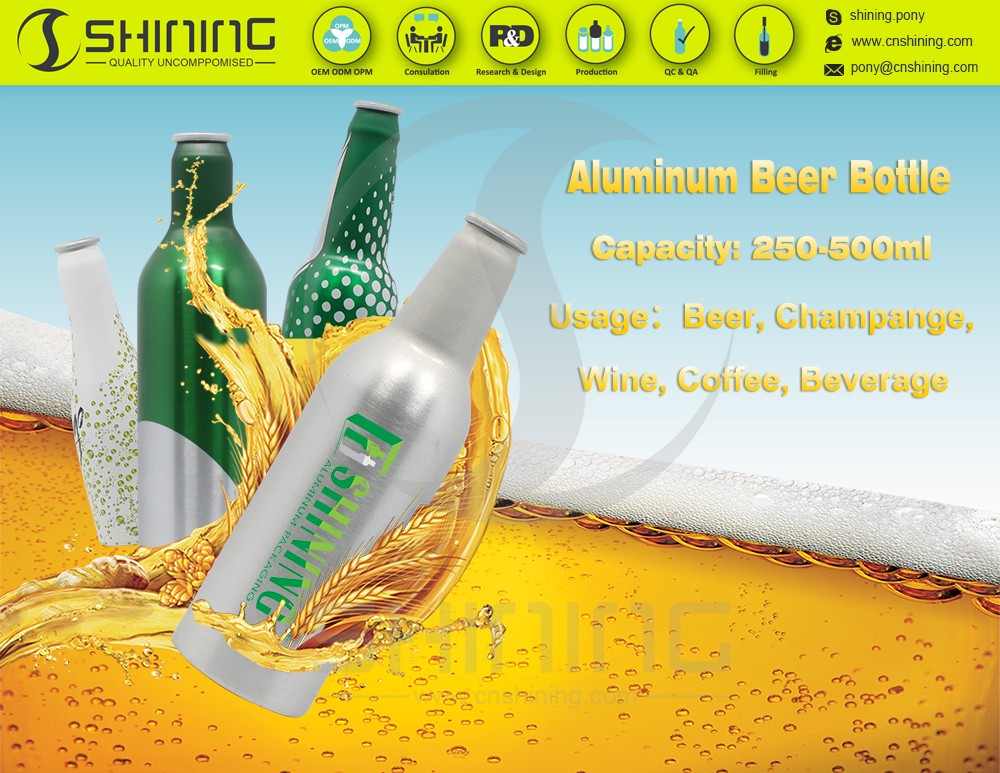 There are many
aluminum beer bottle
manufacturers all over the world that make use of the valuable Aluminium obtained from the earth's crust to be used for variety of purposes. Shining aluminum package is one such out-standing aluminium beer bottle manufacturer company that provides a wide range shape of bottles made from Aluminium. These aluminum bottles are very attractive and eco-friendly. They are available in different capacities and are designed with crown caps. These Aluminum bottles have a shiny finish and are used to store beer, wine, and even carbonated beverages. These beer bottle  are lighter than steel cans and they do not rust easily and can be easily imprint able with various decorative attractions making it a must have product for enhancing one's brand image. The beer in these attractive bottles can stay cool for longer time and are loved by one and all.
Material: 99.7% aluminum
Opening: 26.6mm
Cap: Crown Cap
Capacity(ml): 200, 250, 330, 473ml
Diameter(mm): 53,59
Height(mm): 150-240
Thickness(mm): 0.5mm
Surface finish: Polishing, 1-9 color offset printing
MOQ: 50,000 PCS
Usage: Olive oil, Beer, Coffee, Beverage, Sparkling wine
Order Custom Aluminum Beer Bottles
Let's get started! Contact us help you propel your brand forward.