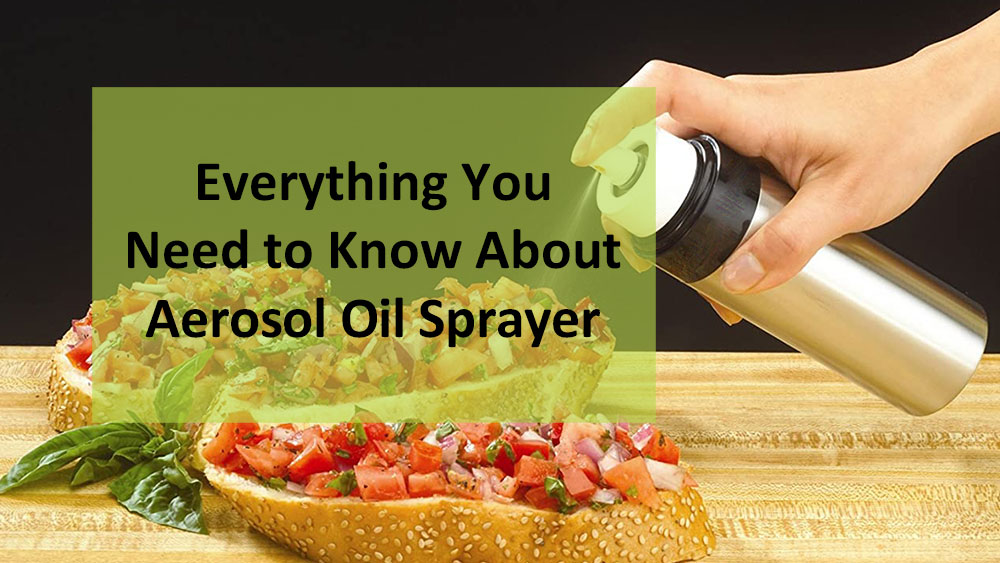 Managing things in the kitchen is not easy, and many housemakers deal with imperfect oil sprayers. Well, it's time to upgrade! Bring home an aerosol cooking oil sprayer that can do magic in your kitchen by giving satisfactory results.
An aerosol cooking oil sprayer can be your perfect mate if you want to do innovative cooking with less grease on the plate and cookware. Sound's amazing. Right? Read this article till the end to uncover more facts about this product.
What is an aerosol cooking oil sprayer?
Aerosol cooking oil spray is a spray that contains vegetable oil that can be used to spray on the cookware, which in turn prevents the food from sticking to the cooking pan. It is not only oil; it contains three main ingredients that prevent the food from sticking to the cooking pan. Those three main ingredients are:
An emulsifying agent called lecithin
A propane agent called propellant
An anti-foaming agent called dimethyl silicone
Moreover, some basic features of an aerosol cooking oil sprayer are:
It is easy to use and clean and serves as a multi-purpose sprayer. It is designed smartly and comes with an easy-to-pump style. Moreover, it is light in weight, so it becomes easy to carry too.
What is non-aerosol olive oil spray?
Non-aerosol olive oil spray dispenses olive oil in a unique pattern without any harmful chemicals or propellants for food. You can use a non-aerosol olive oil spray for cooking your tasty meal with your favorite olive oil. With just a few sprays of olive oil over the food, you can control the calories or fat in your food and the stickiness of the cooking pan.
Can a regular spray bottle be used to spray oil?
Oil sprayers can be used for multiple cooking tasks. For example, you can use the oil spray bottle while cooking just to avoid the food sticking to the pan. In addition, you can spritz your salad with the oil spray and add some oil flavor to your side dishes.
So, it would help if you did not use any regular spray bottle to spray oil because oil is thicker than water or any other liquid that quickly spreads out of bottles. So, a suitable oil spray bottle is mainly preferred, designed explicitly for the purpose.
Is oil spray healthy?
Yes, it has been stated by the Food and Drug Administration that cooking oil sprays are safe to use and consume. The ingredients of the oil sprays are generally safe to use while cooking and have a low toxicity level.
The primary benefit of using oil spray bottles is that it helps to cut back the calories a lot. Directly applying oil or butter to the food has 100 to 1209 calories, and when we use oil sprays, those give fewer calories to our food.
Top 3 best aerosol oil sprayer brands
Are you looking to buy an oil sprayer? So, before you buy anything, take your time and do some research on the best aerosol oil sprayer brands. Some of the best brands are:
Avocado oil spray is a mess-free option to use and cool. Avocado oil spray is a simple and delicious oil that is convenient for baking, trays, salads, and cooking pans. This has proved to be a perfect basis for cooking any dish.
Unlike all other cooking sprays, the chosen food oil spray has been the best ingredient for healthy and tasty food. Put, chosen foods oil spray is the perfect and best cooking companion for everyone. This helps in keeping the food fat and calorie-free at the minimum level.
BetterBody Foods Oil Spray
BetterBody Foods Oil Spray is gluten-free, chemical-free, and refined oil spray for cooking. They have a neutral flavor that is easy to use for baking, sautéing, and cooking. These spray bottles are like glass bottles that keep the oil away from oxidation.
Foods Oil Spray aerosol can Manufacturer
All buyers, especially women who know the importance of oil sprayers in their kitchen, should always do their homework to buy the best oil spray brand. You can take the hint from above and decide which one to buy. Indeed you will end up getting an ideal asset for your kitchen.
You will realize that the Foods Oil Spray brand is many, but when it comes to the empty aerosol cans they are supplied in, SHINING Aluminum Packaging is the best aerosol can manufacturer.