37mm Aluminium Cartridge adapter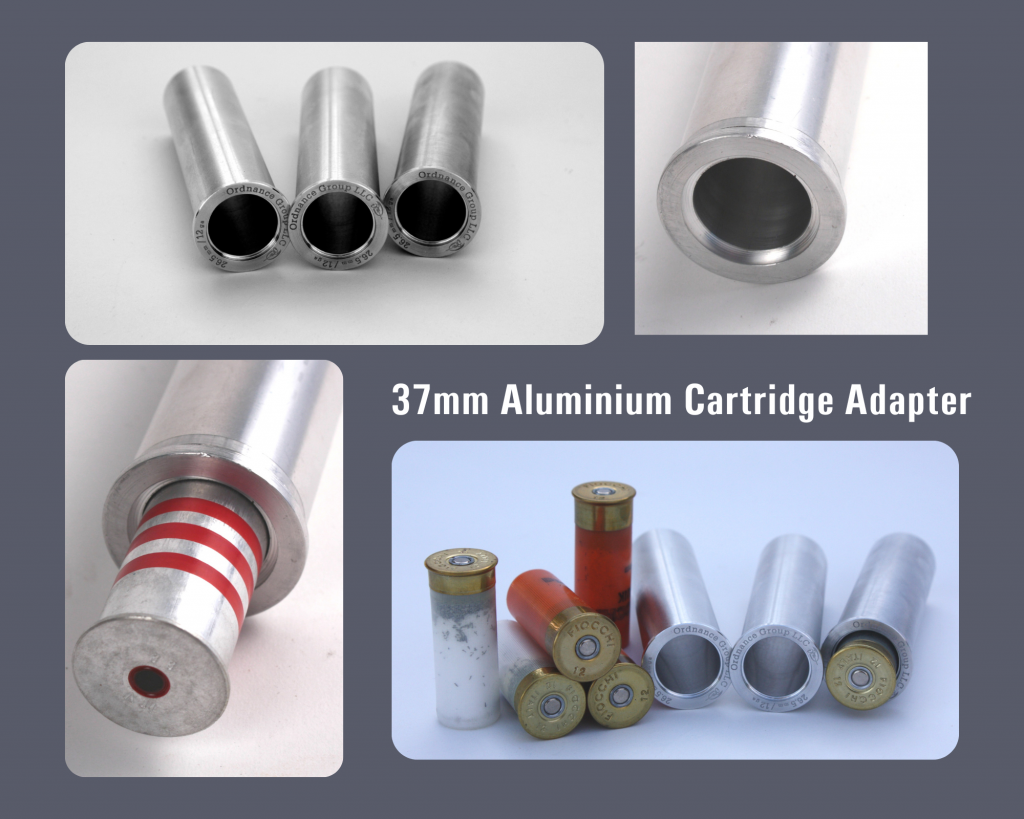 The 37mm Aluminium Cartridge adapter is an innovative new invention that has revolutionized the firearms industry. The adapter allows a 37mm firearm to be easily converted to fire a 26.5 mm or 40mm round with ease and accuracy. The lightweight aluminium construction of the cartridge means that it is both durable and low in weight – making it perfect for use in recreational shooting, law enforcement, and even military operations.
This adapter is ideal for people who want the maximum performance out of their firearms without switching calibres or purchasing new weapons. With the simple installation process, shooters can convert their 37mm rifles quickly and easily, allowing them to enjoy all the benefits of this versatile cartridge without any hassle or expense. Additionally, the adapter increases performance from existing rounds by providing greater stability when firing longer distances.
Advantages: Easier Firing, Versatile
When it comes to selecting the right 37mm flare adapter, there are many advantages. Easier firing and versatility are two of the most significant benefits that can be found in a 26.5mm 37mm aluminium cartridge adapter. This adaptor allows users to fire flares from a standard 26.5mm signal pistol more easily. It also offers users more versatility in the flares they can use, as it is compatible with standard and specialised cartridges, such as smokeless powder or illuminating rounds.
Firing flares quickly is important for any user due to their potential safety implications; an incorrectly fired flare could cause unintended harm or disrupt other vessels in the vicinity.
Uses: Military, Civilian
The 37mm Aluminium Cartridge adapter is an innovative tool that converts 37mm to 12 gauge or 40mm to 37mm ammunition. This device is perfect for military and civilian use, providing a safe and reliable way to fire different types of ammo from the same weapon.
The adapter was designed with convenience; it easily fits into any standard-sized grenade launcher and quickly converts one type of round into another compatible option. Military personnel can now carry fewer weapons as they are not limited to carrying only one type of ammunition, making life easier for them in the field. Civilians also benefit from this adapter as it allows them to use their existing firearms with other rounds without needing extra gear or costly modifications.
In addition, this cartridge adapter ensures the safety of all users by preventing accidental misfires due to incompatible rounds.
Construction: Aluminium Alloy
The 37mm to 12 gauge Aluminium Alloy cartridge adapter has been designed and developed by leading specialist firearms and ammunition manufacturer. This unique and innovative product allows users to safely convert their existing 37mm launchers into fully functional 12 gauge shotguns.
The adaptor is constructed from a lightweight yet highly durable aluminium alloy, which provides both strength and flexibility when it comes to usage in the field. The rugged construction of this adaptor is designed to withstand extreme weather conditions and heavy use while on duty or during recreational shooting activities. Furthermore, its slim design makes it easy to transport and store without taking up too much space in your backpack or gun case. The adaptor also features an adjustable barrel length of 22 inches for extra accuracy when firing rounds down range.
Durability: Corrosion Resistant
Corrosion resistance is important when choosing a 37mm aluminium cartridge adapter. This type of adapter, which can convert from 37mm to 26.5 mm, is available in multiple sizes and materials, including aluminium. Aluminium alloy adapters are known for their durability and corrosion resistance, making them ideal for various applications.
The aluminium alloy used in these adapters has many advantages over other metals or materials due to its lightweight and strength, which helps protect against wear and tear and corrosion damage caused by exposure to water or other elements. The material's excellent heat dissipation makes it perfect for use in high-temperature environments such as engines or exhaust systems. The corrosion-resistant nature of the metal also ensures that it will last longer than other materials, making it a great choice for projects where durability is key.
Conclusion
The 37mm Aluminium Cartridge adapter is an innovative tool that has allowed enhanced firepower to be used in many situations. By incorporating the adapter into existing firearms, users can now fire 37mm ammunition from their existing 22 calibre firearms. This provides the capability to fire various rounds with increased range and accuracy, making it possible to engage targets at distances never before possible.
The adapter is simple to install and very reliable in performance, allowing users to quickly switch between different types of ammunition without any problems or added difficulties. Additionally, the adapter offers additional safety features that help minimize the risk of accidental discharge or injury when using higher-powered ammunition. With this new technology, gun owners can enjoy improved performance while reducing costs associated with frequent firearm upgrades.
Contact us to order 37mm aluminium cartridges adapter now!