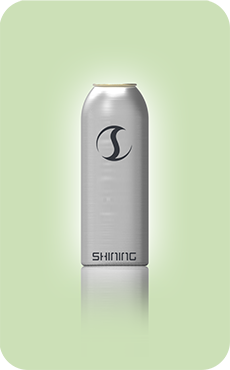 Material: 99.7% aluminum
Opening: 1 inch, 20mm
Capacity(ml): 20-710
Diameter(mm): 22,25,28,35,38,40,45,50,53,55,59,66
Height(mm): 58-240
Thickness(mm): 0.4-0.5
Surface finish: Polishing, 1-9 color offset printing
MOQ: 30,000 PCS
Usage: Cosmetic, Daily use, Deodorant, Perfume, Medicine, etc.
Shining aluminum aerosol can is SGS & LFGB approved and surface finished with polishing or 1-9 color offset printing.
Made of pure aluminum, the cans offer an excellent resistance to shocks, perforations and to chemical or UV agression.
The range covers capacities from 20ml-710ml.
Aluminum aerosol can is the ideal solution for the storage, sampling and transport of cosmetic, household, industry, daily use, deodorant, perfume, shampoo, medicine, car fire extinguisher, oxygen, food & oil.
| Item No. | Diameter(mm) | Height Range(mm) | Capacity Range(ml) | Opening |
| --- | --- | --- | --- | --- |
| 12022XXX | 22 | 58-100 | 20-35 | 20mm |
| 12025XXX | 25 | 65-100 | 30-45 | 20mm |
| 12035XXX | 35 | 70-160 | 50-135 | 20mm 1Inch |
| 12038XXX | 38 | 80-170 | 75-180 | 1Inch |
| 12040XXX | 40 | 90-190 | 95-210 | 1Inch |
| 12045XXX | 45 | 100-190 | 130-265 | 1Inch |
| 12050XXX | 50 | 100-225 | 160-390 | 1Inch |
| 12053XXX | 53 | 110-235 | 200-460 | 1Inch |
| 12055XXX | 55 | 140-220 | 255-455 | 1Inch |
| 12059XXX | 59 | 120-235 | 275-560 | 1Inch |
| 12066XXX | 66 | 140-240 | 370-710 | 1Inch |
| Remark:XXX means height | | | | |