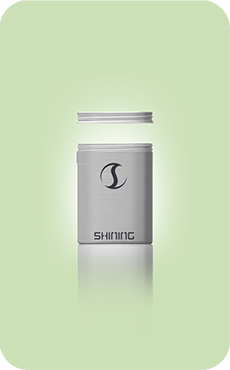 Material: 99.7% aluminum
Cap: Aluminum screw cap
Capacity(ml): 30-1200
Diameter(mm): 32,40,45,50,53,63,66,73,80,88
Height(mm): 55-200
Thickness(mm): 0.5-0.8
Surface finish: Polishing, Color painting, Screen printing, Heat transfer printing
MOQ: 10,000 PCS
Usage: Storage, Sampling and transport of all packing food, Capsules, Vitamin, Spice, Tea and Protein powder
Shining aluminum canister is SGS & LFGB approved and surface finished with polishing, color painting, silkscreen or 1-8 color heat transfer printing,etc.
Made of pure aluminum, the aluminum canister with scew offer an excellent resistance to shocks, perforations and to chemical or UV agression.
The range covers capacities from 50ml-2000ml.
Aluminum can is the ideal solution for the storage, sampling and transport of all packing food, capsules, vitamin spice, tea and protein powder.


| Item No. | Diameter (mm) | Height Range (mm) | Capacity Range (mm) |
| --- | --- | --- | --- |
| 07032XXX | 32 | 55-90 | 30-60 |
| 07040XXX | 40 | 50-150 | 50-150 |
| 07045XXX | 45 | 50-150 | 60-200 |
| 07050XXX | 50 | 60-150 | 100-250 |
| 07053XXX | 53 | 60-150 | 100-300 |
| 07063XXX | 63 | 60-180 | 150-500 |
| 07066XXX | 66 | 60-180 | 150-550 |
| 07073XXX | 73 | 60-180 | 200-700 |
| 07080XXX | 80 | 100-200 | 450-900 |
| 07088XXX | 88 | 100-200 | 500-1200 |
| Remark:XXX means height | | | |