Aluminium candle tins are favorites of our customers and staff. Unlike glassware, you can't see the wax through the container, so glass adhesion doesn't matter at all. This is especially nice for soy candles, where frosted sides are totally hidden. Candle tins are not expensive, and they always come with a lid. Lots of candle makers use them as travel tins since they are so rugged.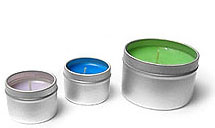 Our extensive line of aluminum tins has been especially popular to the candle hobbyist and professional candle crafter as well. The flat aluminum tins and deep dish tins are increasingly popular with the candle crafter for gel candles as well as aromatherapy candles, and with the selection in sizes you can create a line from 1 oz up to 16 oz. Our tins have rolled edges and you can choose from the see through (clear) tops to the solid ones. Whatever your craft we have the container for you. As always, you should test your candle containers with product for compatibility and always exercise caution when making or burning candles.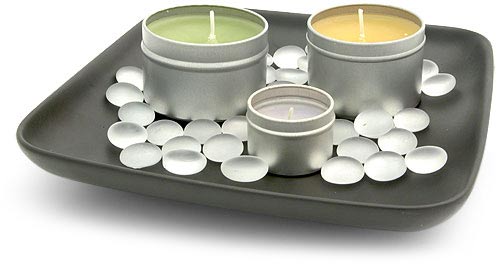 Use the deep dish aluminum candle tins to create and display an elegantly put together centerpiece for your home. The deep dish aluminum tins come in a variety of sizes, 1 oz, 2 oz, 4 oz, 6 oz, 8 oz and 16 oz, and are accompanied by slip cover lids. Fill these candle tins with colorfully attractive waxes and decorate the containers to your liking!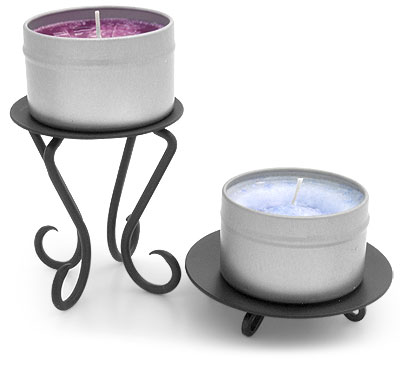 The 6 oz footed aluminum candle tins are accompanied by rolled edge covers. This candle tin has three feet embossed into its base, raising the container 1 mm off of a flat surface leaving room for airflow. The added airflow keeps the base of the tin cool while the wax heats up. These candle tins make for a great gift for wedding favors, bridal showers, birthdays and are an excellent addition to any gift basket.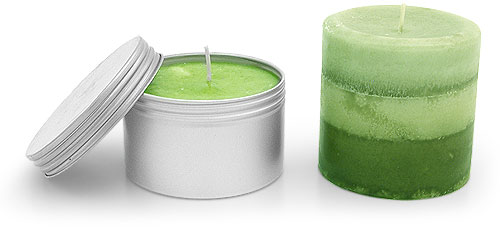 The 8 oz twist top aluminum candle tins come with a convenient screw top lid. Use these twist top candle tins for convenient candle burning in a wide range of places. The twist top candle tin makes for the perfect packaging container and is an excellent choice for gift giving.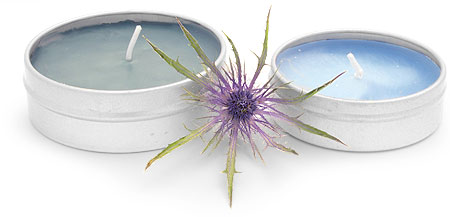 The flat aluminum tins come topped with rolled edge covers and range in size from ¼ oz and ½ oz containers to 4 oz and 8 oz sizes. Fill these flat aluminum candle tins with colorful waxes and place a fancy label or message on the top cover for all to see! The flat aluminum candle tins are great for sample size candles, use them all and offer your customers their favorite scents in a variety of sizes.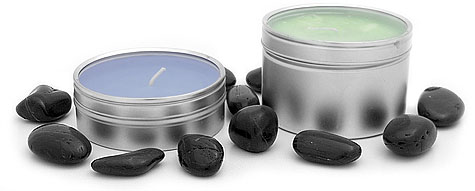 The 2 oz, 4 oz, and 8 oz, aluminum candle tins come topped with clear top slip cover lids, displaying your candles to all! Fill these candle tins with gel candles as well as aromatherapy candles, and create a gift that keeps on giving! Add a fancy ribbon or bow and use the clear top candle tins as gifts or party favors that your friends and family are sure to love!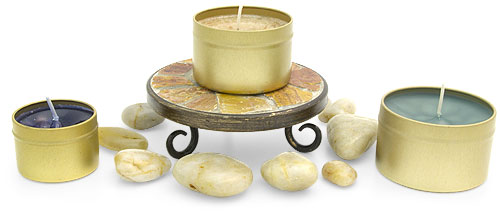 Package your candles in our gold deep dish aluminum tins, available in 2 oz, 4 oz and 6 oz sizes. The gold aluminum candle tin containers come topped with rolled edge slip covers and make for the perfect candle packaging container for gift giving. The gold aluminum candle tins are a great addition to any home. Scent your candles to fill the air with wonderful aromas.
Order Custom Aluminum packagings
Let's get started! Contact us help you propel your brand forward.