What Is an Aerosol moisturizer spray?
An aerosol moisturizer spray is a convenient way to keep your skin hydrated throughout the day. It is an easy-to-apply product that comes in an aerosol can and provides immediate relief from dry skin. Unlike traditional creams or lotions, it's easier to apply evenly and absorbs quickly into the skin with minimal effort or mess.
Aerosol moisturizer sprays are available in light and heavy varieties, allowing you to choose which best suits your needs. Lightweight products are ideal for daily use, while heavier options provide more intense hydration for those with extremely dry skin. All types of aerosol sprays provide essential moisture, like some creams, without leaving a greasy residue behind on your skin.
History of moisturizer spray
Moisturizer spray is a topical product that hydrates and protects the skin from environmental stressors. Invented in the 1950s, early moisturizer spray consisted of an aerosol-based compound dispensed from an aluminium canister with a propellant-driven actuator. Over time, different formulas and delivery systems have been developed for moisturizer sprays, including aerosols, pumps, and lotions.
The earliest moisturizers were oil-based products that provided hydration to the skin but had limited distribution due to their viscosity. With the development of aerosol cans in the 1960s, manufacturers created a pressurized environment that allowed them to deliver a light mist instead of a liquid stream. This new delivery system offered more efficient coverage over larger surface areas than traditional pump bottles or jars could provide.
Types of moisturizer spray
A moisturizer spray is a convenient, easy-to-use product that can help to hydrate and protect your skin. Moisturizers come in many forms, including sprays packaged in an aluminium aerosol can with a valve. Here are some of the different types of moisturizer sprays you can use to keep your skin looking its best:
Oil-based Spray Moisturizers are designed to provide intense hydration and nourishment for dry, inflamed skin. These products usually contain natural oils like jojoba or avocado oil to help restore the lipids in your skin barrier. This spray is ideal for those suffering from eczema or psoriasis because it helps lock in moisture and reduces itching or redness.
How Does Aerosol moisturizer spray Work?
Aerosol moisturizer spray is a popular way to keep skin hydrated and healthy. But how do they work? Aerosol moisturizers contain a combination of water, oil, and other ingredients like vitamins and antioxidants. The mixture is pressurized into an aerosol can with a propellant, butane or propane. When the button on the can is pressed, the propellant forces the moisturizing solution out through a nozzle in a fine mist.
The fine mist helps to evenly distribute the moisture over larger areas of skin quickly and easily without leaving it feeling greasy or sticky. It also penetrates deeper into wrinkles than the lotion so that your skin stays hydrated for longer.
What Are The Ingredients In An Aerosol moisturizer spray?
Aerosol moisturizer spray is popular for those looking to keep their skin looking and feeling healthy. It's easy to use, dries quickly and can be applied in seconds. However, most people don't realize that an aerosol moisturizer spray contains more than just moisturizing ingredients — it also contains multiple propellants that help give the product its mist-like texture.
The propellant ingredient in aerosol moisturizers helps break up liquid into tiny particles of moisture, which are then sprayed onto the skin. Commonly used propellants include butane, propane, carbon dioxide or nitrogen gas. These gases allow for a uniform coverage on the skin without creating clumps or patches of product left behind.
Benefits of moisturizer spray Aerosol
Moisturizer spray is a convenient, fast way to keep your skin hydrated. It comes in an easy-to-use aerosol form with propellants that help it spread evenly over the skin. This article will explore the benefits of moisturizer spray aerosols and explain why they are a great choice for those looking to keep their skin soft and hydrated.
When using a moisturizer spray, you don't need to worry about rubbing it into your skin as you would with traditional lotions or creams; apply the product directly onto the desired area and let its propellants do their job. The particles in aerosols are also smaller than other moisturizers, allowing them to penetrate deeper into your pores for more intense hydration.
Is Aerosol moisturizer spray Safe?
Aerosol moisturizer spray has recently become a popular product in the beauty industry. It's marketed as an easy way to apply lotion and other skin products and for those who are constantly on the go. But does convenience come at a cost? Is aerosol moisturizer spray safe for all skin types?
The ingredients used in aerosol moisturizers vary depending on the brand and type of product. Generally, they contain propellants that help disperse the product from the canister onto your skin. While these ingredients are considered safe by governing agencies such as the Environmental Protection Agency (EPA), it is still important to be aware of potential risks. Propellant-based sprays have been linked with asthma, allergic reactions, irritation, and even skin dehydration if overused.
Does Aerosol moisturizer spray Expire?
Aerosol moisturizer sprays have become increasingly popular in recent years. They're marketed as a convenient way to hydrate and protect the skin without applying a cream. But do aerosol moisturizer spray cans expire? To find out, it's important to understand the ingredients in these products, how they change over time, and if there is an expiration date printed on them.
The main ingredients of aerosol moisturizers are typically oil-based emollients that help keep the skin hydrated and flexible. However, with long-term exposure to air or heat, these oils can break down and form potentially harmful compounds such as free fatty acids. This can make them less effective at providing moisture and protection for your skin.
Best moisturizer spray Brand
When it comes to finding the best moisturizer spray for your skin, there are many options. Knowing which brand is right for you can be tricky. Thankfully, we've researched and gathered information on the top brands on the market to help you find an option that works best for your needs.
Shea Moisture, Vaseline, Clinique, Aveeno, Chanel, Cetaphil, Palmer's, Neutrogena, Curel, Dove, La Roche Posay, Carol's Daughter, Aquaphor, Nivea, Jergens, Laura Mercier, Biotene, Burberry, Cerave, Eucerin, Garnier, Aesop, French Connection, Jane Carter, Johnson's, Mario Badescu, Opi, Ouidad, Schwarzkopf, Sephora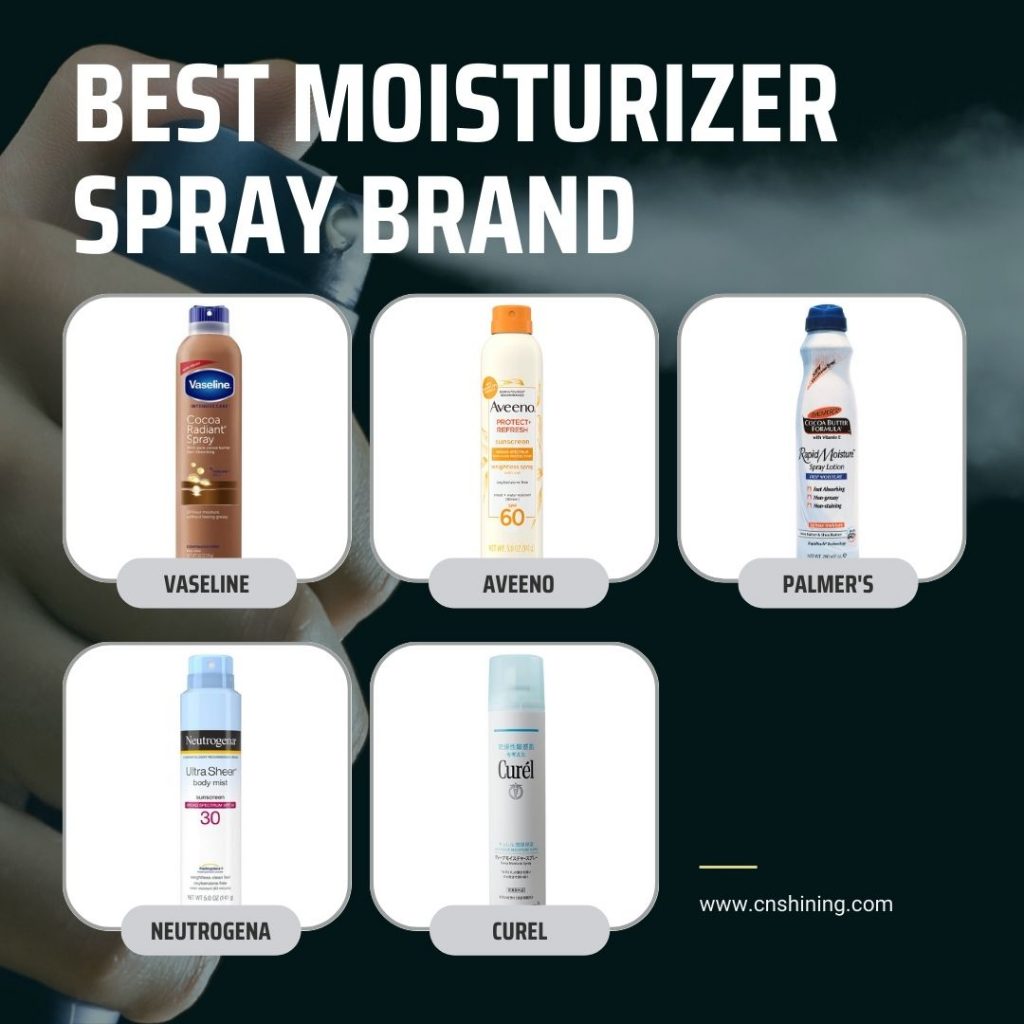 Conclusion
The moisturizer spray article concludes that this product effectively keeps your skin hydrated and healthy. It can be used as part of a daily skincare routine or applied on the go for a quick refresher. Not only does it work quickly, but its light texture means it won't leave behind any greasy residue.
This product is ideal for those who don't have time for lengthy skincare routines or who need a quick fix after hours in the sun. It's also great for sensitive skin, as its non-irritating ingredients make it safe even if you have allergies. Using a moisturizer spray could be just what your skin needs to stay healthy and hydrated throughout the day!
Looking for a manufacturer and supplier of moisturizer spray can? Look no further than China! We offer high quality, affordable products with fast turnaround times.