You may have noticed that Beanblossom Hard Cider has been sold out since 2010. You're probably thinking, "it's summer, it's hot & I need that perfect picnic wine!" Your tastebuds have been craving the crisp, refreshing, slightly sweet taste of fresh picked apples that pair perfectly with summer salads and turkey sandwiches. Summer just hasn't been the same without it!
Beanblossom Hard Cider fans – the wait is over! The new Beanblossom Hard Cider and it's entourage of flavors is now available in the tasting room. This new collection of ciders boasts new packaging – 100% recyclable aluminum bottles. Yes, aluminum bottles! Perfect for all of your backyard get-togethers, outdoor recreational activities and any social encounter where adult beverages are part of the fun.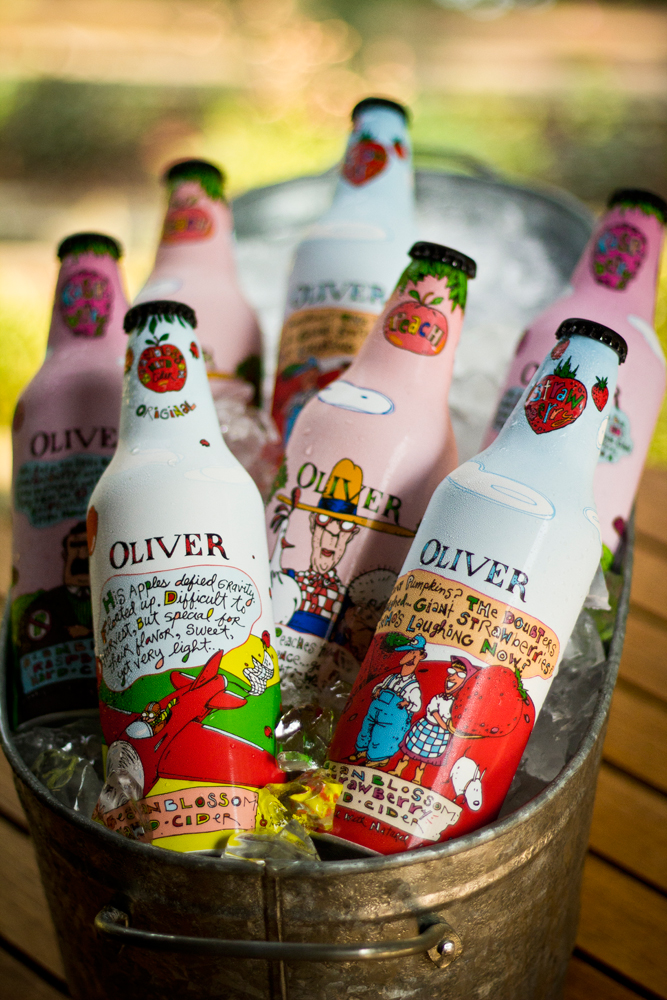 This is truly a hard cider from the heartland. Crafted from the juice of fresh Midwestern apples, the Original Beanblossom Hard Cider is just how you remember it. We added 3 naturally flavored hard ciders – Peach, Raspberry & Strawberry. They are all crisp, refreshing and slightly sweet. Just like a summer beverage should be.
Our staff got a preview of the hard ciders at our annual employee meeting on Wednesday and they very excited to share them with you!
We are just so excited to share this new product with you. Stop in for a visit this weekend. Each delicious 500ml bottle sells for $4.00 plus tax. We are having an introductory case sale to celebrate the launch of the Beanblossom Hard Ciders. You can pick up a mixed Beanblossom Fruit Crate Mixed Case for 25% off. (Normally $48, you can enjoy a case of 12 for $36 plus tax) Instead of a "U-pick" case sale it's a "We-pick" case sale. It is a great deal and it will give you a chance to try all 4 fancy flavors!
Can't make it to our Tasting Room in Bloomington? The Beanblossom Hard Ciders will soon be available for purchase through our website and will be coming soon to grocery and package stores near you.
Order Custom Aluminum Bottles
Let's get started! Contact us help you propel your brand forward.