What Is An Aerosol Asthma Inhaler?
An asthma inhaler is an important device for people with asthma, and the aerosol type of inhaler is one of the most common. An aerosol asthma inhaler consists of a valve attached to an aluminium aerosol can that contains a specific medication used to treat asthma. The patient activates the valve by pressing it down, which releases a measured dose of medication into the air as an aerosol spray or mist. This allows the patient to inhale the medication directly into their lungs, where it can quickly take effect.
The active ingredients in these medications are often steroids that help reduce inflammation in the airways, making it easier for sufferers to breathe more freely and easily. Other medications may also be contained in aerosol inhalers, such as bronchodilators that help relax tight muscles around airways and anti-allergy medicines.
History Of Asthma Inhaler
Asthma Inhalers Aerosol is a revolutionary medical device used to treat asthma for over 50 years. It has become a reliable source of relief for people suffering from chronic respiratory disorders. The inhaler delivers medication in an aerosol form directly into the lungs, providing quick relief from symptoms such as wheezing, coughing, and difficulty breathing.
The first generation of Asthma Inhalers was developed in the 1950s and made available to patients in the 1960s. These inhalers used chlorofluorocarbon (CFC) propellants which were later removed due to their potential harm to the ozone layer. In place of CFCs, newer formulations of Asthma Inhalers began using hydrofluoroalkane (HFA) propellants instead.
Types Of Asthma Inhalers
Asthma is a common condition that affects millions of people each year. An asthma inhaler is one of the most effective treatments for this condition, as it delivers medication directly to the lungs. Two main asthma inhalers are available: actuator and bag-on-valve (bov).
Actuator asthma inhalers work by delivering medication in an aerosol form. When activated, they create a fine mist of medicine that can be inhaled deeply into the lungs to relieve symptoms such as coughing and wheezing. They are also easy to use and require minimal maintenance.
Bag-on-valve (bov) inhalers are designed differently from actuator devices, as they work by releasing medication in a dry powder form rather than an aerosol mist.
How Do Aerosol Asthma Inhalers Work?
Asthma inhalers are an important tool for those with asthma to manage their symptoms. An aerosol asthma inhaler uses a propellant to deliver medication into the lungs, making it easy to take the correct dosage and quickly relieve symptoms. But how exactly does this type of inhaler work?
Aerosol asthma inhalers contain a canister filled with medication and a propellant, usually chlorofluorocarbon (CFC). When the user presses down on the canister, a valve opens and releases both substances in liquid form. The propellant then turns the mixture into an aerosol mist inhaled directly into the lungs. This allows for quick delivery and absorption of the medication since it bypasses digestion and goes straight to where it's needed most – helping asthmatics breathe easier almost instantly after use!
What Are The Ingredients In An Aerosol Asthma Inhaler?
An aerosol asthma inhaler is a device that delivers medication to help alleviate symptoms of asthma. It is an important tool in managing and controlling breathing difficulties associated with the condition. Understanding what ingredients are in an aerosol inhaler can be helpful for those who have been prescribed this type of medication.
A typical aerosol inhaler contains the active ingredient, typically a corticosteroid or beta-agonist bronchodilator, which helps reduce airway inflammation and opens up passages allowing for easier breathing. This active ingredient is mixed with propellants such as chlorofluorocarbons (CFCs) or hydrofluoroalkanes (HFAs), pushing the medication out of the device when activated. Depending on the medicine itself, additional inactive ingredients may also be present to improve the effectiveness or delivery of the drug itself.
Benefits Of Asthma Inhaler Aerosol
Asthma inhaler aerosol provides excellent relief for those who suffer from asthma. This type of inhaler benefits people of all ages and can be used on the go for quick relief during an asthma attack. Asthma inhaler aerosol offers several advantages that other types of medication do not provide, making it one of the most popular treatments available today.
The first benefit of using this type of inhaler is its convenience. Unlike other forms of medication, it is easy to carry around and use on demand when needed. The second advantage is its high efficacy in reducing symptoms quickly and effectively. Delivering a precise amount of medicine directly into the airways, it helps relieve symptoms within minutes, allowing sufferers to get back to their daily activities without any difficulty.
Is Aero sol Asthma Inhaler Safe?
When it comes to treating asthma, aerosol inhalers are the go-to. Whether you're trying to prevent or relieve an attack, these devices help manage the symptoms of this debilitating respiratory condition. But how safe are aerosol inhalers?
The answer is yes – when used correctly, aerosol inhalers are considered safe and effective for controlling asthma attacks. This medication delivery system utilizes pressurized air and propellants to quickly and efficiently deliver medication into the lungs. As long as you use your inhaler according to your doctor's instructions, there should be no risk of complications or adverse effects associated with its use. Some studies have even suggested that using an aerosol inhaler may protect against developing COPD in asthmatics who smoke.
Does Aerosol Asthma Inhaler Expire?
Asthmatics have used aerosol asthma inhalers for decades to manage their condition, but not everyone is aware of the possible expiration date of these devices. Does an aerosol asthma inhaler expire? The answer is yes, and it's important for people who use aerosol asthma inhalers to understand this detail to take necessary precautions and ensure proper treatment.
An aerosol asthma inhaler consists of a canister filled with medication released from a valve when triggered by pressing down on the top of the canister. This device usually has an expiration date, indicating how long it should be used before being replaced with a new one.
Best Asthma Inhaler Brand
If you have asthma, an inhaler is an important tool in managing your symptoms and keeping your airways open. Asthma inhalers come in many shapes and sizes, with various brand names. But which one is the best? To help determine the best asthma inhaler brand, it's important to understand what aerosolized medications are and how they can help keep your asthma under control.
Ventolin, Albuterol, Symbicort, Flovent, Fostair, Flixotide, Advair, Seretide, Breo Ellipta, Pulmicort, Qvar, Alvesco, Combivent, Spiriva, Asmanex, Dulera, Vanceril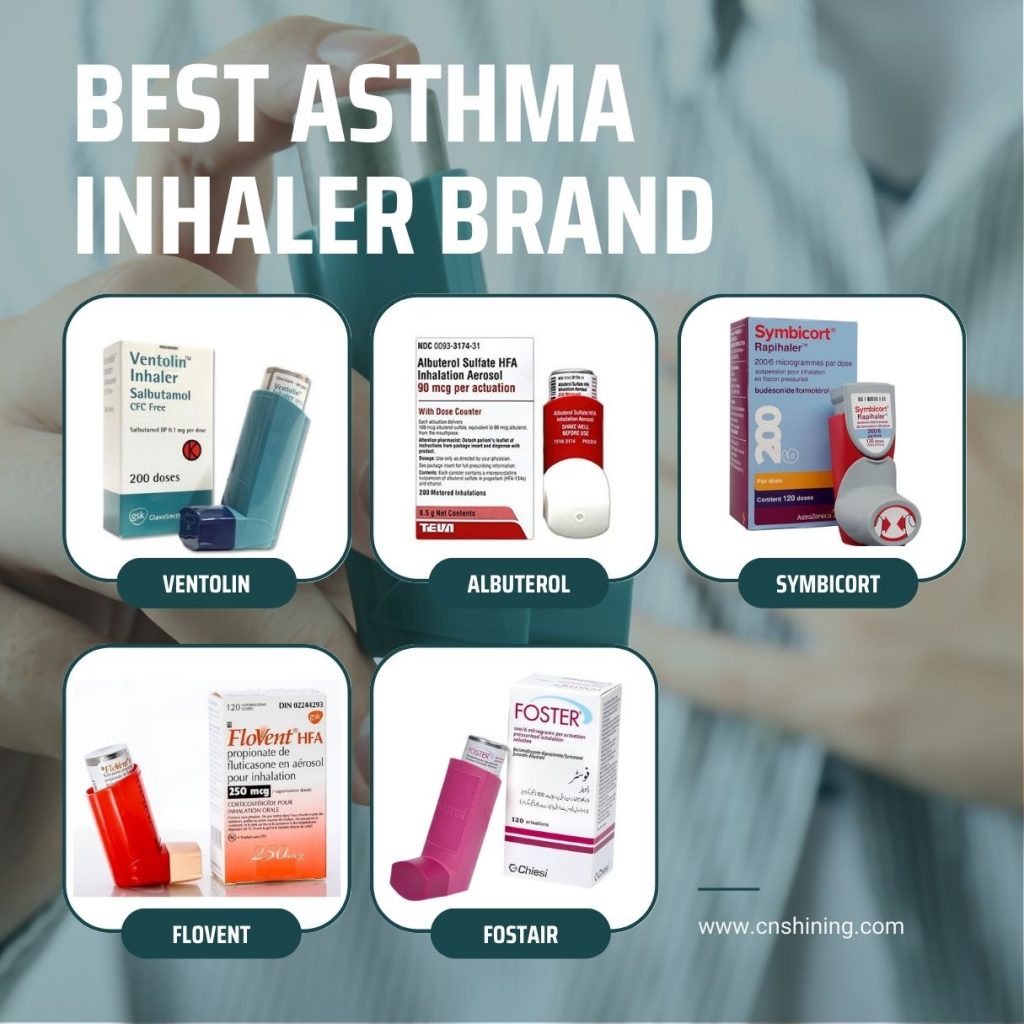 Conclusion
The article on asthma inhaler aerosols concludes that these products can be a useful and effective treatment for asthma sufferers. Using an aerosol inhaler with medication can help reduce symptoms, control breathing and prevent attacks in people with asthma. It is important to note that aerosols are not suitable for everyone, so it is essential to consult your doctor before starting any treatment.
If an aerosol inhaler does prove suitable, it is also important to ensure you understand how to use it correctly for maximum effectiveness. Regular check-ups should be scheduled with your physician to monitor the condition and determine if any modifications need to be made in terms of dosage or type of medication used.
Looking for a reliable manufacturer and supplier of Asthma Inhaler Aerosol CAN in China? Look no further! We provide the best quality products at competitive prices.