What Is an Aerosol polish spray?
The aerosol polish spray is a product that has become commonplace in many households. This spray is used to clean, shine and protect various surfaces, from furniture, to plastics and metals. It can also be used as an alternative to waxing a car or bike.
Aerosol polish sprays contain three main components: a solvent, a lubricant, and propellants. The solvent helps dissolve dirt and debris, while the lubricant protects against scratches. Propellants are chemical compounds that push the product out of its container through the valve when pressed down. Combining these three ingredients creates an aerosolized form which allows for even coverage with minimal effort required from the user.
History of polish spray
Polish spray has become a staple in the cleaning and detailing industry, making it easier to keep cars looking showroom fresh. The history of polish spray can be traced back to its invention in 1942 by an American inventor named Earle Dickson. After working for Johnson & Johnson, he developed a revolutionary product that changed how many people look at cleaning and detailing – an aerosol can containing polish with a manual actuator or trigger.
This new invention was designed to make it easier for people to apply polishes quickly and efficiently. Dickson patented the product in 1946, but it wasn't until ten years later that polish sprays started being mass-produced on a large scale as demand increased significantly due to their convenience.
Types of polish spray
Polish spray is a versatile product that cleans and protects surfaces from dirt, dust, and grime. It comes in many forms, with aerosol sprays being the most popular due to their convenience and ease of use. There are two main types of polish spray aerosols – aluminium-based sprays in an aerosol can or ready-to-use liquid sprays stored in plastic bottles.
Aluminium cans are usually preferred when it comes to polish spray as they allow for greater control over the amount of product released into the air when spraying. In addition, these cans are also highly durable and resistant to damage from drops or other impacts.
How Does Aerosol polish spray Work?
Polish Spray is an aerosol-based product that helps you quickly and easily restore shine to metal surfaces. It comes in a handy aluminium aerosol can, so you don't have to worry about spills or messes. But how does it work?
The aerosol polish spray contains an oil-based liquid mixed with air and propelled out of the can when you press down on the nozzle. The combination of ingredients creates a micro-fine mist that dries quickly and won't leave any residue. Once dried, it forms a protective layer on top of the surface that shields it against dirt, dust and other particles while restoring its glossy finish. This means your metals will look as good as new without much effort!
What Are The Ingredients In An Aerosol polish spray?
Polish spray is a convenient way to give furniture and other surfaces a glossy, sparkling finish. It can help protect the surface from dirt and dust, giving it a beautiful, polished look. But what exactly are all of the ingredients that make up an aerosol polish spray?
An aerosol polish spray is composed of several different components. Firstly, it contains a propellant such as butane or propane, which helps dispense the liquid when sprayed from the can. Secondly, there are various waxes, such as carnauba wax or beeswax, for added shine and protection. Along with this are other lubricants, such as silicone which act as anti-static agents to prevent dust build-up on surfaces. Finally, there may also be fragrances included in some brands for a pleasant scent.
Benefits of polish spray Aerosol
Polish spray aerosols are becoming increasingly popular for both commercial and residential use. This is due to their many advantages compared to traditional polish products. Polish spray aerosols provide a quick and easy way to clean and protect surfaces, such as cars, furniture, appliances, brass fixtures and more. They offer superior protection against rust, corrosion, scratches and other damage caused by the elements or everyday wear and tear.
One of the greatest benefits of polish spray aerosols is their convenience. Unlike traditional liquid polishes, which require time-consuming application processes that may leave streaks or residue on the surface being treated, polish sprays allow users to quickly apply an even coat of protective finish over any given surface with minimal effort. Additionally, they come in various formulas, so users can choose one that best suits their needs without worrying about compatibility issues or staining.
Is Aerosol polish spray Safe?
Polish spray is becoming increasingly popular to quickly and easily restore the shine of everything from furniture to silverware. But is aerosol polish spray safe? While many people find it a convenient option for polishing their items, is there any harm in using this product?
The aerosol polish spray contains several potentially hazardous chemicals, including butane and petroleum distillates. This can mean that when these sprays are used indoors, they can release volatile organic compounds into the air. That said, if you use aerosol polish sprays according to the manufacturer's instructions and take proper safety precautions, you should be able to use them without any issues.
Does Aerosol polish spray Expire?
Polish spray is a popular product for those looking for an easy way to keep their cars shining and spotless. However, does aerosol polish spray expire? In some cases, the answer is yes.
Aerosol polish sprays contain several chemicals, such as solvents and lubricants, which can break down over time and become less effective or harmful when used beyond their expiration date. Additionally, propellant gases can degrade with prolonged storage, making the product less effective at spraying an even mist of polish onto the surface. Therefore, check the expiration date before using any aerosol polish spray on your car or other surfaces to maximize its effectiveness and avoid potential harm from expired products.
Best polish spray Brand
Polish Spray is a great way to give your car, furniture, and other objects a brand-new look without spending time polishing them by hand. However, with so many brands on the market today, it can be overwhelming to determine which is best for you. We have conducted extensive research to present our readers with the Best Polish Spray Brand available.
Pledge, Turtle Wax, Swiffer, Meguiar's, Armor All, Autosmart, Febreze, Sonax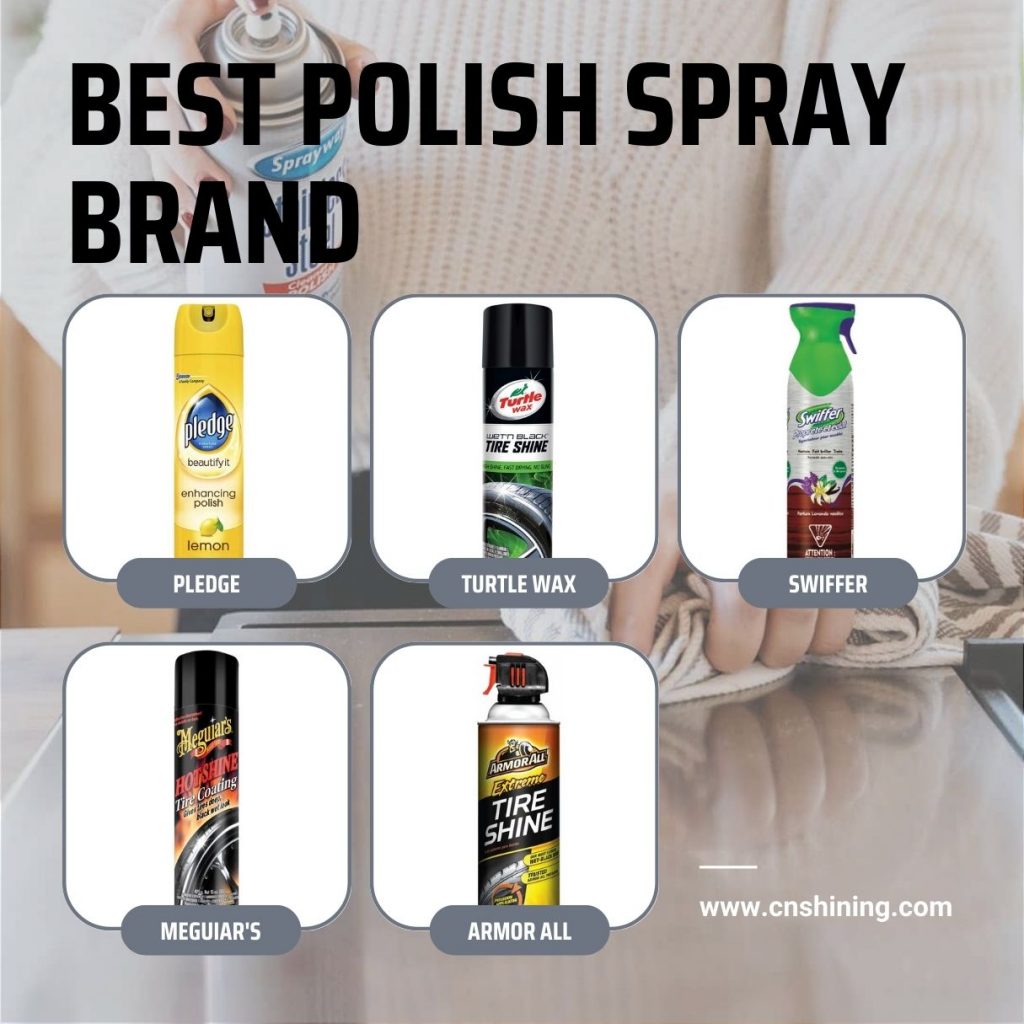 Conclusion
We are a leading manufacturer and supplier of Polish Spray Aerosol cans based in China. We offer high quality products at competitive prices with fast delivery.