What Is an Aerosol room spray?
 An aerosol room spray is an air freshener housed in a pressurized aluminium can. When activated, it releases a mist, or aerosol, of odour-fighting molecules into the air. These molecules are dispersed as tiny droplets that act as a deodorizer for your living space.
Using an aerosol room spray is as simple as pressing down on the top of the can. This action releases a burst of scented particles from its nozzle, drifting away and lightly perfuming the air with pleasant aromas. The best part about choosing an aerosol can for your air freshening needs is that it's convenient to use and easy to store due to its compact size. Plus, you don't have to worry about spills or messes that come along with other types of air fresheners like candles or diffusers.
History of room spray
The history of room sprays dates back to the early 20th century when aerosol sprays were first developed. An aerosol spray is created by compressing a chemical mixture in a canister and releasing it through a small valve. This technology was adapted for household use in the 1950s, providing an easy way to freshen up a room with just one spray.
Since then, room sprays have become increasingly popular for their convenience and ease of use. They come in various scents and formulas designed for different purposes – from general freshening to eliminating odours caused by smoking or pets. These products are often used as air fresheners or deodorizers, helping make any space smell more pleasant and inviting.
Types of room spray
The room spray is an easy and affordable way to instantly freshen up a room in your home or office. It comes in many different forms, so you can choose the one that best suits your needs.
When looking for the right room spray for you, consider what propellant and actuator it uses. Propellants are gases such as carbon dioxide, nitrogen, or aerosolized hydrocarbons that push out a mist from the container when activated by the actuator. The most common actuators include trigger pumps, pressurized cans with nozzles for spraying a fine mist into the air, and aerosol cans with valve-operated nozzles that release a burst of liquid scent when pressed.
How Does Aerosol room spray Work?
The aerosol room spray is convenient and efficient for freshening up any space. These sprays are typically housed in an aluminium aerosol can, and when the nozzle is pressed, the contents are released in a fine mist. This mist spreads quickly through the air to provide a pleasant scent for those in the area.
The aerosol can work by mixing chemical compounds with pressurized gas inside the aluminium container. When the nozzle is released, it triggers a valve at the base of the can that forces out both components at once. This allows for an even coat of fragrance on surfaces and throughout a room within seconds. The pressurized gas also helps to atomize liquid particles into tiny droplets that evaporate faster than regular sprays, making them ideal for quickly freshening up any space with minimal effort.
What Are The Ingredients In An Aerosol room spray?
Room sprays are a great way to quickly and easily freshen up any space. Whether you're looking for a subtle hint of fragrance or something that will knock your socks off, an air freshener can do the trick. With so many different types of room sprays available on the market, how do you choose the best one?
The first step is to determine why you want to use an air freshener in the first place. Are you trying to cover up unpleasant odours such as pet smells or cooking aromas? Are you hoping for something that will add a pleasant scent to a room without being too overwhelming? Or maybe you're just looking for something light and relaxing to help create a cosy atmosphere in your home.
Benefits of room spray Aerosol
Room sprays are an effective and efficient way to freshen up any living space. The aerosol room spray is particularly useful for quickly eliminating unpleasant odours and leaving a pleasant smell in the air. It provides numerous benefits for homeowners – from eliminating offensive odours to creating a more welcoming atmosphere in the home.
The aerosol room spray is easy to use and disperses particles of fragrance into the air. This allows it to spread quickly throughout the entire room and effectively get rid of unpleasant smells. Unlike candles or potpourri, aerosol sprays can be used in any environment – including those with pets or people who smoke – without worrying about open flames or smoke inhalation hazards. Additionally, aerosol room sprays come in a wide range of scents, so you can easily find one that suits your taste and preferences.
Is Aerosol room spray Safe?
Is aerosol room spray safe? This question has been on the minds of many homeowners and renters who use these products around their houses. Aerosol room sprays are typically a combination of fragrances and solvents that can produce an odour-masking effect. While they seem harmless; some health concerns may be associated with using this product.
The main component in aerosol room sprays is a solvent such as propane or butane. These solvents are known to harm air quality when used indoors. Additionally, some of the fragrances used in these products can contain phthalates, which have been linked to asthma and other respiratory conditions when inhaled over long periods.
Does Aerosol room spray Expire?
Does aerosol room spray expire? Room sprays are a popular way of freshening up small spaces like bathrooms and bedrooms. Many people wonder if these products have an expiration date.
The answer is yes; aerosol room sprays do expire. The shelf life of most aerosol room sprays is around two years, though this can vary depending on the product's ingredients. After two years, the product's effectiveness will decline, and its scent may become less pleasant or even unpleasant. It is important to look at the expiration date printed on each can before use, as they all have different lifespans.
When stored correctly in cool and dry conditions away from direct sunlight, it's possible for some aerosol room sprays to stay effective beyond their printed expiry date by several months or so.
Best room spray Brand
The search for the best room spray has ended. After countless hours of research, reviews, and testing, we have uncovered the most reliable and high-quality room sprays on the market today.
Bath & Body Works, Odonil, Glade, Godrej Aer, Yankee Candle, Air Wick, Jo Malone, Crabtree & Evelyn, Ambi Pur, Molton Brown, Febreze, Voluspa, Byredo, Dettol, Nest Fragrances, Cire Trudon, Le Labo, Lysol, Acqua Di Parma, Amouage, Clarins, Dove, Fornasetti, Frederic Malle, Guerlain, Lenor, Mama Mio, Old Spice, Penhaligon's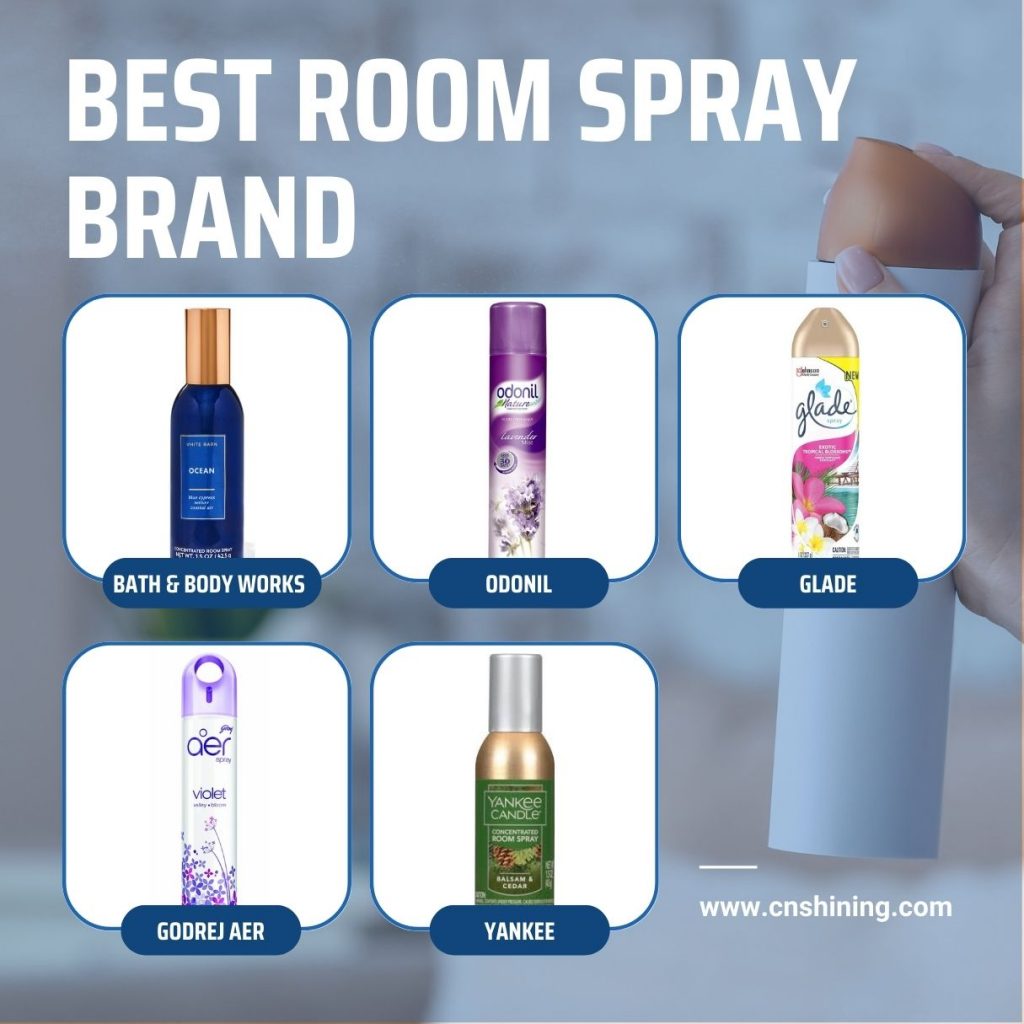 Conclusion
The conclusion to any discussion of room sprays is that they can be a great way to keep your home smelling fresh and inviting. Room sprays come in various scents and styles, so it's easy to find one that fits your needs and preferences. They are also relatively inexpensive, making them an affordable option for keeping your home smelling great.
Are you looking for a reliable room spray can manufacturer and supplier in China? Look no further! We specialize in quality room spray cans for all your needs. Contact us now for more information!