What Is an Aerosol spray self tanning?
Aerosol spray self tanners are a convenient option for achieving a sun-kissed, bronzed look without using tanning beds or spending hours in the sun. With aerosol self tanners, users can avoid UV radiation and obtain a natural-looking result with minimal effort. An aerosol spray tanning system contains an applicator equipped with a valve and propellants to disperse an airbrush-like mist of colourant evenly onto the skin.
The active ingredients found in these products are DHA (dihydroxyacetone) and erythrulose, which react with the amino acids in the outer layers of our skin to give us that golden glow we all want.
History of spray self tanning
Spray self tanning is a convenient and effective way to get a sun-kissed glow without the damaging effects of UV rays. A history of spray self tanning dates back to the 1940s when aluminium aerosol cans were used to transport and apply ingredients at an even and consistent rate. In this early version, a user had to shake the can vigorously before use it for it to work properly.
Today's modern spray self tanners are much easier to apply than their predecessors. An actuator on the nozzle allows for precise control over coverage area and product output, making it possible for users to apply the product evenly without worrying about an uneven or splotchy look. As such, no vigorous shaking is required before an application, like earlier versions of spray self-tanners.
Types of spray self tanning
Spray self-tanning is a convenient, safe, and easy to get that golden glow without spending hours in the sun or risking exposure to potentially harmful UV rays. This self-tanning typically comes in an aluminum aerosol can with an actuator for easy application. Spray self-tanning comes in various types depending on your desired look and the level of control you want over the shade of your tan.
Spray self tanning is a mousse or foam solution applied directly to the skin using either hands or a mitt for even coverage. This product will give you great control over how dark your skin becomes as it allows you to gradually build up your colour until you reach the desired hue.
How Does Aerosol spray self tanning Work?
Aerosol spray self tanners are a popular choice for those looking to get a golden glow without the harmful effects of UV exposure. This article will explain how aerosol self tanners work and the benefits they offer.
Aerosol spray self tanning is an easy and convenient way to get a natural-looking tan without spending time outside in the sun. The aerosol spray contains small particles of DHA (dihydroxyacetone) – a type of sugar that reacts with dead cells on the surface of your skin, darkening them to create an even, natural-looking tan that develops over several hours. You can adjust the shade by reapplying more product or leaving it on for longer periods, allowing you to have complete control over your desired colour.
What Are The Ingredients In An Aerosol spray self tanning?
Aerosol spray self tanners are becoming increasingly popular to achieve a sun-kissed glow without the dangers of tanning beds or exposure to the sun's harmful UV rays. This product helps users create an even, natural-looking bronze colour and is often preferred over traditional cream or lotion self tanners. While most people understand the basic concept behind aerosol spray self tanning, there is less understanding regarding what ingredients are inside these products.
The main ingredient in most aerosol spray self tanners is dihydroxyacetone (DHA). DHA reacts with proteins on the surface of your skin and creates a chemical reaction that produces temporary brown pigmentation similar to a light sunburn.
Benefits of spray self tanning Aerosol
Spray self tanning has revolutionized the way people achieve a sun-kissed glow. Utilizing technology and quality ingredients, these aerosols provide users with a quick and easy means of adding colour to their complexion. The convenience and safety of spray self-tanning make it an ideal choice for those looking to get that perfect beachy look without sacrificing health.
Aerosol sprays offer users an even application free from streaks or blotches – providing a natural, bronze hue in just minutes. Additionally, this product offers an affordable alternative to costly salon treatments or dangerous trips to the beach. Spray self tanners are also great for use on small areas such as arms and legs, allowing you to subtly enhance your existing sunscreen protection without slather it on your entire body every day.
Is Aerosol spray self tanning Safe?
Spray self tanning is an increasingly popular choice for those looking to get a golden glow without the risk of sun damage. But is it safe? This article examines whether aerosol spray self tanning is safe and what potential risks users should be aware of.
The ingredients in aerosol spray tans vary by product, but typically consist of water, alcohol and DHA (dihydroxyacetone). DHA is a substance derived from plant sources such as sugar beets and sugar cane that interacts with amino acids on the skin's surface to create a natural-looking color change. While many consider these ingredients relatively safe, some have raised concerns over their potential long-term effects.
Do Aerosol spray self tanning Expire?
Self tanning is a popular way to enhance your natural skin tone without the use of UV rays from the sun. Many people prefer aerosol spray self tanning products for convenience, but do they expire like traditional lotions and creams? The answer is yes! Just like any other product, aerosol self tanners have an expiration date that should be followed to achieve optimal results.
The shelf life of most aerosol self tanners will range between two and three years, depending on the brand and type of product used. If your aerosol spray has been stored properly in a cool, dry place away from direct sunlight, you can expect it to last its full shelf life.
Best spray self tanning Brand
The topic of spray self-tanning can be daunting to those new to it. With the many brands available and so much information to sift through, it can be difficult to know where to start. To make your search a bit easier, here's a look at the best spray self tanning brands that offer quality products with great customer reviews.
Garnier, Loreal, St Moriz, Body Drench, Neutrogena, Australian Gold, Sephora, Sienna X, Jergens, Sally Hansen, Loving Tan, Dove, Mine Tan, Piz Buin, Vita Liberata, Bioderma, California Tan, Le Tan, Rimmel, Victoria's Secret, Guerlain, Hempz, Chanel, Clarins, Coppertone, Crazy Angel, Lancome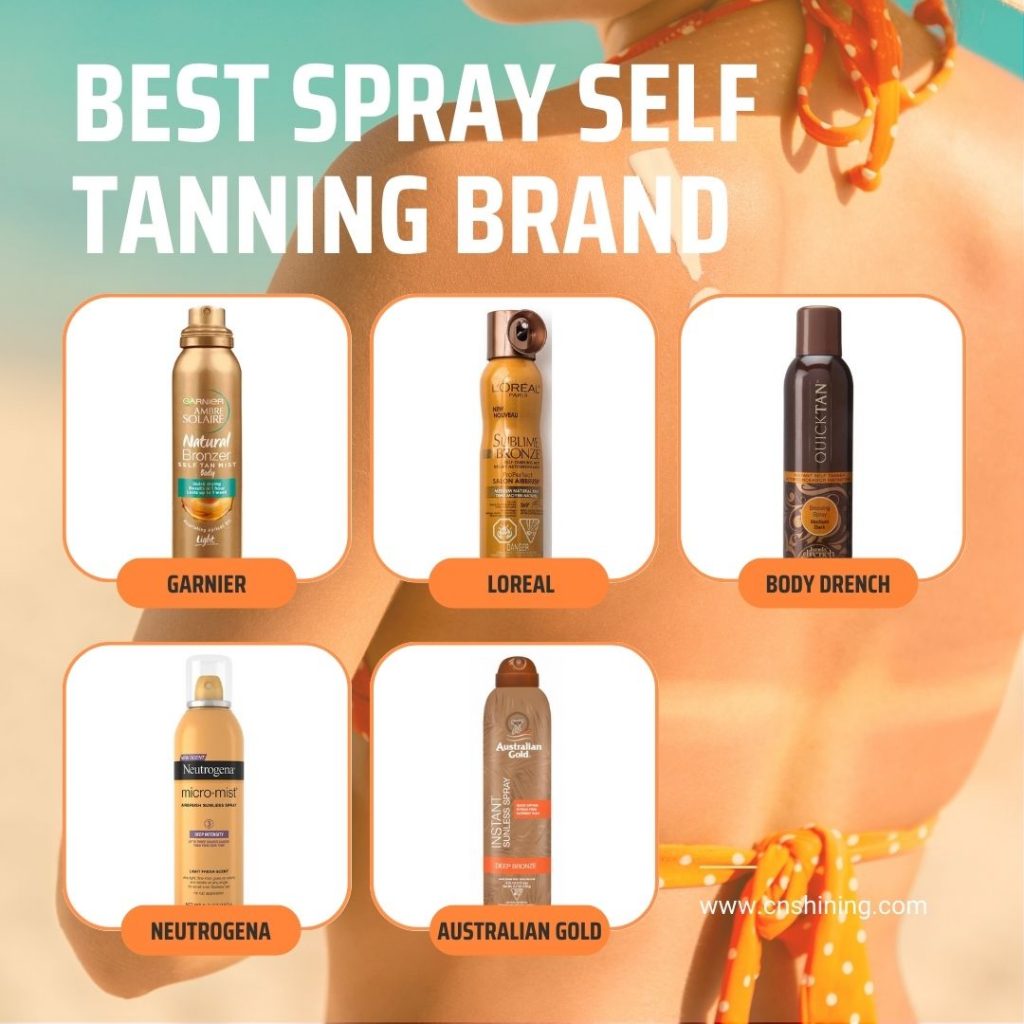 Conclusion
As the summer season approaches, many people are looking for ways to achieve a sun-kissed glow without exposing themselves to the damaging effects of UV rays. Spray self tanning products have been growing in popularity due to their convenience and ability to provide a natural-looking tan in a relatively short time. By following the manufacturer's instructions carefully and considering individual needs, spray self-tanners can be used safely and effectively. Through proper application and periodic maintenance, individuals can enjoy their golden hue all season long.
With so many products available on the market today, it is important that customers do their research before making a purchase. Reading online reviews or consulting with friends who have tried spray tanners can help shoppers decide which product is right.
We are a manufacturer and supplier of self tanning spray cans located in China. Our products are high quality and our prices are competitive.