What Is an Aerosol Sunscreen Spray?
Aerosol sunscreens are popular for those who want to protect their skin from the sun's harmful rays. These sprays are easy to apply and have been found to provide effective protection against both UVA and UVB radiation. An aerosol sunscreen spray is typically stored in an aluminium aerosol can containing a combination of chemicals, including active ingredients such as zinc oxide or titanium dioxide and propellants like butane or propane.
When sprayed onto the skin, these chemicals mix with air particles and even coat the skin's surface. The active ingredients then act as a barrier against harmful ultraviolet (UV) rays by reflecting them away from the body before they can penetrate deeper layers of skin tissue.
History of Sunscreen Spray
People worldwide have used sunscreen spray for decades to protect their skin from the sun's UV rays. Though many of us are familiar with sunscreen lotion, there is a long and interesting history behind sunscreen spray.
The earliest sunscreen sprays date back to the 1940s when aerosol cans were first invented and commercialized. These early products contained ingredients such as zinc oxide or titanium dioxide, which provided some protection from the sun's rays. By the 1970s, these primitive sprays had improved significantly and evolved into products with higher SPF ratings, offering better protection from harmful UV rays than ever before.
Today, you can find a wide range of sunscreens in spray form for adults and children alike – ranging from those that offer minimal protection to those that provide maximum UVA/UVB coverage.
Types of Sunscreen Spray
Sunscreen spray is a great way to protect your skin from the sun's harsh rays. Sunblock sprays make it easy to get even coverage over large areas of skin, and they can be used on both body and face. Many different sunscreen sprays are available with various formulas designed for different needs.
One popular type of sunscreen spray contains physical blockers like titanium dioxide or zinc oxide. These ingredients sit on top of the skin and block out most UV rays before they reach deeper layers of your skin. Some people find this sunscreen more comfortable than creams as it feels lighter and less greasy.
How Does Aerosol Sunscreen Spray Work?
Are you looking for a quick and easy way to apply sunscreen? Aerosol sunscreens offer an alternative to traditional lotion formulas. But what is an aerosol sunscreen, and how does it work?
An aerosol sunscreen spray is a product that comes in a pressurized canister with an actuator that releases the SPF formula when pressed. This makes the application of sunscreen much less messy than other methods. The spf spray produces a mist that evenly coats the skin surface, protecting it from harmful UV rays. It also contains moisturizers to prevent skin irritation and vitamins and antioxidants for additional nourishment.
Aerosol sunscreens are easy to use and require no rubbing or smearing of product on the skin—point, press and go!
What Are The Ingredients In An Aerosol Sunscreen Spray?
When it comes to sunscreen, most people think of lotion or cream. But there is another option — aerosol sunscreen spray. These sprays are a great way to protect your skin from the sun's harmful UV rays while giving your face a beautiful and even glow.
Aerosol sunscreen sprays come in various formulas that work well with different skin types, ensuring you get the protection you need without irritation or breakouts. This spray is also very convenient as it can be quickly applied on the go and doesn't require much clean-up afterwards.
Benefits of Sunscreen Spray Aerosol
Sunscreen spray aerosol is a great way to protect your skin from the sun's harmful rays. Not only does it protect your skin from burning, but it also helps you maintain a healthy and even tone. Sunscreen spray aerosol is an easy and convenient way to get temporary protection.
The aerosol spray makes application easier as you can easily reach any area of your body without having to rub or spread lotion or cream. Additionally, sunscreen spray aerosols protect delicate areas, such as the face, that require extra care when applying other types of sunscreen. It protects against UVB rays that cause burning and UVA rays that can cause premature ageing and dark spots. The formula is light, so you won't even feel like you have anything on your skin!
Is Aerosol Sunscreen Spray Safe?
Is aerosol sun spray safe? For many of us, the convenience of a quick-and-easy aerosol sunscreen spray is appealing. But before you reach for those cans lined up on store shelves, it's important to understand the safety concerns surrounding their use.
An aerosol sun spray is different from traditional lotion sunscreens in that they release millions of tiny droplets into the air, which can easily be inhaled and absorbed by your lungs. The valve used to dispense these sprays also emits volatile organic compounds (VO Cs) that may have adverse health effects. Additionally, some evidence suggests these aerosols may contain impurities like heavy metals or polycyclic aromatic hydrocarbons (PAHs).
Do Aerosol Sunscreen Spray Expire?
When it comes to sunscreen, there are many different options out there. One of the most popular types of sunscreen is aerosol sunscreen sprays. Whether you're looking for a spray-on sunscreen for your face or your entire body, these products can be a great way to protect yourself from the sun's damaging UV rays. But do aerosol sunscreen sprays expire?
Unfortunately, like other sunscreens, aerosol sunscreen spray does have an expiration date. The expiration date is usually printed on the bottle or package and should not be used past that point. It's important to check the expiration date before use to ensure the product is still effective at protecting against harmful UV rays. If you're unsure about when the product expires, contact the manufacturer for more information.
Best Sunscreen Spray Brand
Many want to protect their skin from the sun's harmful UV rays while retaining a natural glow. Sunscreen spray is an easy and convenient way to do just that, but with so many brands on the market, it can be hard to determine which one is best for your skin.
Neutrogena, Australian Gold, La Roche Posay, Hawaiian, Coppertone, Coola, Sun Bum, Garnier, Supergoop, Bioderma, Alba Botanica, Avene, Vichy, Eucerin, Clarins, Kate Somerville, Babo Botanicals, Shiseido, Aveeno, Eltamd, Biore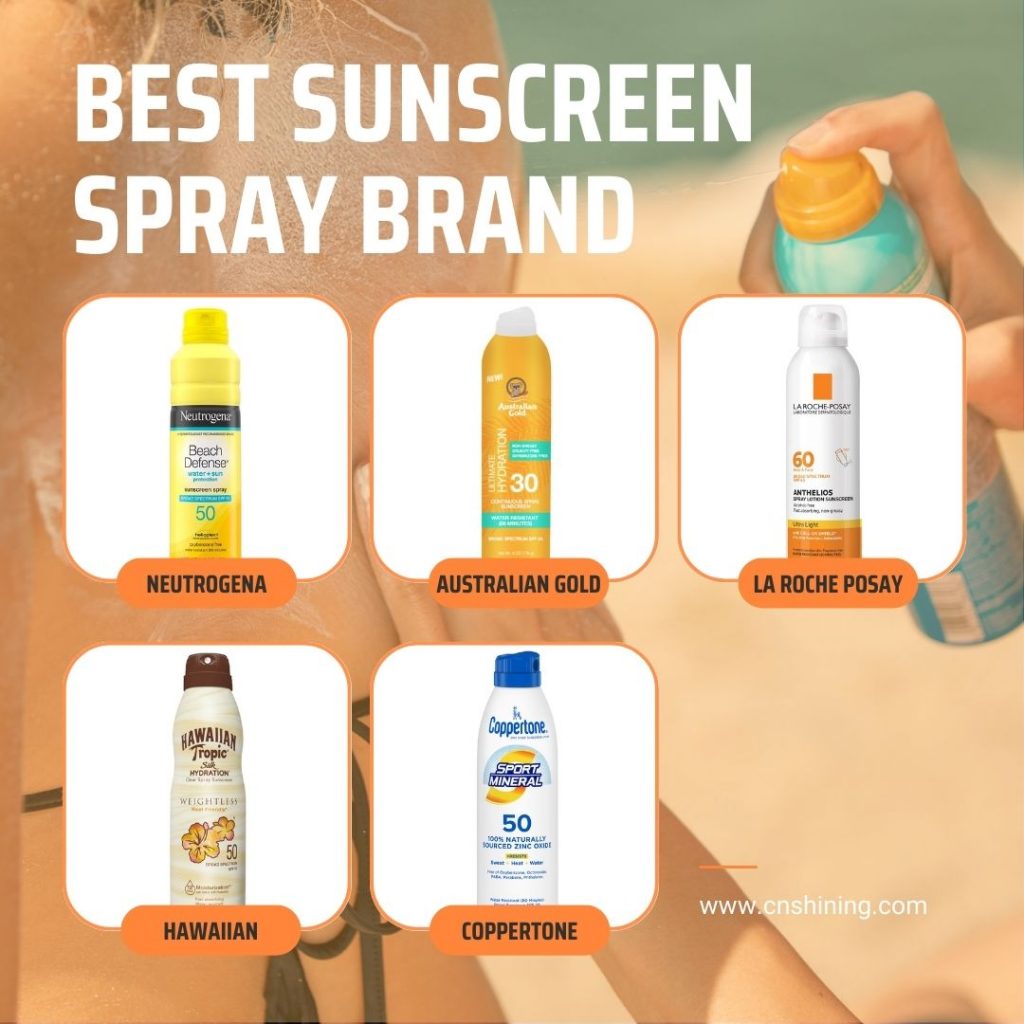 Conclusion
The conclusion of skin whitening spray is clear: it is an effective way to lighten and brighten your complexion. While numerous products are available to help achieve lighter skin, many people find that using a sunscreen spray for the face can be the most successful approach.
In addition to protecting from the sun's damaging rays, these sprays work quickly and often have long-lasting effects. They also provide moisture while they lighten, allowing you to achieve the look you desire without spending time on time-consuming beauty treatments or expensive procedures. With these advantages in mind, it is easy to see why so many have succeeded with skin whitening sprays.
Discover the perfect sunscreen spray can for your business needs with a trusted manufacturer and supplier in China. Find quality options, great prices, and reliable services all in one place.